Proliferative Hypertensive Retinopathy – March, 2023
Proliferative Hypertensive Retinopathy – March, 2023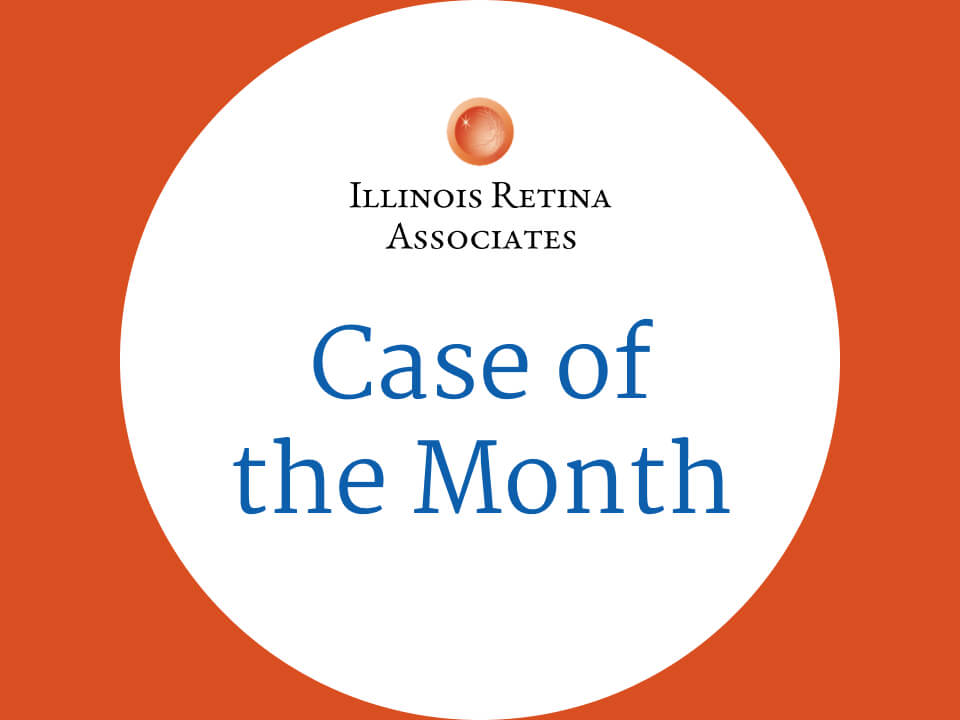 History:
A 55-year-old man was referred for floaters in the right eye for the past month. His past medical history was remarkable for hypertension and kidney disease. His medications included amlodipine, labetalol, and hydralazine. He was a former smoker and quit one year prior with a 30-year pack history. His review of systems was otherwise unremarkable.
Exam:
Her visual acuity was 20/100 in the right eye and 20/20 in the left eye. There was no improvement with pinhole testing. There was no RAPD. Intraocular pressures were 16 and 14 in the right and left eye, respectively. Anterior segment exam demonstrated 1+ nuclear sclerosis in each eye. Dilated fundus examination demonstrated vitreous hemorrhage in the right eye with pre-retinal hemorrhage, dot blot hemorrhages, arterial attenuation, sclerotic vessels, and copper wiring in both eyes.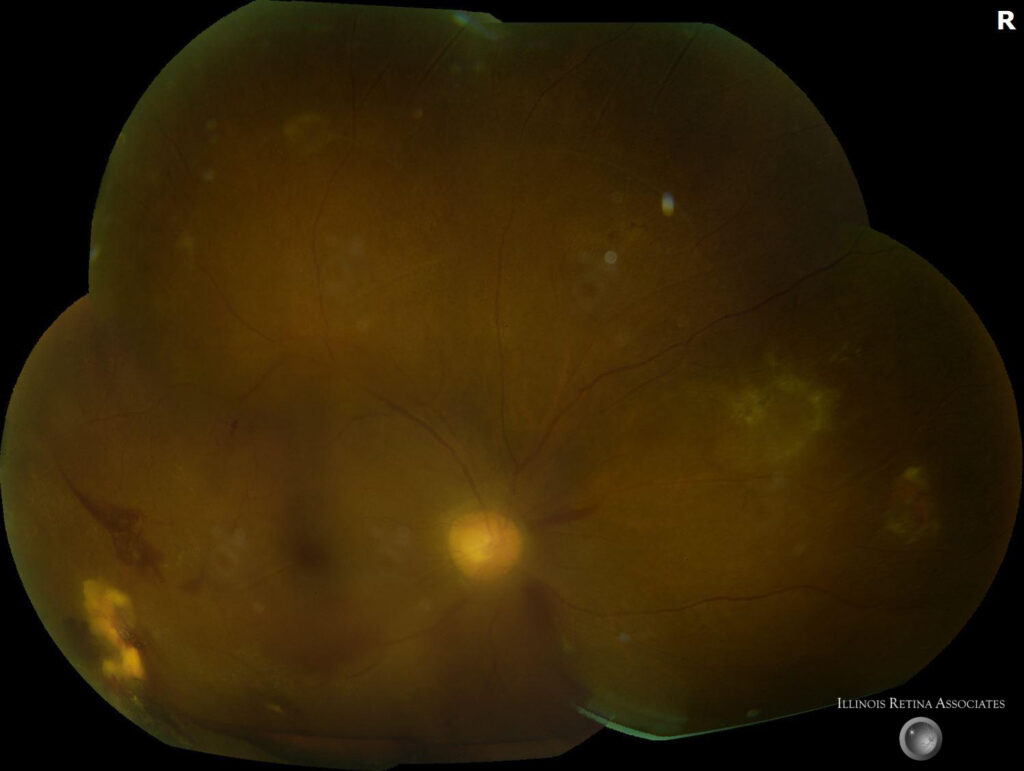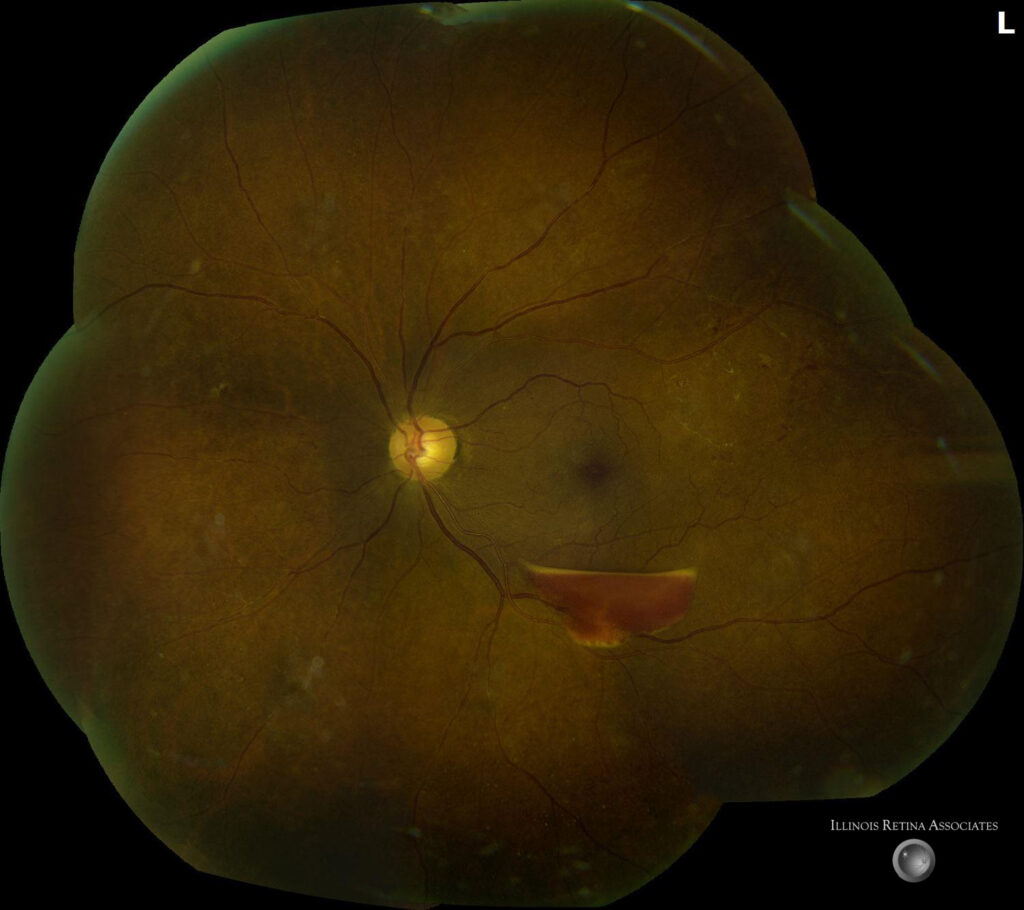 Figure 1: Fundus photographs demonstrating vitreous hemorrhage in the right eye with pre-retinal hemorrhage, dot blot hemorrhages, arterial attenuation, sclerotic vessels, and copper wiring in both eyes.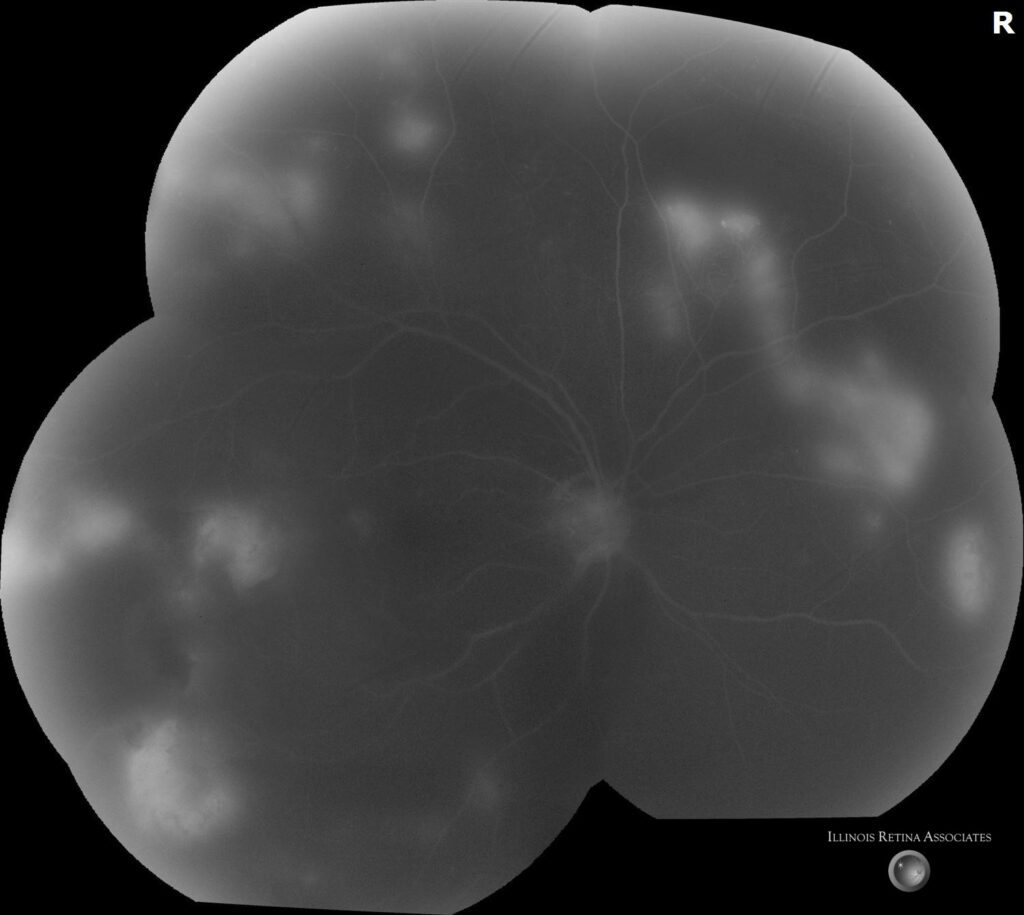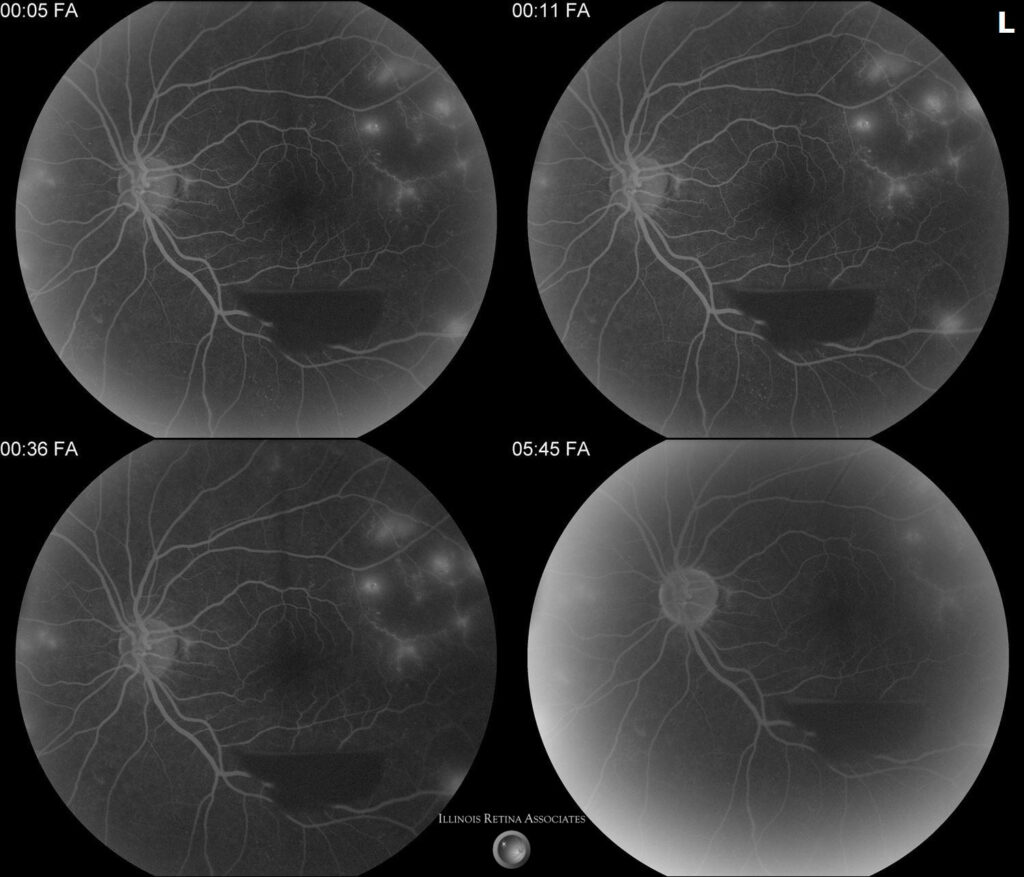 Figure 2: Fluorescein angiography demonstrated hypertensive changes, capillary nonperfusion, and retinal neovascularization in both eyes.
Differential Diagnosis:
Proliferative diabetic retinopathy

Ocular ischemic syndrome with retinal neovascularization
CRVO with retinal neovascularization
Hypertensive retinopathy with retinal artery macroaneurysm
Proliferative hypertensive retinopathy
Discussion:
Proliferative Hypertensive Retinopathy
Proliferative retinopathy is commonly seen as an endpoint in many retinal vascular diseases. Neovascularization leading to proliferative retinopathy can be seen in ischemic diseases such as diabetic retinopathy, sickle cell retinopathy, retinopathy of prematurity, retinal vein occlusion, familial exudative vitreoretinopathy, sarcoidosis, lupus erythematosus, and Eales disease. Hypertensive retinopathy complicated by retinal neovascularization has only been reported in a handful of cases and is rare. Similar changes to those seen in proliferative diabetic retinopathy can be seen in proliferative hypertensive retinopathy including retinal ischemia, retinal neovascularization, vitreous hemorrhage, and tractional detachment.
Since proliferative hypertensive retinopathy is rare, care should be taken to rule out other cause of proliferative retinopathy including screening for diabetes and sickle cell hemoglobinopathies. Hypertensive changes can be seen on the fundus exam including retinal hemorrhages, cotton wool spots, retinal exudates, copper wiring, and vascular attenuation. Fluorescein angiography may show poor early filling, areas of nonperfusion, and retinal neovascularization.
Our patient was recently evaluated for diabetes mellitus with a normal hemoglobin A1C, tuberculosis with negative Quantiferon gold, and negative sickle cell prep. Given his history of hypertension, his retinal neovascularization and vitreous hemorrhage was attributed to proliferative hypertensive retinopathy. We communicated with the patient's internist to ensure optimization of blood pressure control. The patient was treated with panretinal photocoagulation in each eye with resolution of his pre-retinal hemorrhages and involution of his neovascularization.
If you are looking to schedule your first consultation, please contact us today by clicking HERE and find the location that is nearest you!
References:
Sun JK,Young LH. Retinal detachment. In: Albert DM,Miller JW, Azar DT, Blodi BA. Albert & Jakobiec's Principles & Practice of Ophthalmology. 3rd ed. Philadelphia, PA: Saunders; 2008:2305-2313.

Georgiadis O, Kabanarou SA, Batsos G, Feretis E, Xirou T.Bilateral hypertensive retinopathy complicated with retinal neovascularization: panretinal photocoagulation or intravitreal anti-VEGF treatment? Case Rep Ophthalmol. 2014;5(2):231-238.
Brancato R, Menchini U, Bandello F. Proliferative retinopathy and toxemia of pregnancy. Ann Ophthalmol. 1987;19(5):182-183.
Stryjewski, TP, Papakostas, TD, Vavvas, D. Proliferative hypertensive retinopathy. JAMA Ophthalmology. 2016;134;3:345-346.