Mathew MacCumber, MD, PhD, FASRS
Mathew MacCumber, MD, PhD, FASRS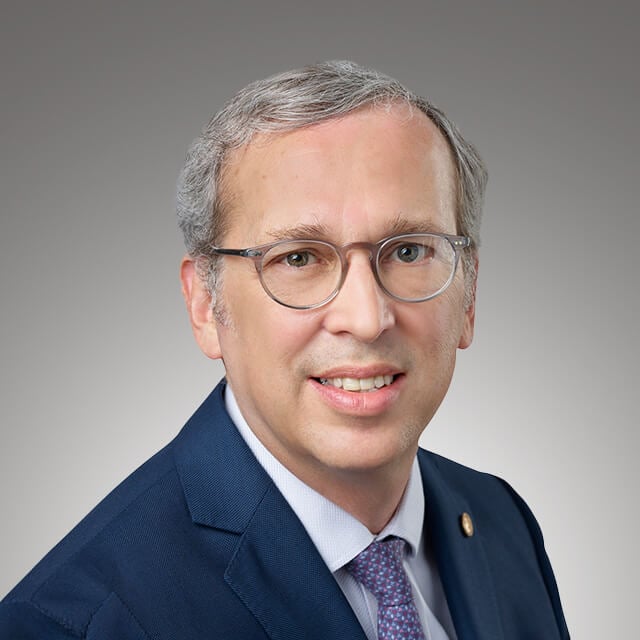 Mathew W. MacCumber, MD, PhD, is a nationally recognized expert in the medical and surgical treatment of vitreoretinal disease. He completed his undergraduate studies at Princeton University. He earned his medical degree and PhD, in neurosciences, at the Johns Hopkins University School of Medicine, and served as the Assistant Chief of Service at the Wilmer Eye Institute, at Johns Hopkins. He received the prestigious Ronald G. Michels Fellowship, which lead to his retina training at Duke University Eye Center.
In 1996, Dr. MacCumber joined Illinois Retina Associates and Rush University Medical Center, where he now holds the positions Professor and Director of Research for the Department of Ophthalmology. He sees patients in our Oak Park , Rush University Medical Center and Lincoln Park office locations.
Dr. MacCumber is an active participant in national and local ophthalmic associations. He was Chair of the American Academy of Ophthalmology [AAO] Council, as well as a member of the AAO Board of Trustees. He has served on the Board of Directors of the Macular Society and the American Society of Retina Specialists [ASRS], and is a Past-President of the Chicago Ophthalmological Society. He currently serves on the board of the Illinois Society for the Prevention of Blindness.
Dr. MacCumber directed the Vitreoretinal Fellowship program at Rush University Medical Center and Illinois Retina Associates for 8 years. He has received the AAO Achievement Award, the AAO Senior Achievement Award, the ASRS Senior Award, as well as two Secretariat Awards from the AAO for Education and Advocacy.
He authored or co-authored 44 peer-reviewed articles, 172 total articles, 11 book chapters, and he edited the text Management of Ocular Injuries and Emergencies. Dr. MacCumber is a frequent speaker nationally and internationally, and has served as Principal Investigator for more than 25 multicenter clinical trials. He currently serves on the executive committee of the DRCR Retina Network and co-chairs the National Eye Institute-funded multi-center "Randomized Trial Comparing Immediate versus Deferred Surgery for Symptomatic Epiretinal Membranes.
Dr. MacCumber lives in Chicago with his wife, Judith Weinstein, MA, MPH. Their daughter, Abigail, lives in Los Angeles, their son, David, in Chicago and son, Ethan, in New York City. In his free time, Dr. MacCumber enjoys tennis, biking, skiing and spending time with his family.
Other doctors in the group have a lot of experience in developing instruments. My research training in neuropharmacology is a good fit because the next frontier is the applications of new medicines to the mechanics of eye surgery. At Illinois Retina, we combine research and clinical research studies with patient care to push the edge of medicine.

—

Dr. MacCumber
Dr. Mathew MacCumber's Patient Testimonial
Dr. MacCumber's Credentials
Principal Investigator, Longitudinal Study of the Ocular Complications of AIDS (L-SOCA)
Principal Investigator, Submacular Surgery Trials
Principal Investigator, Vitrectomy for Diffuse Diabetic Macular Edema
Principal Investigator, Diabetic Retinopathy Clinical Research Network
Principal Investigator, Safety Assessment of Intravitreal Lucentis for AMD (SAILOR and HARBOR)
Investigator, ThromboGenics Study

Archives of Ophthalmology
Retina
Ophthalmology
Journal of Neuroscience
Proceedings of the National Academy of Sciences
Science

American Society of Retina Specialists, board member 2010-present
Macula Society, board member 2009-present
Chicago Ophthalmological Society, annual meeting program director, 2002; board member 2008-present
American Academy of Ophthalmology, councilor, 2010-present
Retina Society
Illinois Association of Ophthalmology
Association for Research in Vision and Ophthalmology
American Medical Association
American Academy of Ophthalmology
American Society of Retina Specialists

Ophthalmology – The Wilmer Ophthalmological Institute, Johns Hopkins Hospital

Retinal Specialist – The Duke University Eye Center

Ophthalmology – The Wilmer Ophthalmological Institute, Johns Hopkins Hospital

Franklin Square
Hospital Center

Ph.D. – Johns Hopkins University School of Medicine

M.D. – The Johns Hopkins University School of Medicine

B.A. – Princeton University