Sohail Hasan, MD, PhD, FACS, FRCSC
Sohail Hasan, MD, PhD, FACS, FRCSC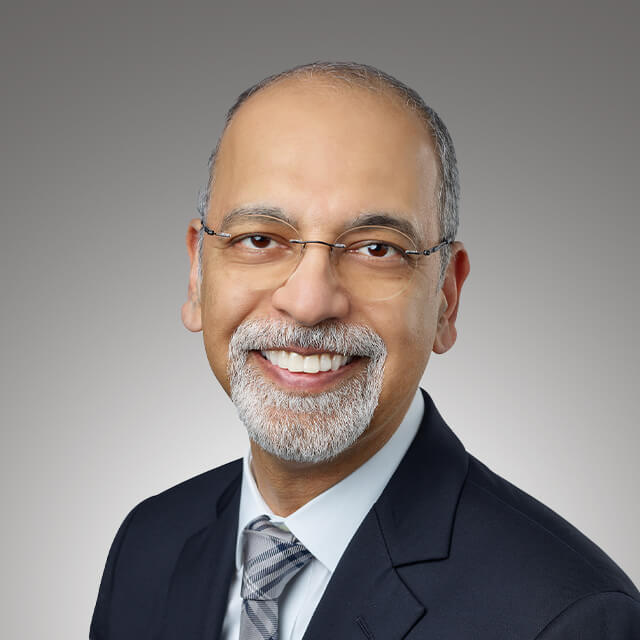 Sohail J. Hasan, MD, PhD, FACS, FRCSC, is a renowned vitreoretinal specialist who has received recognition for his clinical and surgical skills and innovative clinical research in the US and Canada. He holds certifications from the American Board of Ophthalmology, American College of Surgeons, and Royal College of Physicians and Surgeons of Canada. Dr. Hasan's passion for vision and the eye started at a young age, as evidenced by his first place win in the Los Angeles County Science Fair with his project "The Electric Eye."
Dr. Hasan completed his undergraduate degree in psychology and pursued vision research at Dalhousie University in Nova Scotia. He then earned a PhD in neuroscience at the University of British Columbia and continued his pioneering research in spinal cord regeneration as a post-doctoral fellow at the University of Zürich's Brain Research Institute. He earned his medical degree with honors and completed his residency at the University of Toronto, where he served as chief resident. He later completed a fellowship in retinal surgery at Rush University Medical Center.
Dr. Hasan has published numerous articles and abstracts in leading academic journals and written chapters for prestigious ophthalmology textbooks. He holds several leadership positions within national and international ophthalmology associations, including the American Academy of Ophthalmology [AAO]. He has received multiple awards and honors for his contributions to the field, including an achievement award, lifelong education award, and physician recognition award from the AAO and American Medical Association. He has also earned two highly coveted Secretariat awards from the AAO, one for his exceptional leadership and dedication to high-quality patient care in Illinois, and another for his contributions for teaching.
Dr. Hasan is a strong and effective political advocate for his patients and profession. He frequently travels to the nation's capital to participate in important discussions with legislators regarding medical policies. With his prominence in legislative circles, Dr. Hasan helps establish strong relationships between Congressional Advocates and key members of congress.
Dr. Hasan is on staff at several Chicago-area hospitals and sees patients at Illinois Retina's Orland Park and Flossmoor locations. Outside of work, he enjoys traveling with his wife and daughter. His linguistic proficiency is noteworthy as he is fluent in several languages. Additionally, he is a semi-professional photographer. He and his daughter are also keen practitioners and instructors of Shotokan karate. He holds a black belt in the discipline and regularly judges at tournaments.
Vision is a crucial sense for everyone, and it is both a privilege and an honor to play a role in preserving and restoring something so essential to daily life. Although I find joy in performing microsurgery and working with ever-advancing technologies in ophthalmology, my most cherished responsibility as a retinal physician is enhancing the quality of life of my patients.

—

Dr. Hasan
Dr. Sohail Hasan's Patient Testimonial
Dr. Hasan's Credentials
Principal investigator, Comparison of Age-Related Macular Degeneration Treatments Trials (CATT Study)
Investigator, Diabetic Macular Edema Vitrectomy Study
Investigator, Extent of Retinopexy in Primary Vitrectomy for Pseudophakic Retinal Detachment

Retina
Canadian Journal of Ophthalmology
Online Clinical Communications for Ophthalmologists

Illinois Society of Eye Physicians and Surgeons – Current President
American Academy of Ophthalmology
American Medical Association
Illinois State Medical Society
Chicago Medical Society
Canadian Ophthalmological Society
Royal College of Physicians and Surgeons of Canada (Fellow)
Canadian Medical Association
Ontario Medical Association
Medical Council of Canada

Retinal Specialist – Irwin Retina Center/ Ingalls Hospital
Retinal Specialist – Department of Ophthalmology/ Rush Medical College
Molecular Neurobiology – University of Zurich, Switzerland

Ophthalmology – University of Toronto

University of Toronto – Affiliated Hospitals

Ph.D. (Neuroscience) University of British Columbia

M.D. (With Honors) – University of Toronto

B.Sc. – Dalhousie University