Jack Cohen, MD, FACS
Jack Cohen, MD, FACS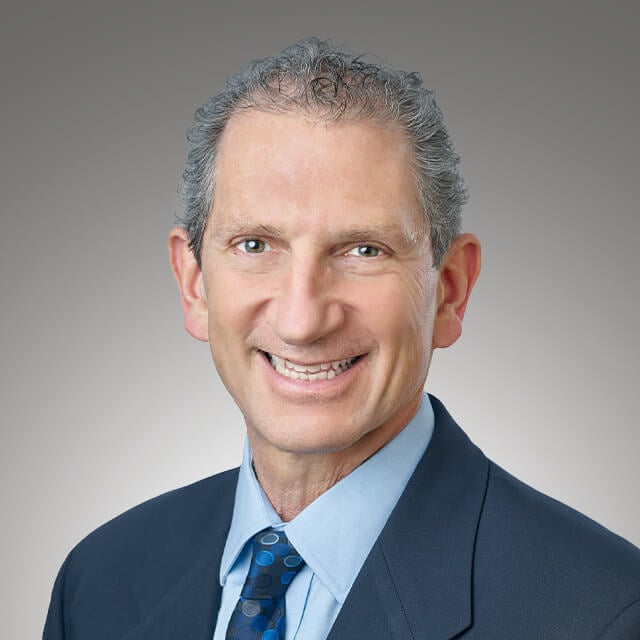 Jack Cohen, FACS, MD, is a nationally recognized expert in the medical and surgical treatment of the retina, macula, and vitreous. He treats macular degeneration, diabetic retinopathy, retinal detachments, retinopathy of prematurity in infants and ocular cancers.
Dr. Cohen joined Illinois Retina Associates in 1995. He is one of the select group of specialists who has expertise in both vitreoretinal diseases and ocular oncology. In additional to his medical practice with Illinois Retina Associates, Dr. Cohen serves as the Director of Ocular Oncology and as an Associate Professor of Ophthalmology at Rush University Medical Center. He was also the Residency Program Director for the Department of Ophthalmology at Rush University for over 23 years.
Born and raised in the Chicago area, Dr. Cohen graduated from the University of Illinois in Champaign-Urbana attended Rush Medical College in Chicago, where he was valedictorian of his graduating class. He completed an Ophthalmology Residency at Rush University Medical Center, which was followed by a fellowship in Ocular Oncology at the University of California in San Francisco and a fellowship in Vitreoretinal Surgery at Rush University Medical Center. He is certified by the American Board of Ophthalmology.
Dr. Cohen has been an investigator in a number of major clinical trials related to Age-Related Macular Degeneration, Diabetic Retinopathy and Retinopathy of Prematurity.
Dr. Cohen is the author of a number of articles and publications and he has participated in hundreds of presentations. He enjoys reaching out to the community, teaching support groups and discussing the latest new treatments for retinal diseases.
Dr. Cohen has received numerous honors including American Academy of Ophthalmology Senior Achievement Award, as well as many Golden Apple Awards for excellence in resident clinical and surgical education. He loves teaching residents and staff.
He holds memberships in many professional organizations such as the American Academy of Ophthalmology, the American Society of Retina Specialists, the American College of Surgeons, the Association for Research in Vision and Ophthalmology and the Illinois Society of Eye Physicians and Surgeons. He is also a test examiner for the American Board of Ophthalmology.
Dr. Cohen is pleased to hold the position of Head Ophthalmologist for the Chicago Bulls, Chicago White Sox and the Chicago fire.
Dr. Cohen is on staff at several area hospitals as well as the North Shore Surgical Center and sees patients at Illinois Retina's Rush, Skokie, Libertyville and Flossmoor office locations.
When he's not seeing patients, Dr. Cohen and his wife enjoy spending time with their children who are pursuing careers in medicine and pharmaceutical marketing. He and his wife are looking forward to world traveling in the future. As an avid runner and health enthusiast, Dr. Cohen is constantly training for his next new athletic challenge.
Ophthalmology is a unique field in that most of the time, you can look into a patient's eye and make the diagnosis right then and there. Tumors of the eye are rare, but they need to be taken care of. There are few doctors with the training and experience to diagnose and treat this condition. It's an opportunity for me to help.

—

Dr. Cohen
Dr. Jack Cohen's Patient Testimonial
Dr. Cohen's Credentials
Principal Investigator, STOP-ROP Study (Supplemental Therapeutic Oxygen for Pre-threshold Retinopathy of Prematurity)
Principal Investigator, Radiation Therapy for Subfoveal Age-Related Macular Degeneration
Co-investigator, Vitrase for Vitreous Hemorrhage Study
Investigator, Complications of Age-Related Macular Degeneration Prevention Trial

Archives of Ophthalmology
Retina
Ophthalmology

Chicago Ophthalmic Society
American Society of Retina Specialists
American College of Surgeons
Council of Medical Specialties
Rush Committee of the Pillsbury Trust
American Medical Association

F.A.C.S. – American College of Surgeons, Chicago, IL US

Retinal Specialist – Irwin Retina Center/Ingalls Hospital
Retinal Specialist – Department of Ophthalmology/Rush Medical College
Ocular oncology – University of California

Ophthalmology – Rush University Medical Center

M.D. – Rush Medical College

B.S. – University of Illinois