Polypoidal Choroidal Vasculopathy – October 2017
Polypoidal Choroidal Vasculopathy – October 2017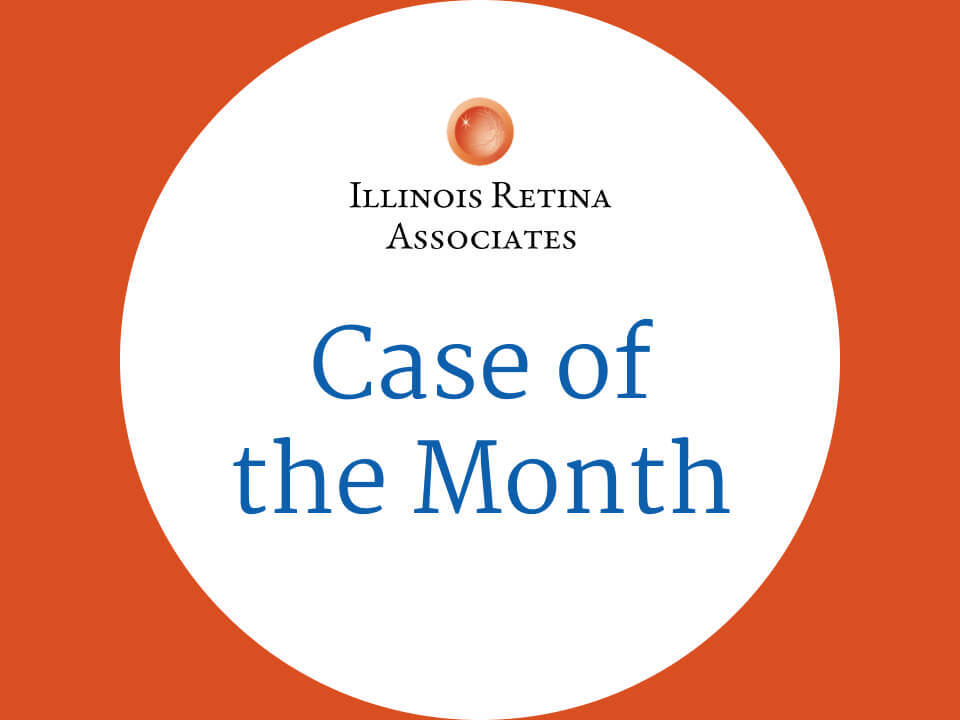 HPI: A 52 year old man referred to Illinois Retina Associates for blurred vision in the right eye. The blur has been worsening in the central vision over the preceding 2 months. There were no symptoms in the other eye.
Past medical history: The patient was healthy and not on any medications.
Ocular Examination
Vision was 20/200 in the right eye and 20/25 in the left ye. Pressures were normal. There were mild cataracts in both eyes. The posterior exam was notable for subretinal hemorrhage in inferiorly in the right eye (figure 1) and a solitary CHRPE in the left eye.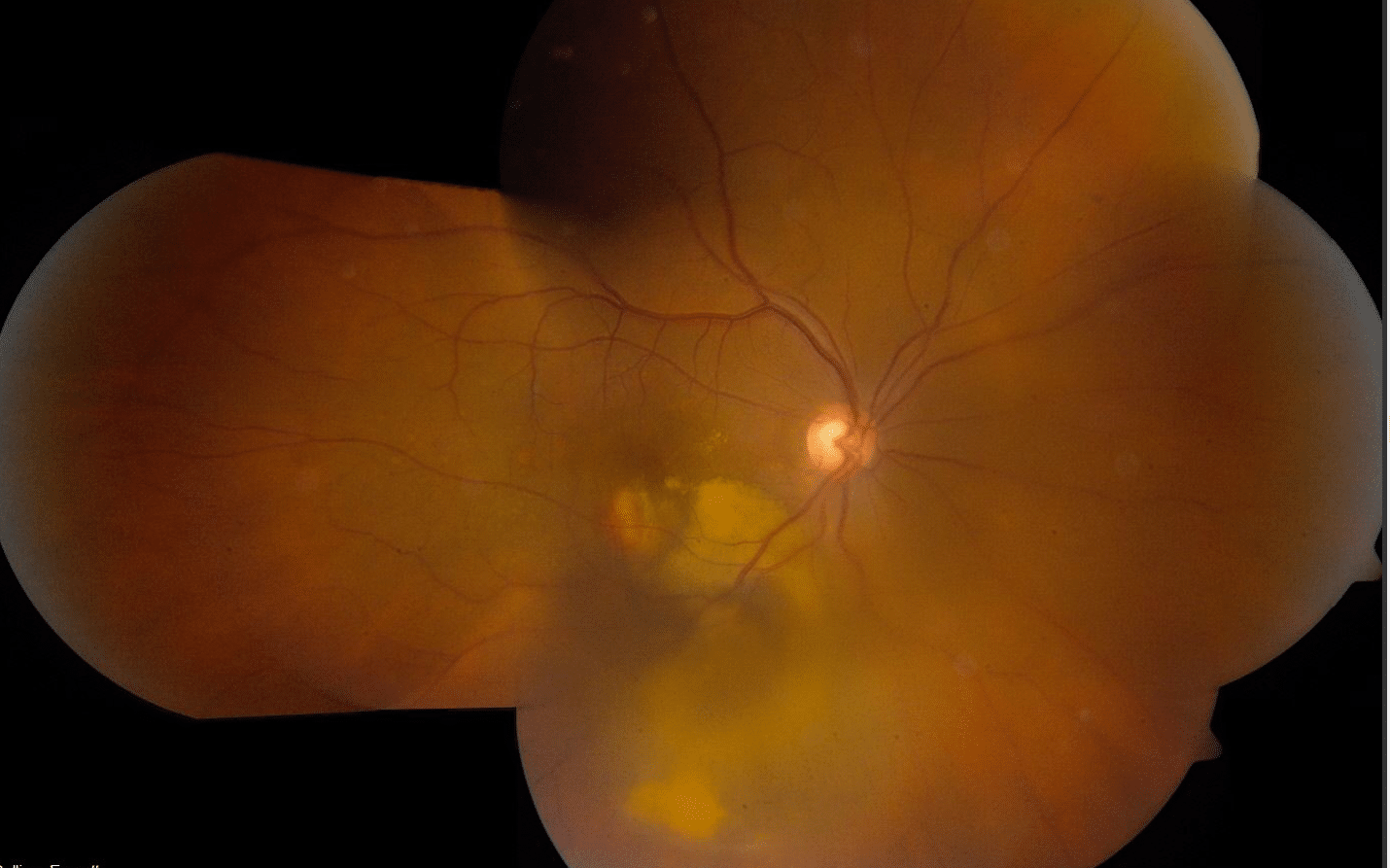 Differential Diagnosis
Age related macular degeneration
Choroidal neovascularization due to:

Pseudoxanthoma elasticum
Peripapillary atrophy
Laquer crack
Choroidal rupture

Polypoidal choroidal vasculopathy
Peripheral exudative hemorrhagic chorioretinopathy
Retinal artery macroaneurysm
Further Testing
OCT
The right eye showed hyper-reflective subretinal material inferiorly. The left eye showed pigment epithelial detachments.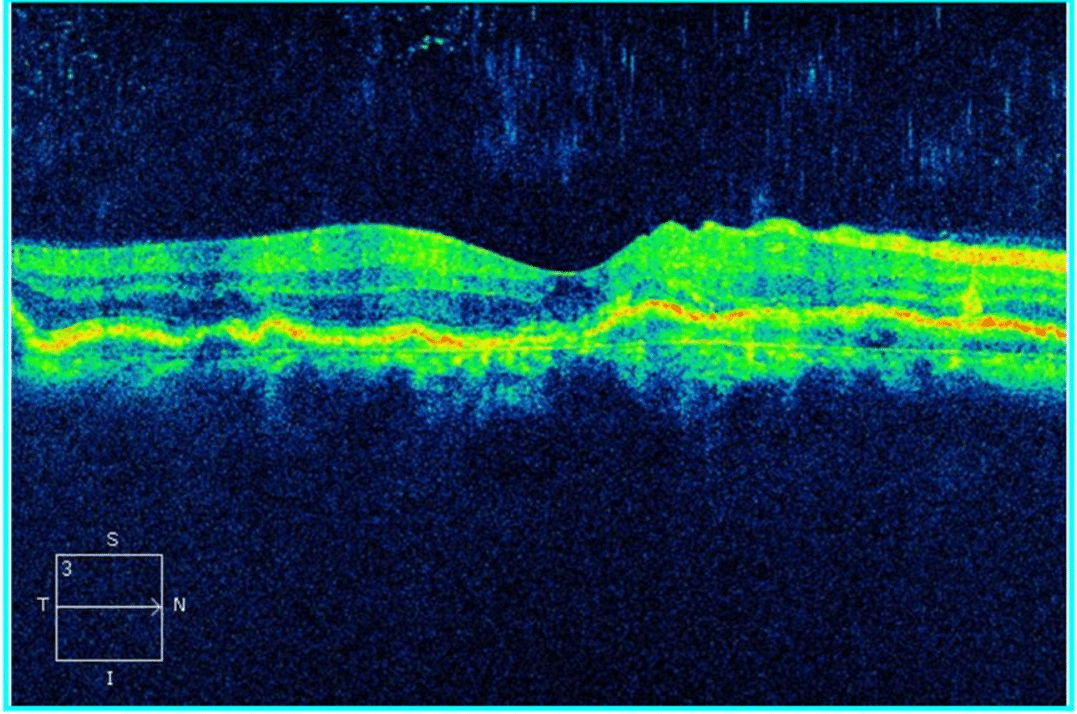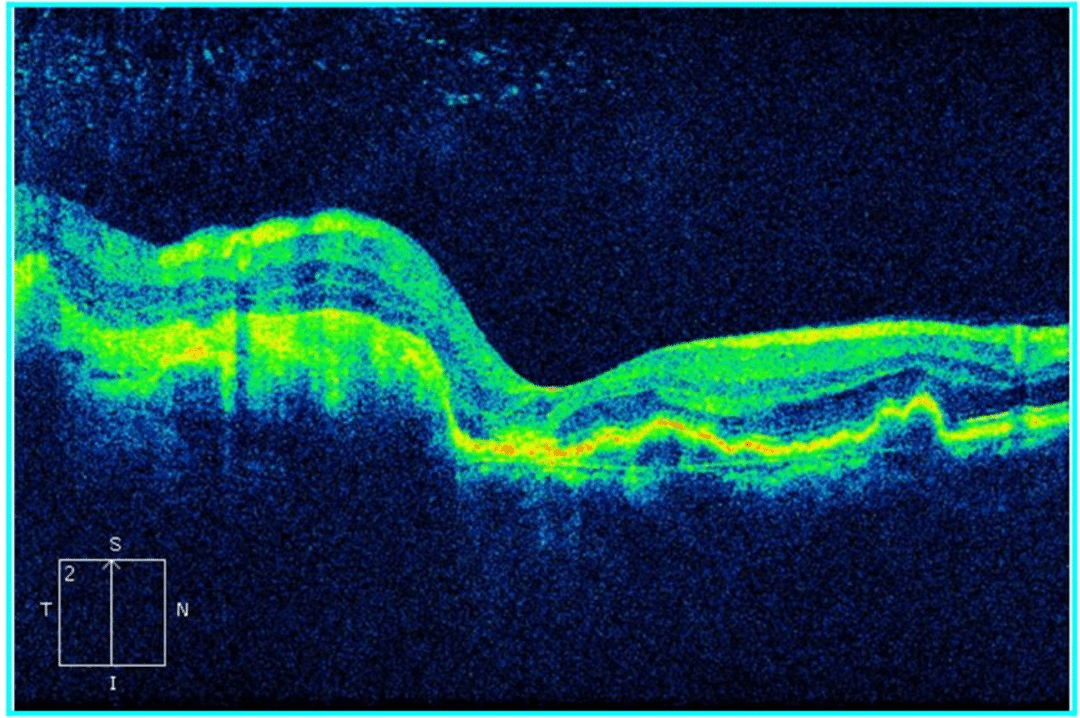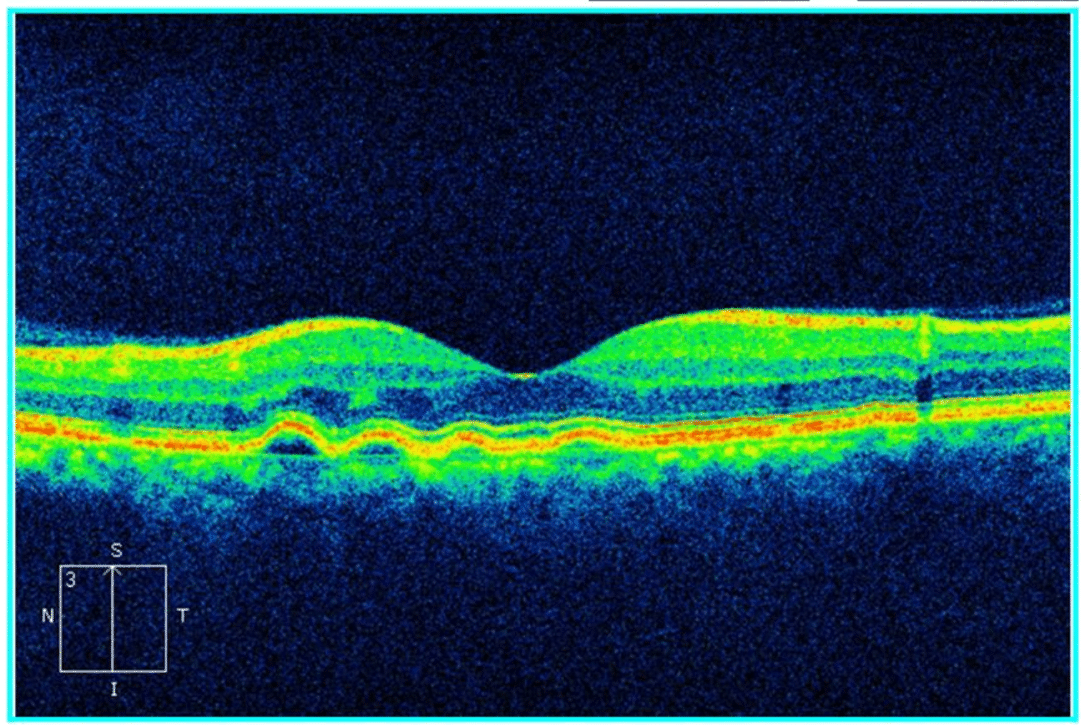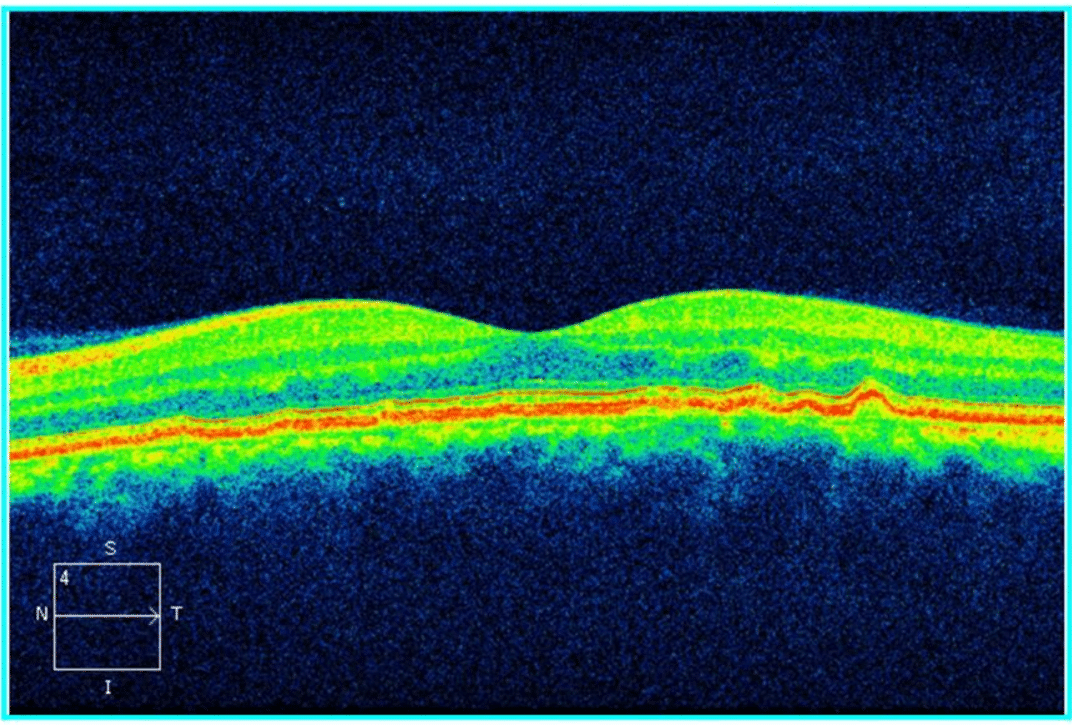 FA and ICG
Right eye showed polypoidal changes in the ICG without leakage on the FA. The left eye was unremarkable.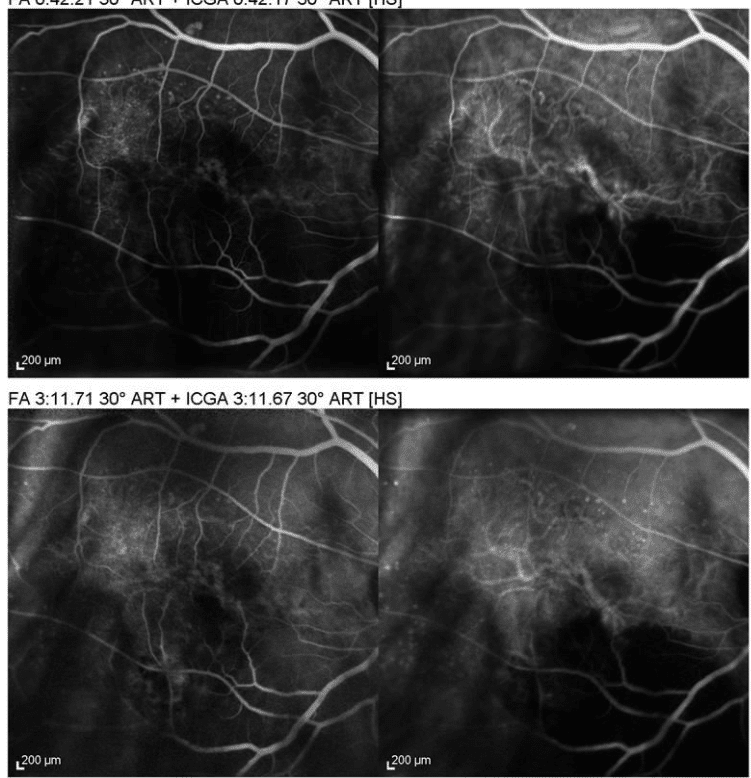 OCT Angiography
Right eye also shows the thickened vessel in the choroid.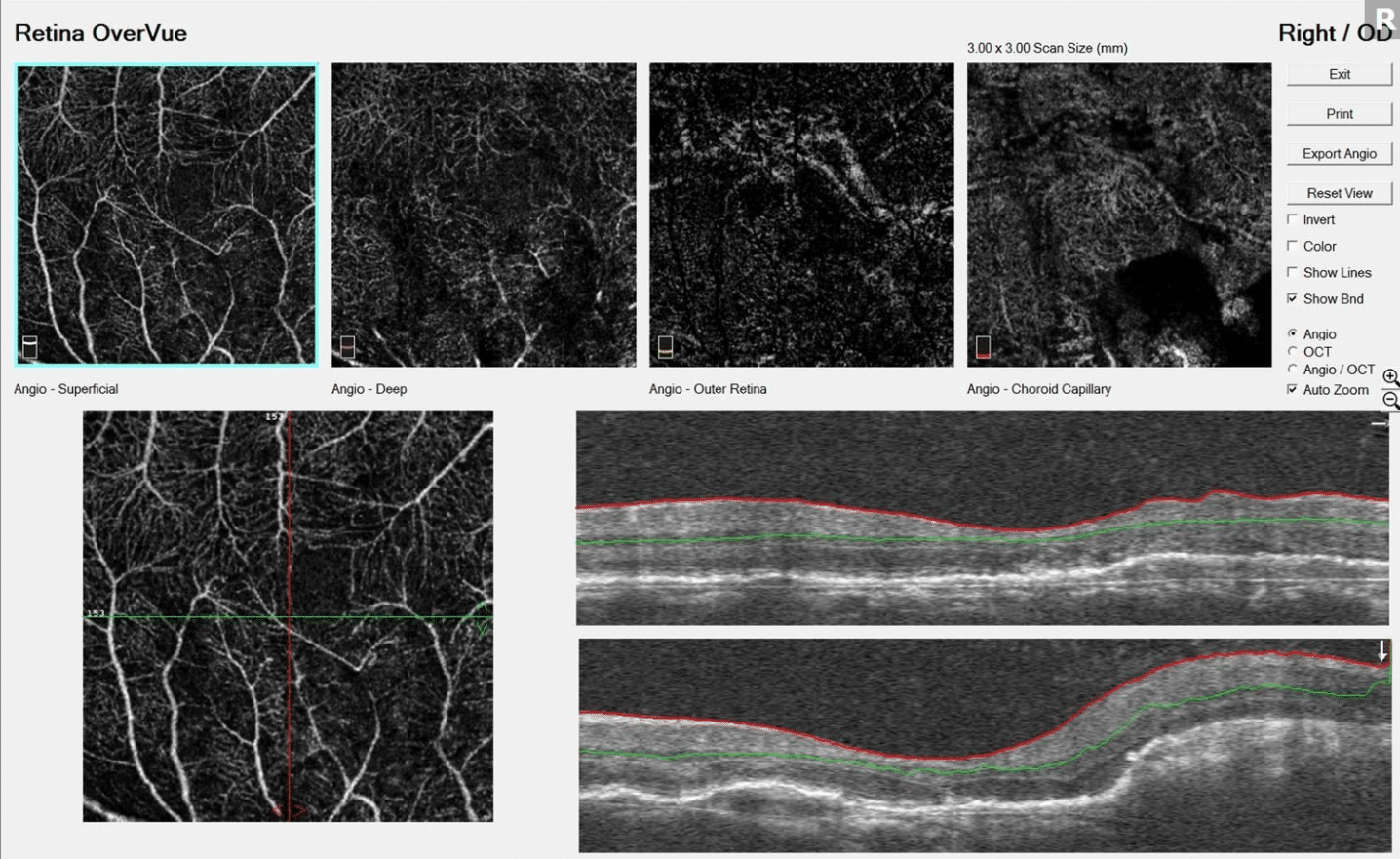 Diagnosis
Given the thickened vessel in the choroid characteristic of a polyp and the lack of findings consistent with choroidal neovascularization on FA, the diagnosis of Polypoidal Choroidal Vasculopathy was made.
Follow Up
The patient was treated with intravitreal bevacizumab and his vision improved to 20/50 from 20/200 in the right eye.
Discussion
Polypoidal choroidal vasculopathy is an exudative macular disease that shares some characteristics with age-related macular degeneration. Both are causes of fluid and bleeding in the macula that increase in frequency with increasing age. While age-related macular degeneration is most common in Caucasians, polypoidal choroidal vasculoptahy is more commonly seen in those of Asian, Hispanic or African descent. The underlying cause is an abnormality in the choroidal circulation that results in a dilated choroidal vessel, known as a polyp. Because these vessels are primarily seen only with ICG, this condition is likely frequently underdiagnosed.
Treatment is similar to that of exudative age-related macular degeneration. These patients often have an improvement in fluid and vision with intravitreal anti-VEGF (Vascular endothelial growth factor) agents.
References
Ryan Retina, Chapter 71, Polypoidal Choroidal Vasculopathy, Xiaoxin Li OIntravitreal injection of aflibercept in patients with polypoidal choroidal. Maruyama-Inoue M, Sato S, Yamane S, and KAdonosono K. Retina 2017.