Astrocytic Hamartoma – May 2021
Astrocytic Hamartoma – May 2021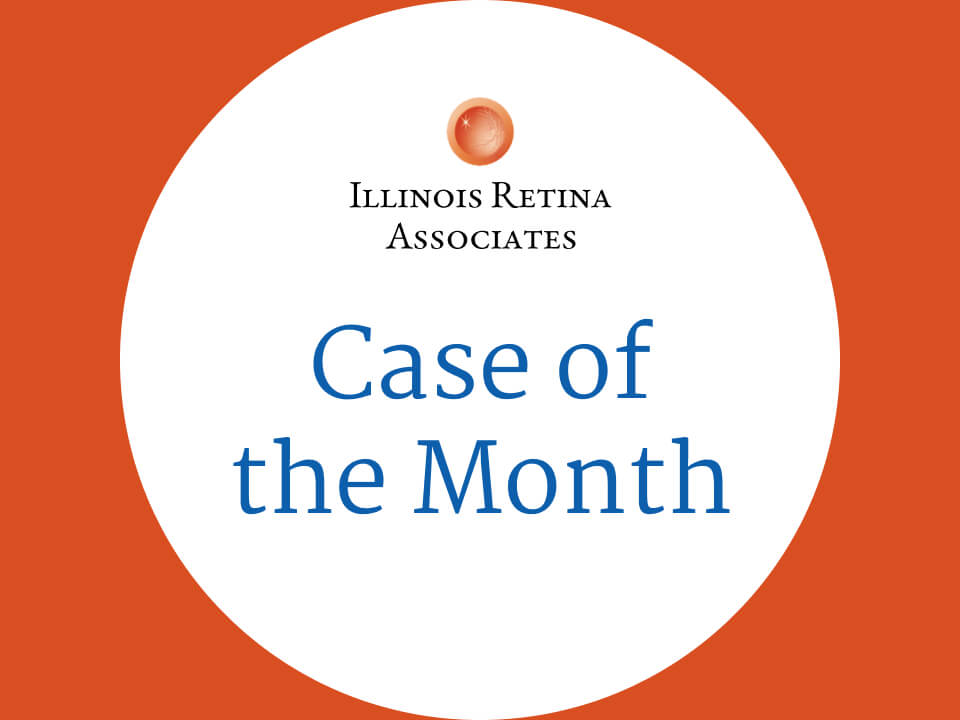 History
A 16-year-old boy presented upon referral from an optometrist for concern for intraocular lesion of unknown significance with concern for retinoblastoma. He has not had any visual symptoms. He has a history of low myopia of both eyes. He recently started noticing some light colored patches on his skin. Other than that, his past medical history was unremarkable.
Exam
His VA was 20/25 OU. There was no RAPD and his anterior segment exam was unremarkable. Fundus photos showed white "mulberry" lesions of the posterior pole OD and periphery OS as well as hypopigmentation of the left retina inferior to the optic nerve head (Figures 1 & 2). OCT through the lesion demonstrated a gradual transition from a normal retina into a hyperreflective mass disorganizing the retina, along with moth-eaten spaces and posterior shadowing disturbing the subfoveal ellipsoid (Figure 3). An additional dermatologic survey revealed hypopigmented "ash leaf" spots of the skin.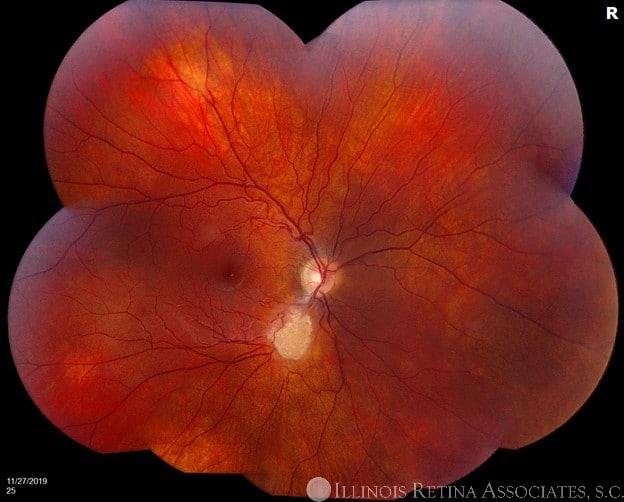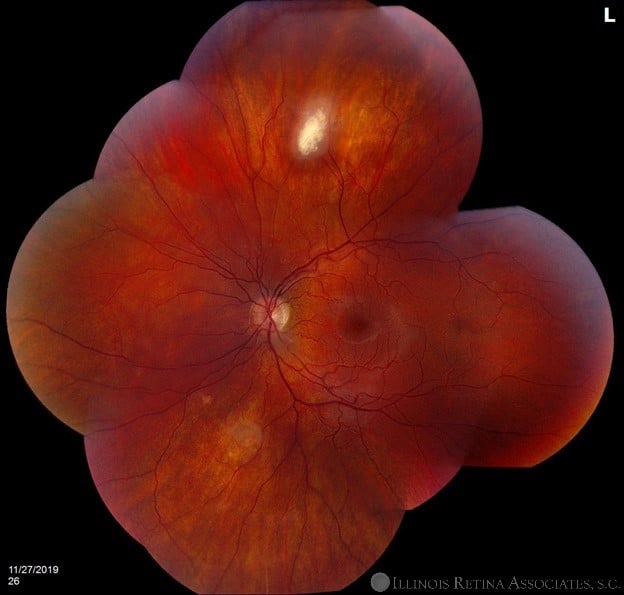 Figures 1 and 2. Fundus Photo: The fundus photos show creamy white "mulberry" lesions of both retinas. The left eye also has an area of "punched out" hypopigmentation inferior to the optic nerve head.
OCT was obtained to further elucidate macular pathology. It can be seen below: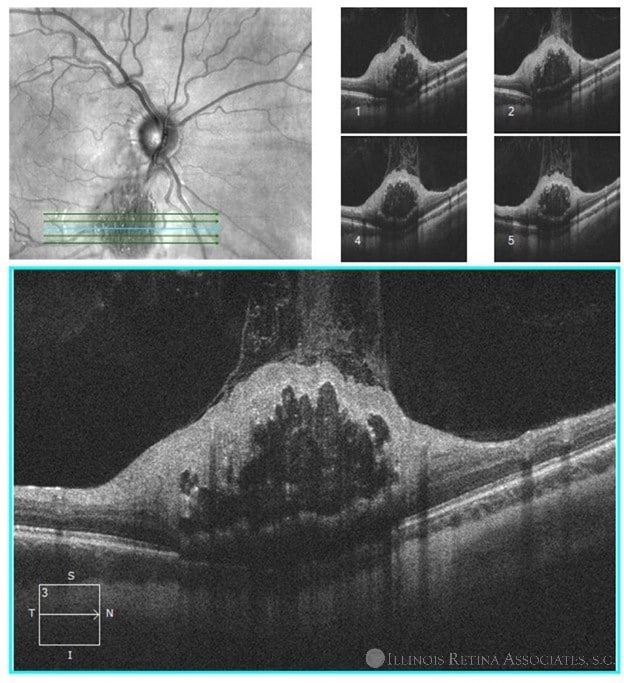 Differential Diagnosis:
Bilateral White Lesions of the Retina in a Child
Astrocytic Hamartoma
Acquired Retinal Astrocytoma
Retinoblastoma
Myelinated Retinal Nerve Fibers
Granuloma
Reactive Gliosis
Discussion:
Diagnosis – Astrocytic Hamartoma
The patient was diagnosed with Astrocytic Hamartomas. While the retinal lesions themselves can rarely be associated with choroidal neovascular membranes, recognizing these lesions can be life-saving if the associated systemic diagnosis of tuberous sclerosis (TS) is made in association. Additional ocular findings of TS include "punched out" areas of retinal depigmentation, palpebral angiofibromas, colobomas, and sectoral iris depigmentation—only the first of which our patient demonstrated in the left eye. In context of the associated characteristic skin finding of the ash leaf spot, a high degree of suspicion for this diagnosis was confirmed with genetic testing for TSC genes. The majority (70%) of TS cases are spontaneous, while the remaining are inherited spontaneously.
Once the diagnosis of Astrocytic Hamartoma is made, it is important to refer the patient to a PCP or pediatric neurologist for additional work-up including intracranial imaging. These patients may also develop life-threatening seizures with or without intracranial tubers (potato-like nodules that can calcify). Our patient appears to have a mild case and fortunately has not developed these symptoms. He also has not appeared to have developed cardiac rhabdomyoma, another life-threatening lesion for which TS patient should be screened by a cardiologist.
The differential as seen above includes retinoblastoma, another life-threatening and vision-threatening lesion. Given the significant morbidity and mortality associated with these diagnoses, a referral to an ophthalmologist, preferably a retinal specialist, is widely considered standard of care for additional characterization.
If you are looking to schedule your first consultation, please contact us today by clicking HERE and find the location that is nearest you!
References:
Green WR. Retina: retinal and periretinal proliferations. In: Spencer WH, ed. Ophthalmic Pathology: An Atlas and Textbook. 4th ed. Philadelphia, PA: WB Saunders Co; 1997;773-798.
Nork TM, Ghobrial MW, Peyman GA, Tso MO. Massive retinal gliosis: a reactive proliferation of Müller cells. Arch Ophthalmol. 1986;104(9):1383-1389.
Shields JA, Shields CL. Glial tumors of the retina and optic disc. In: Shields JA, Shields CL, eds. Intraocular Tumors: An Atlas and Textbook. 2nd ed. Philadelphia, PA: Lippincott Williams & Wilkins; 2008:406-427.
Demirci H, Shields CL, Shields JA, Honavar SG. Spontaneous disappearance of presumed retinal astrocytic hyperplasia. Retina. 2002;22(2):237-23911927865.
Shields JA. Retinal astrocytoma. In: Guyer DR, Yannuzzi LA, Chang S, Shields JA, Green WR, eds. Retina-Vitreous-Macula. Philadelphia, PA: WB Saunders Co; 1999:1182-1187.
Shields JA, Shields CL. The systemic hamartomatoses ("phakomatoses"). In: Nelson LA, Olitsky SE, eds. Harley's Pediatric Ophthalmology. 5th ed. Philadelphia, PA: Lippincott Williams & Wilkins; 2005:436-447.