Branch Retinal Vein Occlusion – November 2020
Branch Retinal Vein Occlusion – November 2020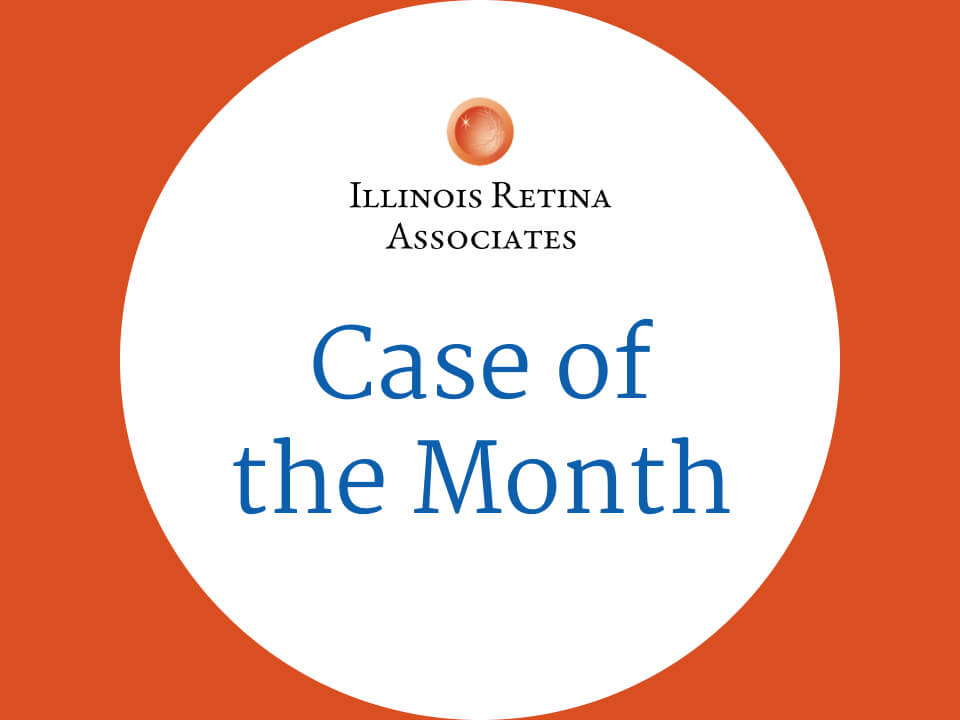 History
A 62-year-old female with hypertension and diabetes presented to clinic referred by an optometric colleague for evaluation of decreased vision and a hemorrhages of the left retina. She notes that with the left eye things seem blurry centrally and it doesn't improve with blinking nor with artificial tears. She denies any flashes or floaters, and her diabetes has always been under moderate control with an A1c of 8.9.
Exam
On exam, her vision was 20/50 and IOP was 19 in the left eye. The right eye was 20/20 with an IOP of 18. Confrontation visual fields were full bilaterally. Anterior chamber was deep and quiet. Evaluation of her posterior segment demonstrated the left eye having no exudates, however, there were scattered flame-shaped hemorrhages along the inferotemporal arcade. The rest of the exam appeared normal: both eyes have a healthy appearing nerve with healthy C:D ratios. Below is her color fundus photo montage: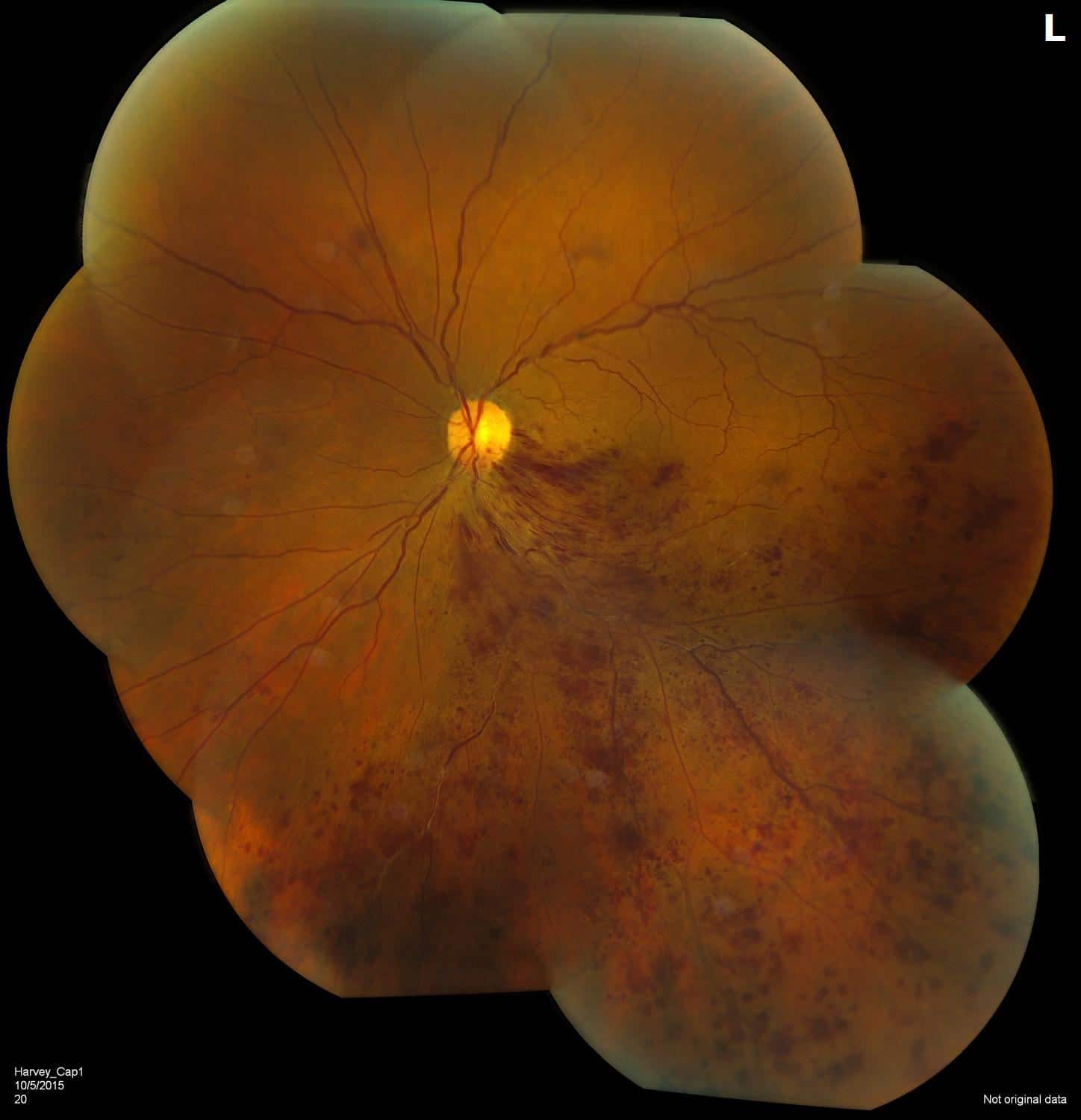 Figure 1. Fundus Photo: The color montage fundus photo of the left eye shows scattered intraretinal hemorrhages in the inferior 1/3 of macula and encroaching the fovea with flame-shaped hemorrhages along the inferotemporal arcade. Analysis of the vessels shows engorged venules, AV nicking, and vessel tortuosity. The periphery has multiple dot-blot and flame hemorrhages along the inferior temporal arcade.
An OCT was obtained to further elucidate macular pathology. It can be seen below: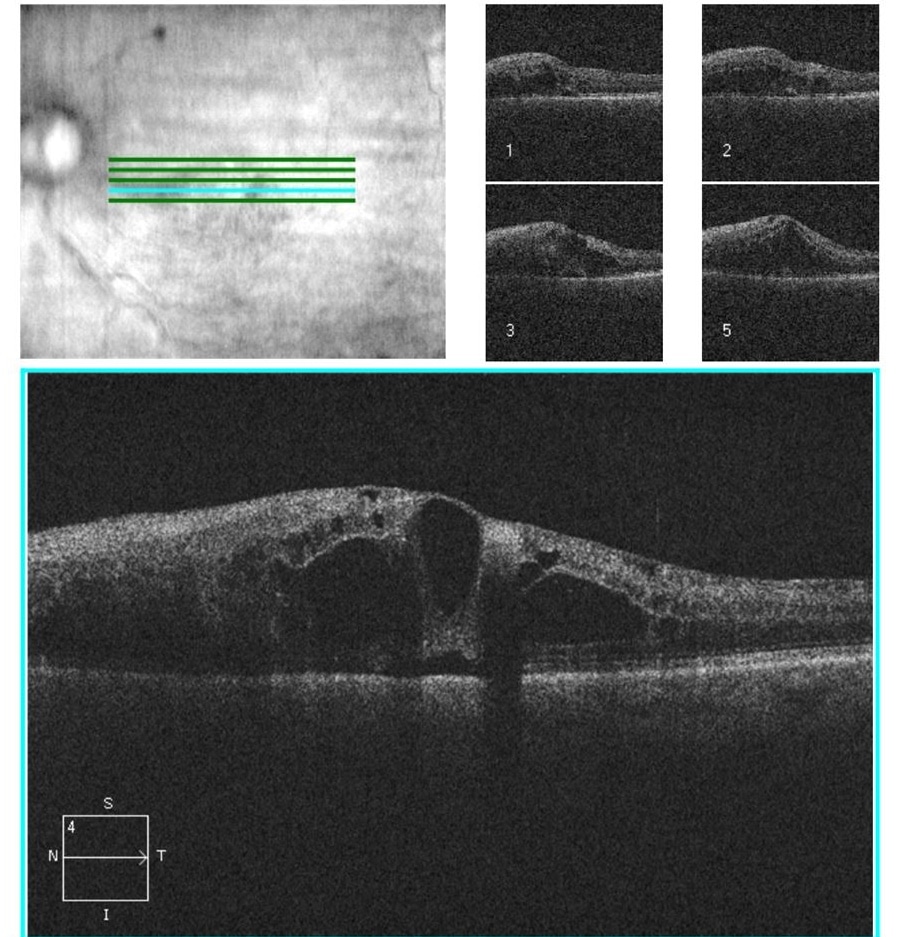 Figure 2. OCT of the left eye shows marked cystoid macular edema inferiorly with sub retinal fluid inferior and temporal.
Finally, a fluorescein angiogram was performed in the office: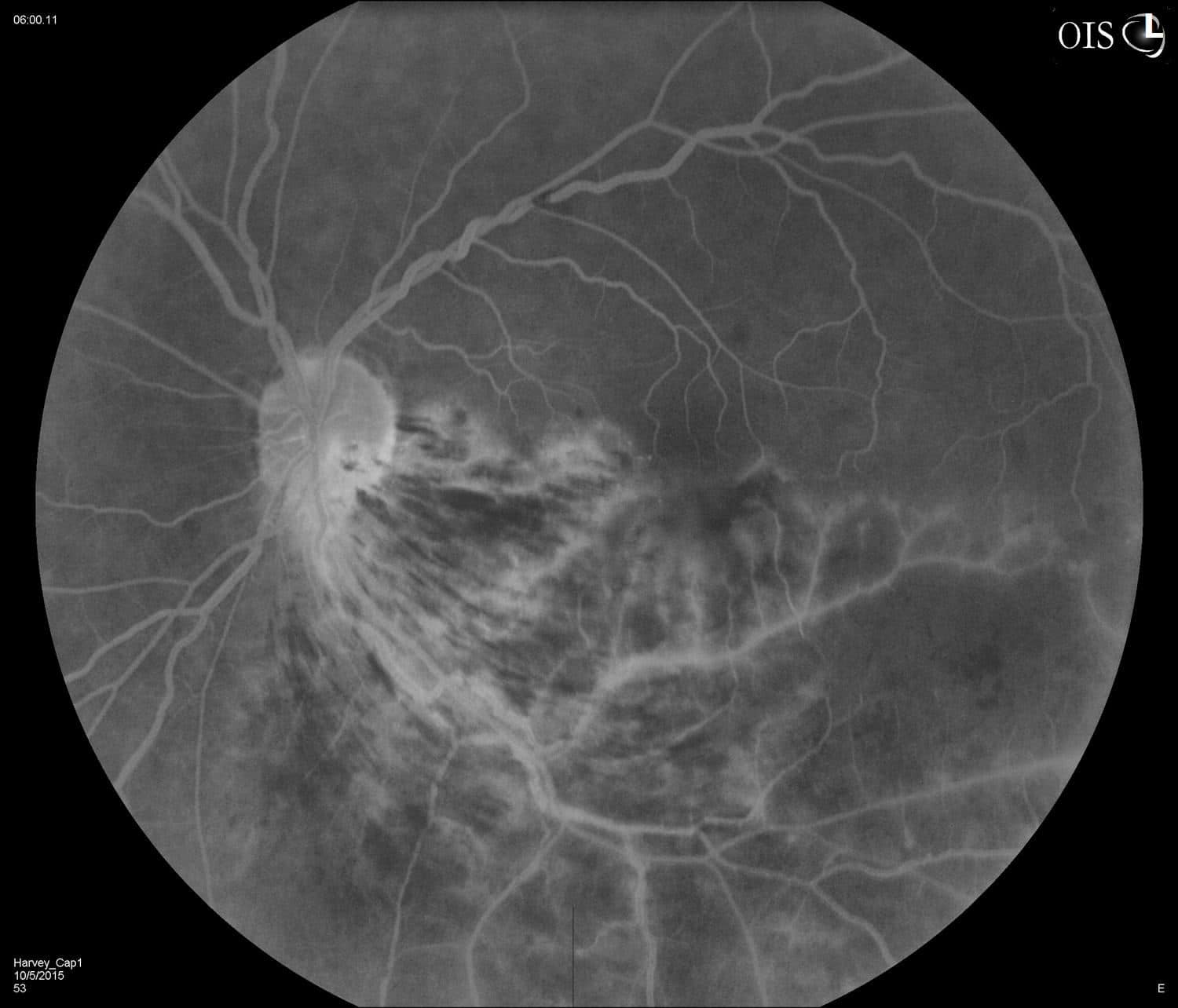 Figure 3. Fundus Fluorescein Angiogram of the left eye showing prominent inferotemporal leakage and no leakage super temporally. There was blockage inferotemporal corresponding to the intraretinal hemorrhages. There was decreased perfusion and capillary remodeling of the far inferotemporal peripheral vasculature. There was non-perfusion along the entire inferior vasculature consistent.
Clinical Course
The optometrist's diagnosis was confirmed as an acute branch retinal vein occlusion (BRVO) of the left eye. These patients should be seen within 1-14 days after diagnosis depending on their fellow eye status.
An intravitreal anti-VEGF injection was recommended given the significant macular edema with subretinal fluid in the left eye. She was also referred to her primary care physician for a checkup of her blood pressure and diabetes.
The patient received a 2mg/0.05 ml injection of Aflibercept (Eylea®) intravitreally. She was scheduled for a follow-up appointment and a repeat injection in 4-5 weeks.
The patient was monitored closely every 1-2 months for intravitreal injections in the left eye. Over the course of five years, her edema resolved and her vision improved from 20/50 to 20/25. Her recent OCT and fundus photos are seen below: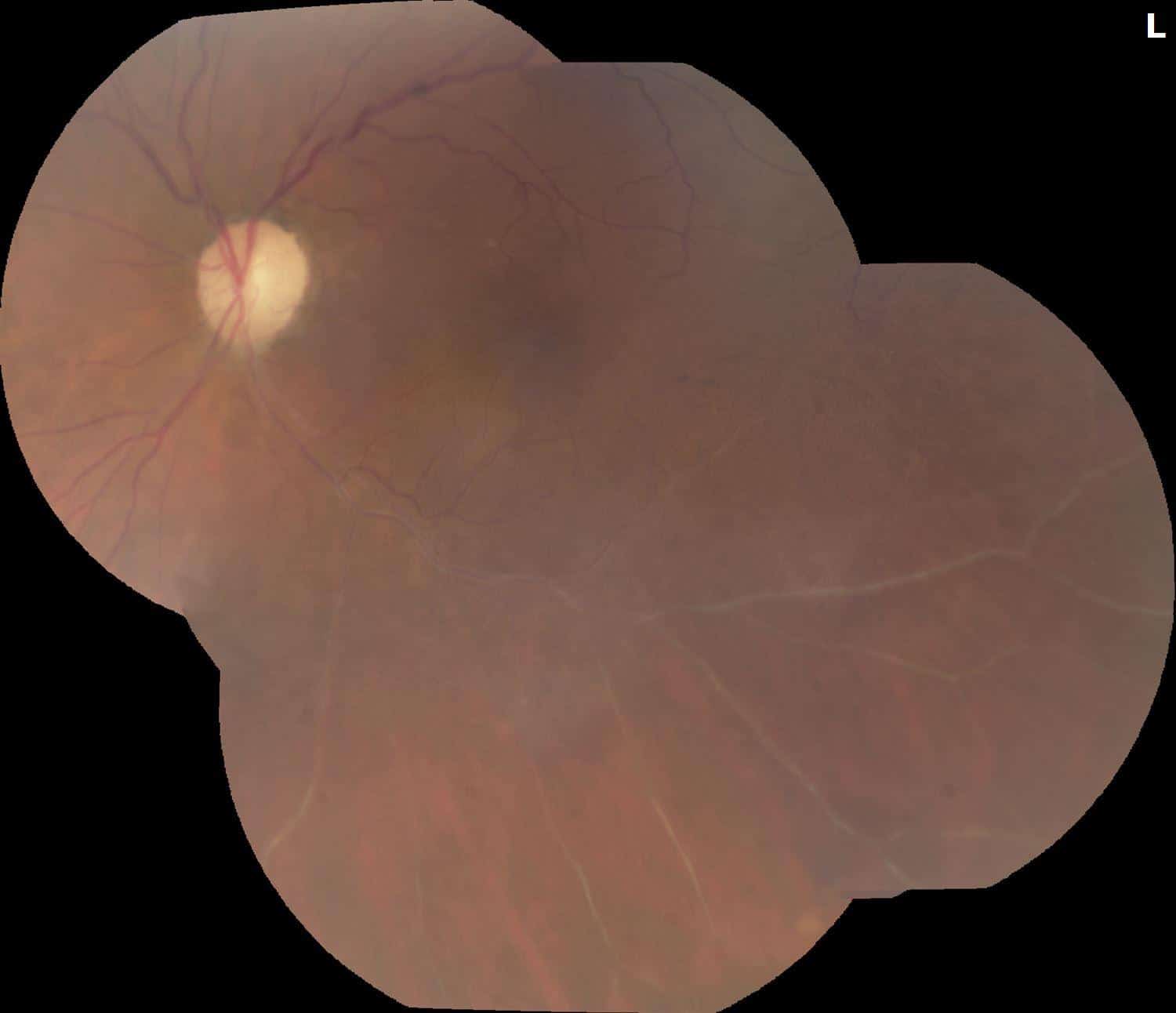 Figure 4. Follow-up fundus photo of the left eye shows stable severe silver wiring of the arteries and veins of the inferior arcade. No intraretinal hemorrhage is seen. No surface neovascularization seen.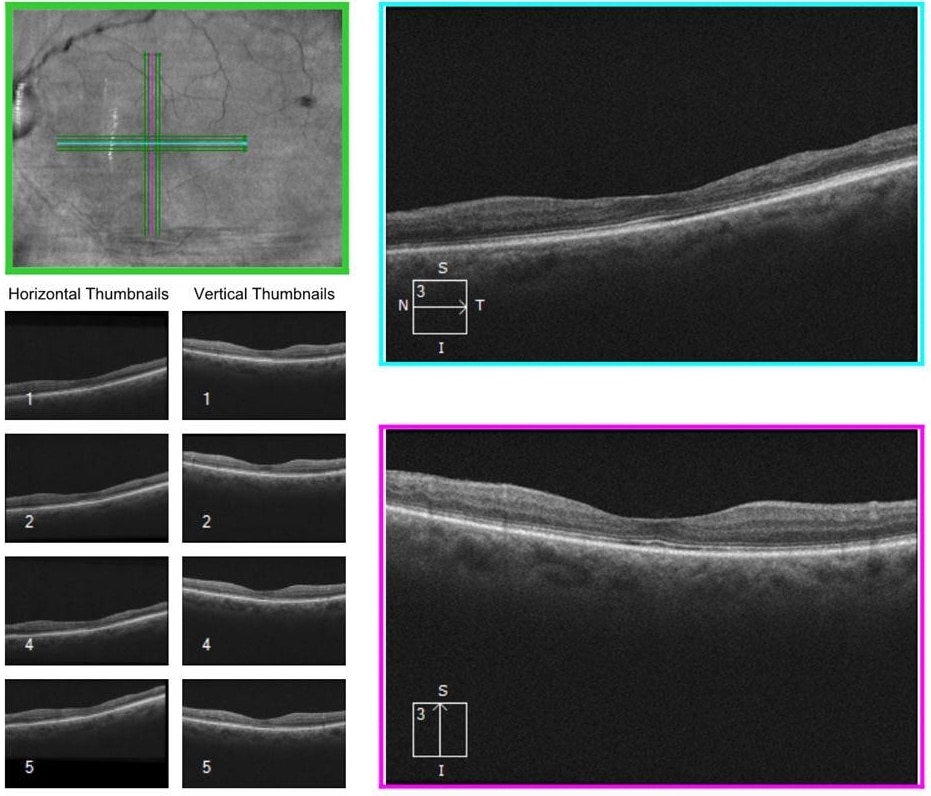 Figure 5. Follow-up OCT of the left eye shows no intraretinal fluid, no evidence of sub retinal fluid, and inferotemporal RPE thinning consistent with typical post-occlusive atrophy.
Differential Diagnosis:
HRVO
CRVO
Susac's disease
Diabetic retinopathy
Macular telangiectasia
Radiation retinopathy
Discussion:
Branch Retinal Vein Occlusion
A branch retinal vein occlusion (BRVO) is the second most common type of retinal vascular disease, the first being diabetic retinopathy. A BRVO affects one of the branches of the central retinal vein, and a hemispheric RVO (HRVO) impacts an entire trunk of the central retinal vein draining the superior or inferior retinal hemisphere. Meanwhile, a central RVO (CRVO) occludes the central retinal vein downstream of all veins in the retina.
Prior to the advent of lasers, steroids, and anti-VEGF injections to treat macular edema, it was common practice to observe these patients in a general eye care practice, monitoring for "30-day" neovascular glaucoma and progression of disease prior to referral. However, with the availability of new treatments for disease that have been shown to be far superior to observation, referral to a retina specialist within 30 days of diagnosis has become standard of care for most general practitioners.
Patients who have bilateral vein occlusion of any subtype, patients who lack risk factors such as hypertension and diabetes also warrant a medical work-up including a hypercoagulability panel, platelet & complete blood counts, and a hyperviscosity evaluation by their medical doctor. Once the patient is stable from retinal ischemia, edema, and neovascularization perspectives, they can be monitored by the general eye provider for monitoring of glaucoma or ocular hypertension and optimization of best corrected visual acuity.
If you are looking to schedule your first consultation, please contact us today by clicking HERE and find the location that is nearest you!
References:
Chen YY, Sheu SJ, Hu HY, Chu D, Chou P. Association between retinal vein occlusion and an increased risk of acute myocardial infarction: A nationwide population-based follow-up study. PLoS One 2017;12(9):e0184016. https://PubMed.gov/28898259. DOI: 10.1371/journal.pone.0184016
Battaglia Parodi M, Iacono P, Di Crecchio L, Sanguinetti G, Ravalico G. Clinical and angiographic features in nasal branch retinal vein occlusion. Ophthalmologica 2004;218(3):210-213. https://PubMed.gov/15103219. DOI: 10.1159/000076847
Rodrigues GB, Abe RY, Zangalli C, Sodre SL, Donini FA, Costa DC, Leite A, Felix JP, Torigoe M, Diniz-Filho A, de Almeida HG. Neovascular glaucoma: a review. Int J Retina Vitreous 2016;2:26. https://PubMed.gov/27895936. DOI: 10.1186/s40942-016-0051-x.