Cystoid Macular Edema (CME) – September, 2022
Cystoid Macular Edema (CME) – September, 2022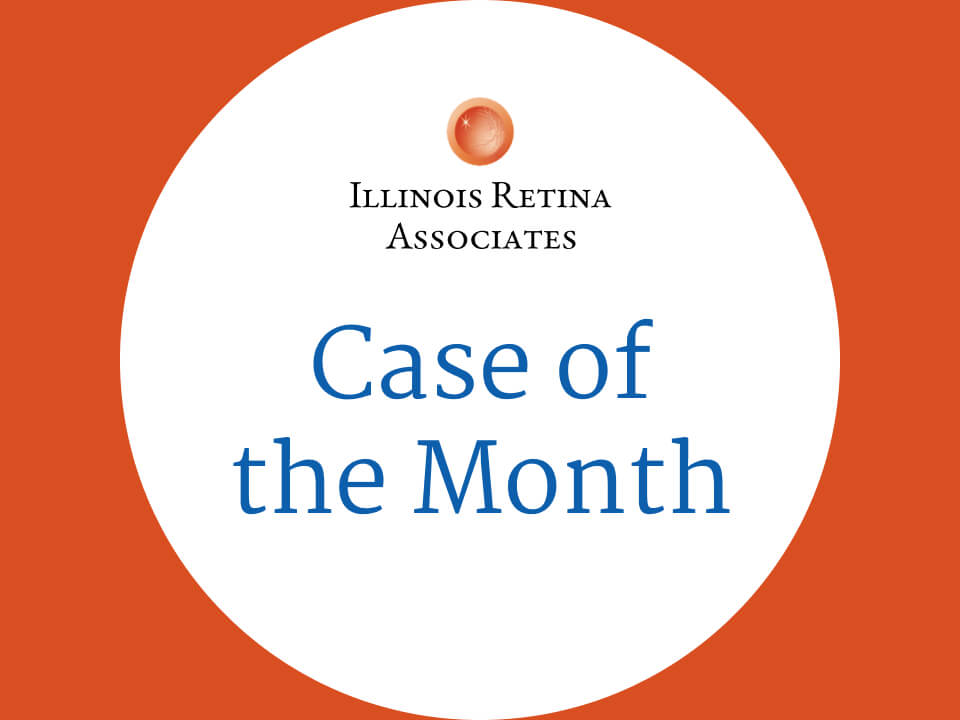 History:
A 78-year-old woman who was an established patient returned for her annual eye exam. Her past ocular history was significant for mild non-proliferative diabetic retinopathy, dry age-related macular degeneration (AMD), and uncomplicated cataract surgery 3 years ago. The patient noted worsening blurry vision for the past several weeks. Her past medical history was significant for diabetes mellitus and lung cancer treated with Taxotere chemotherapy for the past 2 years. She had no family history of eye disease. Review of systems was negative.
Exam:
Her visual acuity was 20/80 in the right eye and 20/150 in the left eye. There was no RAPD. Intraocular pressures were 12 and 11 in the right and left eyes, respectively. Anterior segment exam demonstrated posterior chamber intraocular lenses in both eyes. Dilated fundus examination demonstrated epiretinal membranes and moderate macular edema of both eyes.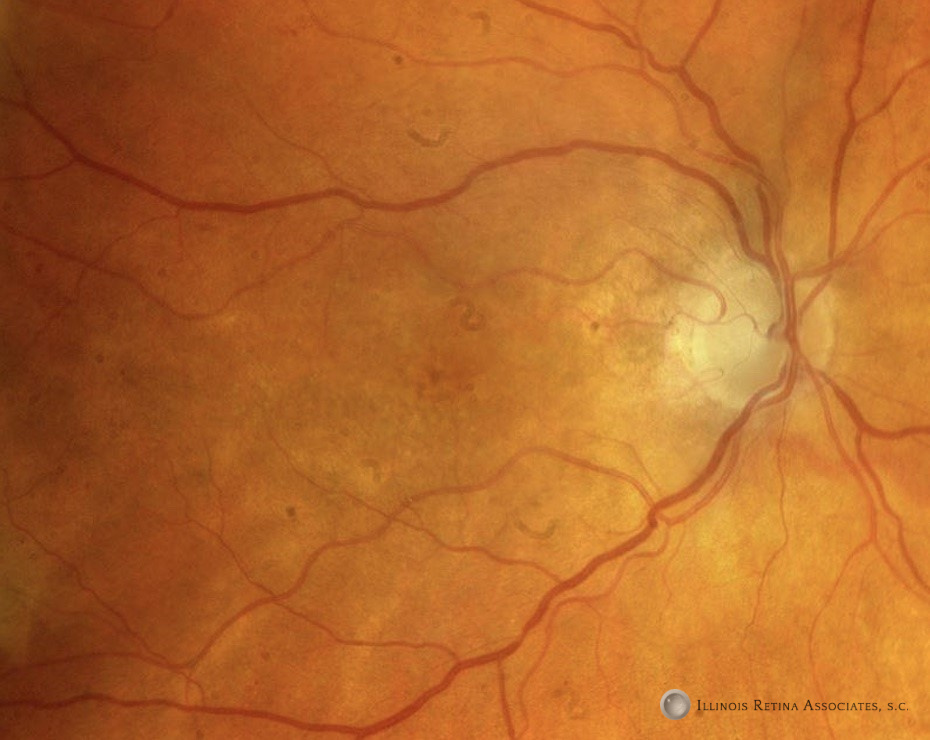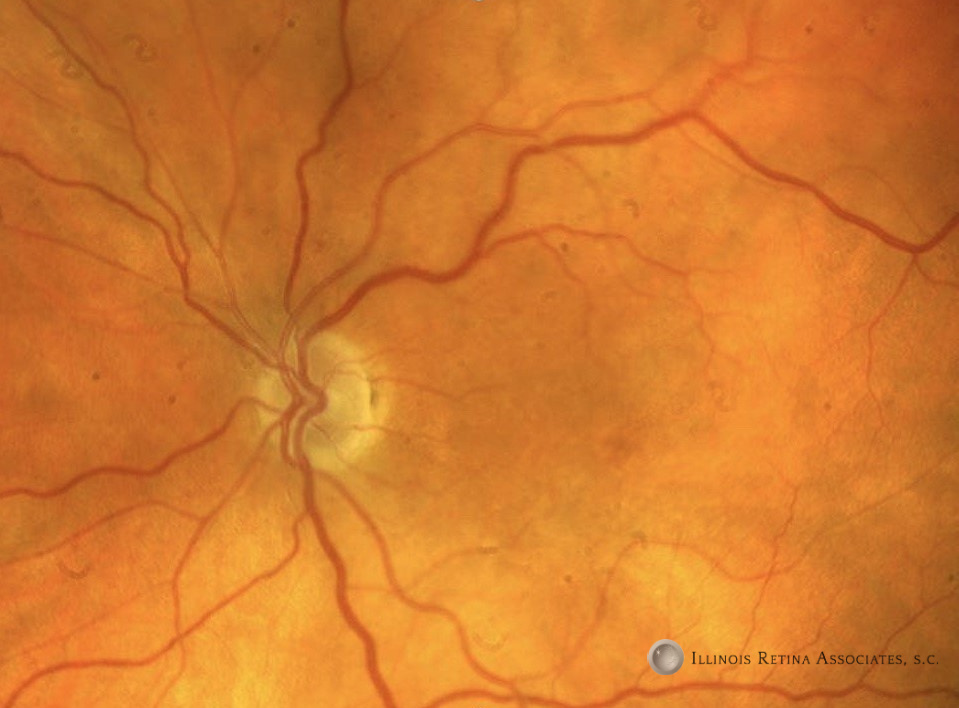 Figure 1: Fundus photographs of the right eye and left eyes demonstrated the above findings.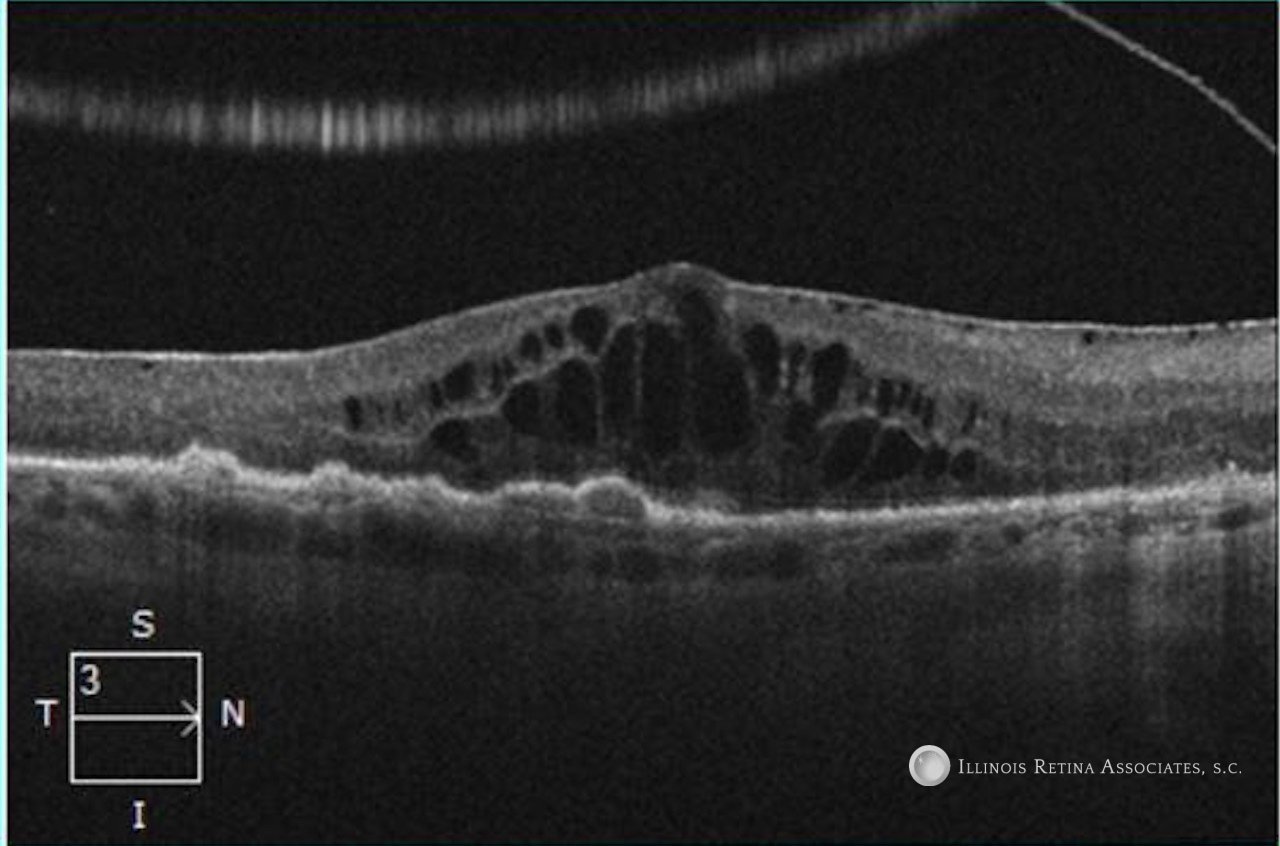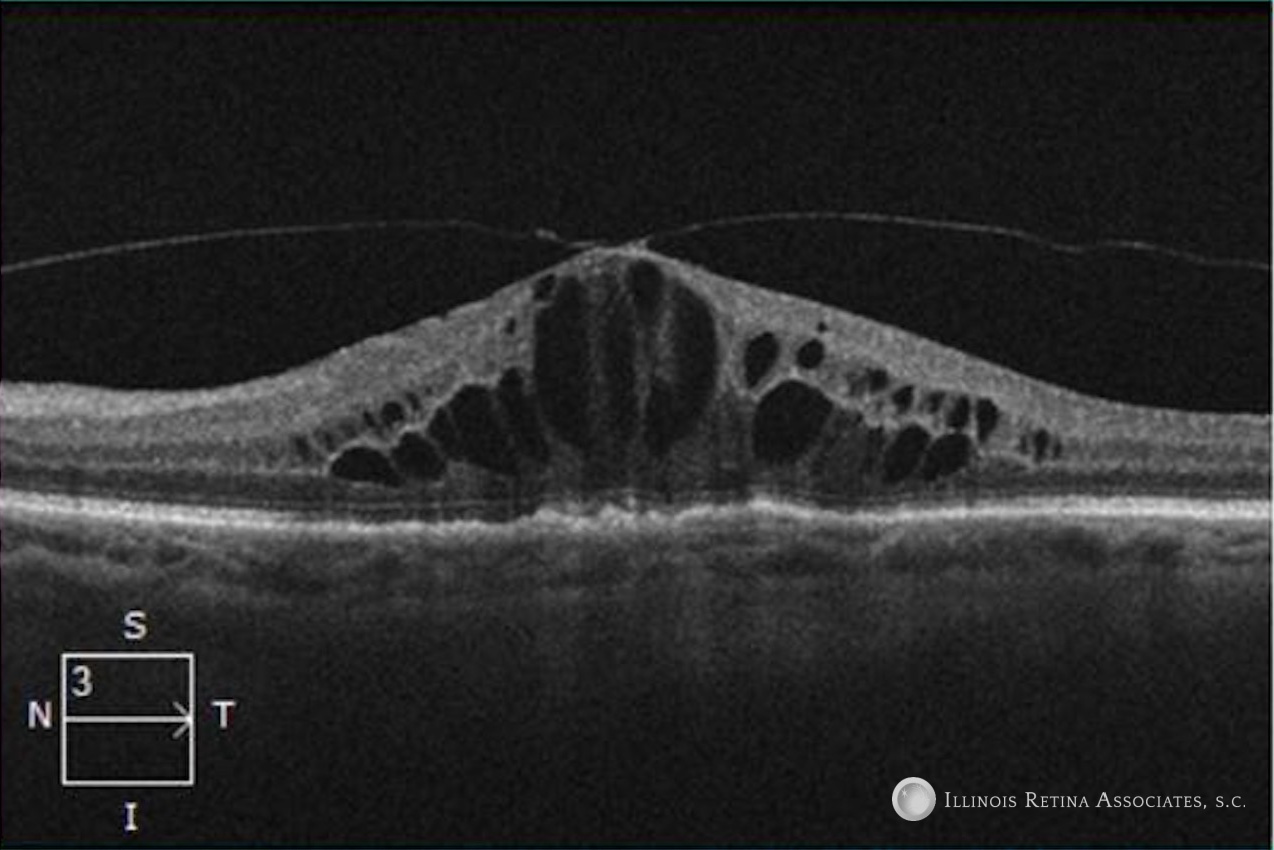 Figure 2: Optical coherence tomography (OCT) scans of the right and left eyes showed epiretinal membranes, drusen, and cystoid macular edema.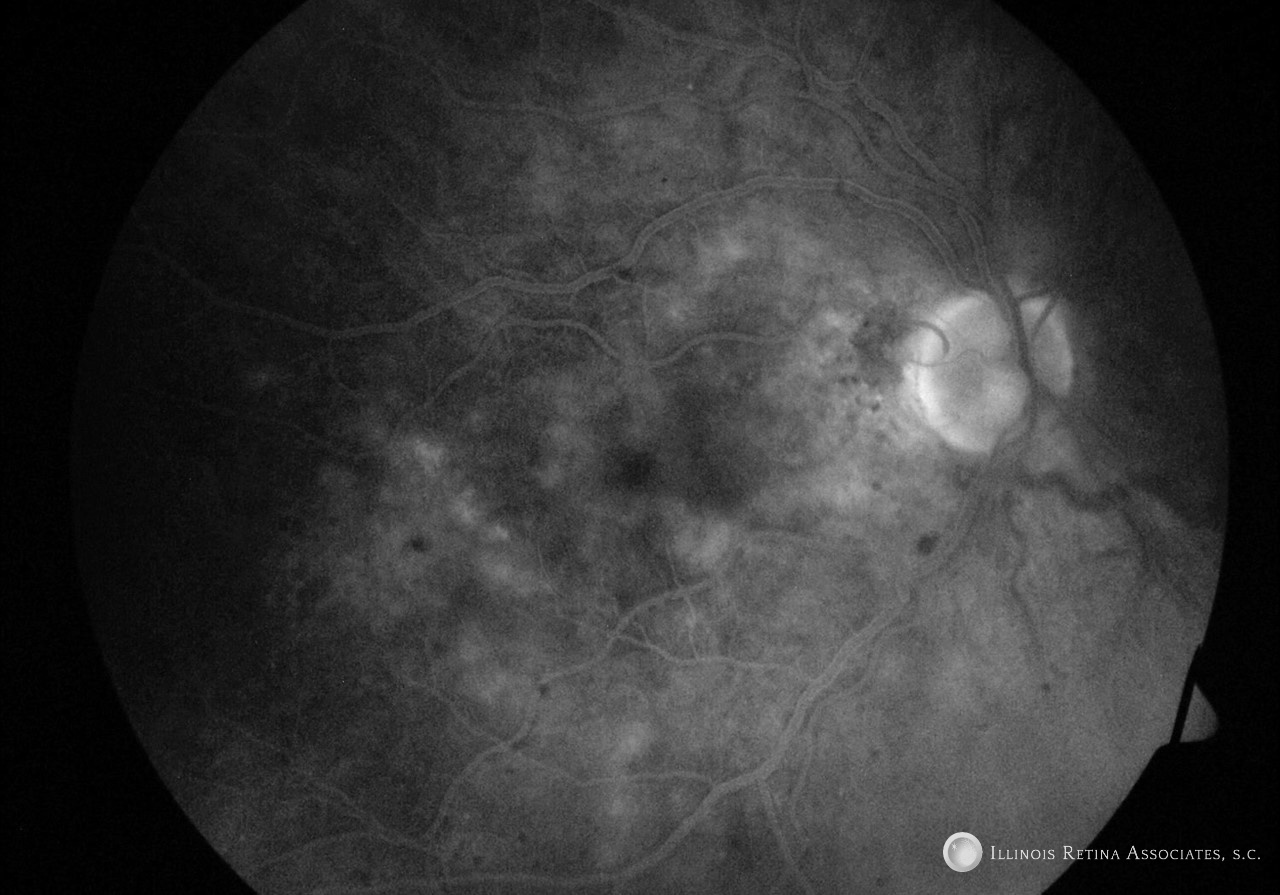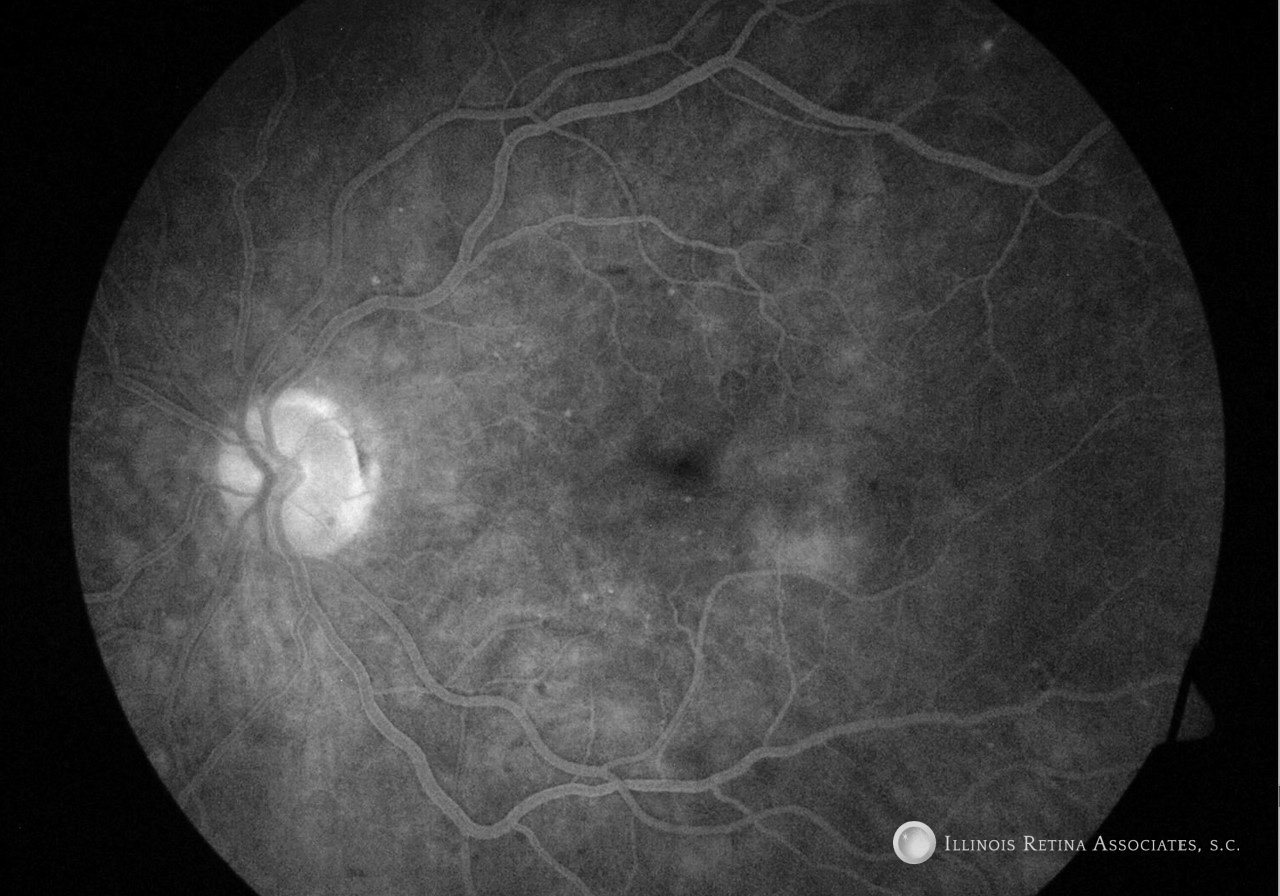 Figure 3: Fluorescein angiography demonstrated no leakage associated with cystoid macular edema. The left eye demonstrates rare microaneurysms.
An ERG was completed and showed rod receptor dysfunction and abnormal dark adaptation. Multifocal ERG was consistent with normal cone function.
Differential Diagnosis:
Juvenile X-Linked Retinoschisis
Certain forms of Retinitis Pigmentosa
Nicotinic Acid
Goldman Favre Syndrome
Phototoxicity
Antimicrotubule agents
Discussion:
Cystoid Macular Edema (CME)
Cystoid macular edema (CME) is retinal thickening of the macula. Cystic spaces form in the outer plexiform layer. This location is most commonly affected since it is a watershed area between the retinal and choroidal circulations. The classic petaloid appearance of CME is caused by the radial distribution of fibers within Henle's layer. Diagnosis can be made on clinical exam and is supported by optical coherence tomography. Fluorescein angiography is an important test to assess for leakage since there is a distinct differential diagnosis for leaking versus non-leaking CME.
CME can be remembered by the mnemonic DEPRIVENS: Diabetes, Epinephrine, Pars Planitis, Retinitis Pigmentosa, Irvine-Gass, Vein Occlusion, E2-prostaglandin, Nicotinic acid and Niacin, and surgery. In most of these cases the fluorescein angiogram will demonstrate leakage. Non-leaking CME has the differential of juvenile X-linked retinoschisis, Goldman Favre syndrome, phototoxicity, and antimicrotubule agents.
This patient had no history of inherited retinal disease, did not have a history of phototoxicity, or exposure to nicotinic acid. She was however treated with Taxotere–a taxane based chemotherapeutic which has antimicrotuble effects. CME occurs in less than 10% of patients treated with taxane based drugs. Currently the cause of this side effect remains unclear but taxanes appear to be toxic to Müller cells as well as retinal pigment epithelium. Cessation of the medication will often lead to resolution of CME. Several treatment options exist including topical or oral carbonic anhydrase inhibitors, topical nonsteroidal anti-inflammatory drugs, sub-Tenon injection of triamcinolone, and intravitreal bevacizumab.
After a careful discussion with our patient's oncologist, the patient was switched to an alternative chemotherapy. After 8 weeks there was a dramatic improvement in their macular edema (Figure 4) and their vision improved to 20/40 OU.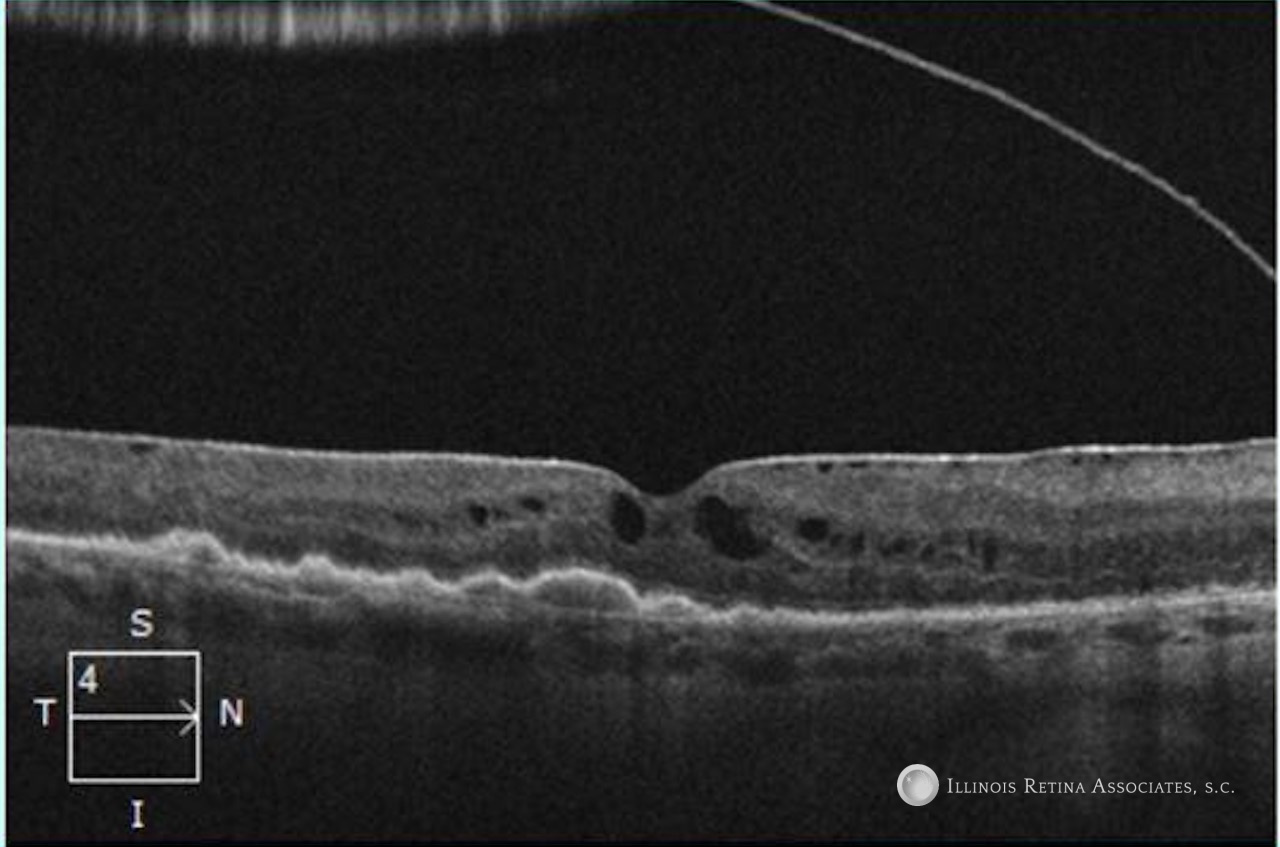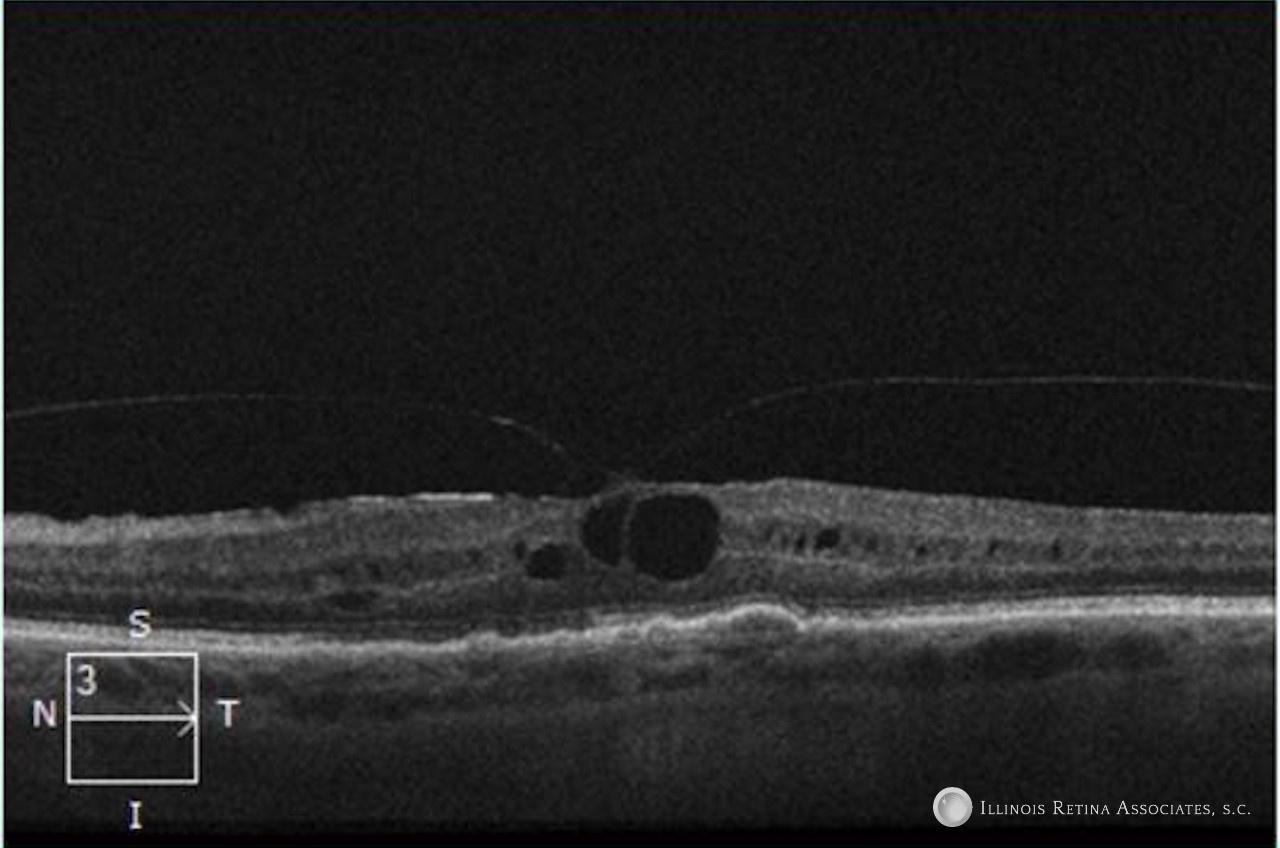 References:
Schiff PB, Fant J, Horwitz SB. Promotion of microtubule assembly in vitro by taxol. Nature. 1979;277(5698):665–7.
Tanaka Y, Bando H, Hara H, Ito Y, Okamoto Y. Cystoid macular edema induced by nab-paclitaxel. Breast Cancer. 2015;22(3):324–6.
Shih CH, Lee YC. Impaired retinal pigment epithelium in paclitaxel-induced macular edema: a case report. Medicine (Baltimore). 2018;97(26): e11229.
Meyer KM, Klink T, Ugurel S, Brocker EB. Regression of paclitaxel-induced maculopathy with oral acetazolamide. Graefes Arch Clin Exp Ophthalmol. 2012;250(3):463–4.
Ehlers JP, Rayess H, Steinle N. Topical dorzolamide therapy for taxane-related macular oedema. Eye (Lond). 2013;27(1):102–4.
Matsuoka N, Hasebe H, Mayama T, Fukuchi T. Sub-tenon injections of triamcinolone acetonide had limited effect on cystoid macular edema secondary to nanoparticle albumin-bound-paclitaxel (abraxane). Case Rep Ophthalmol Med. 2015;2015:181269.
Hassall MM, Andrew NH. Single-eye trial of a topical carbonic anhydrase inhibitor versus intravitreal bevacizumab for the treatment of taxane drug-induced cystoid macula oedema. BMJ Case Rep. 2016.