Hinsdale Office
Hinsdale Office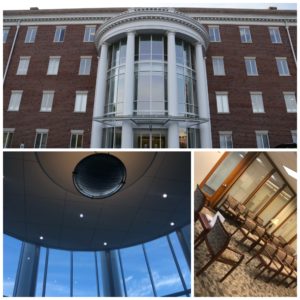 When you visit our Hinsdale office, you'll find it warm and inviting from the impressive Colonial style building to the new two-story spacious atrium with comfortable seating. The Salt Creek and a park-like setting surrounds the office and it can be easily reached by either Interstate 294 or Interstate 55.
The downtown area of Hinsdale is a US National Register Historical District. One of the major attractions in the area is the US National Register Graue Mill. The mill is a water-powered grist mill that was erected in 1852 and is now a museum. It is one of two operating water-powered grist mills in Illinois.
When entering the Hinsdale office you will be warmly greeted by our friendly, skilled staff. While in our office, feel free to learn about different state parks by viewing our art collection-complete with a synopsis of each location.
Our doctors are the top Retinal Specialists and Surgeons in the field. They provide you with the best care, comfort and visit experience. We look forward to seeing you at our office to give you the care that you deserve.