Maternally Inherited Diabetes and Deafness – July, 2023
Maternally Inherited Diabetes and Deafness – July, 2023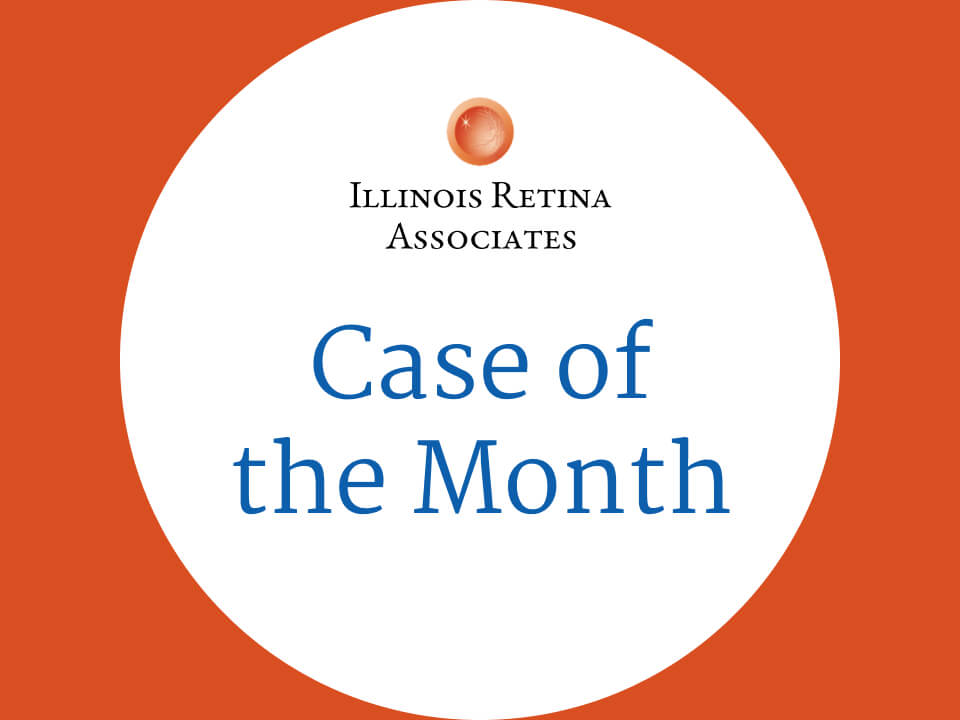 History:
A 58-year-old female presented as referral from optometry due to concern for proliferative diabetic retinopathy. Patient reported progressively worsening vision in both eyes over the last 2 months. Patient also reported hearing difficulty for 1 year which she has been seeing an ENT specialist.
Exam:
Visual acuity is 20/40 in both eyes. Her pupils are normally reactive without RAPD. Her intraocular pressure was 18 and 16. Anterior segment exam was normal in both eyes outside trace nuclear sclerosis cataracts. Dilated exam showed areas of RPE mottling and atrophy around the macula in both eyes.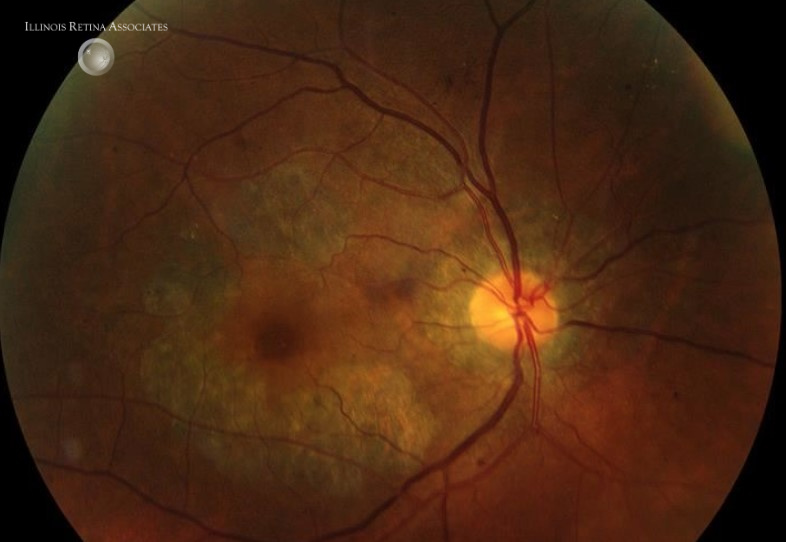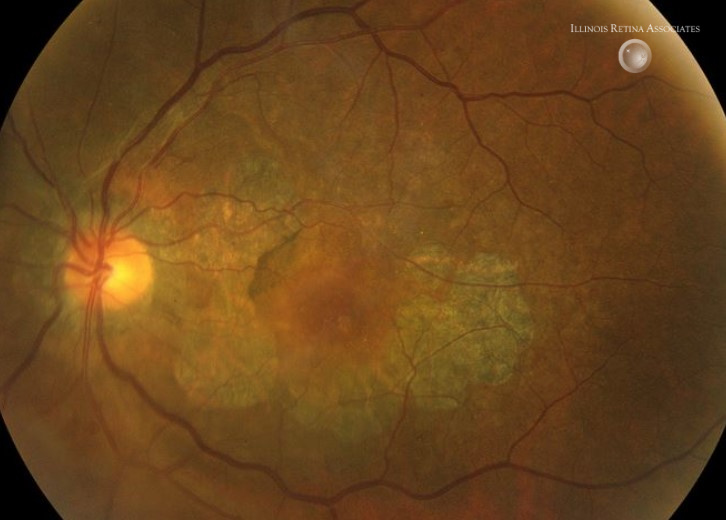 Figure 1: Fundus photography showed areas of RPE mottling and atrophy around the macula in both eyes. There were also areas of lipid exudates, scattered microaneurysms, and cotton wool spots.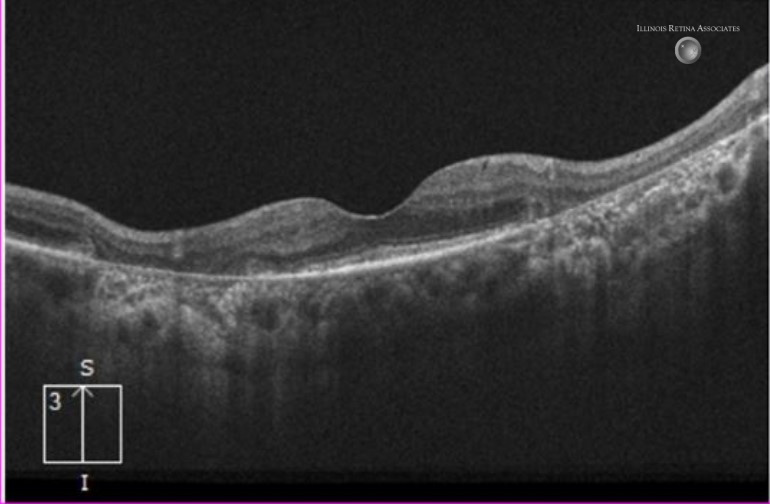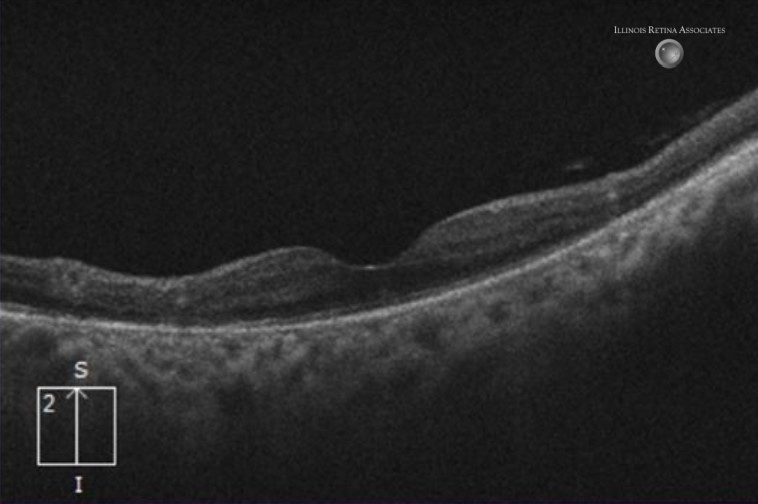 Figure 2: Optical coherence tomography (OCT) retina showed RPE atrophy. No significant intraretinal or subretinal fluid.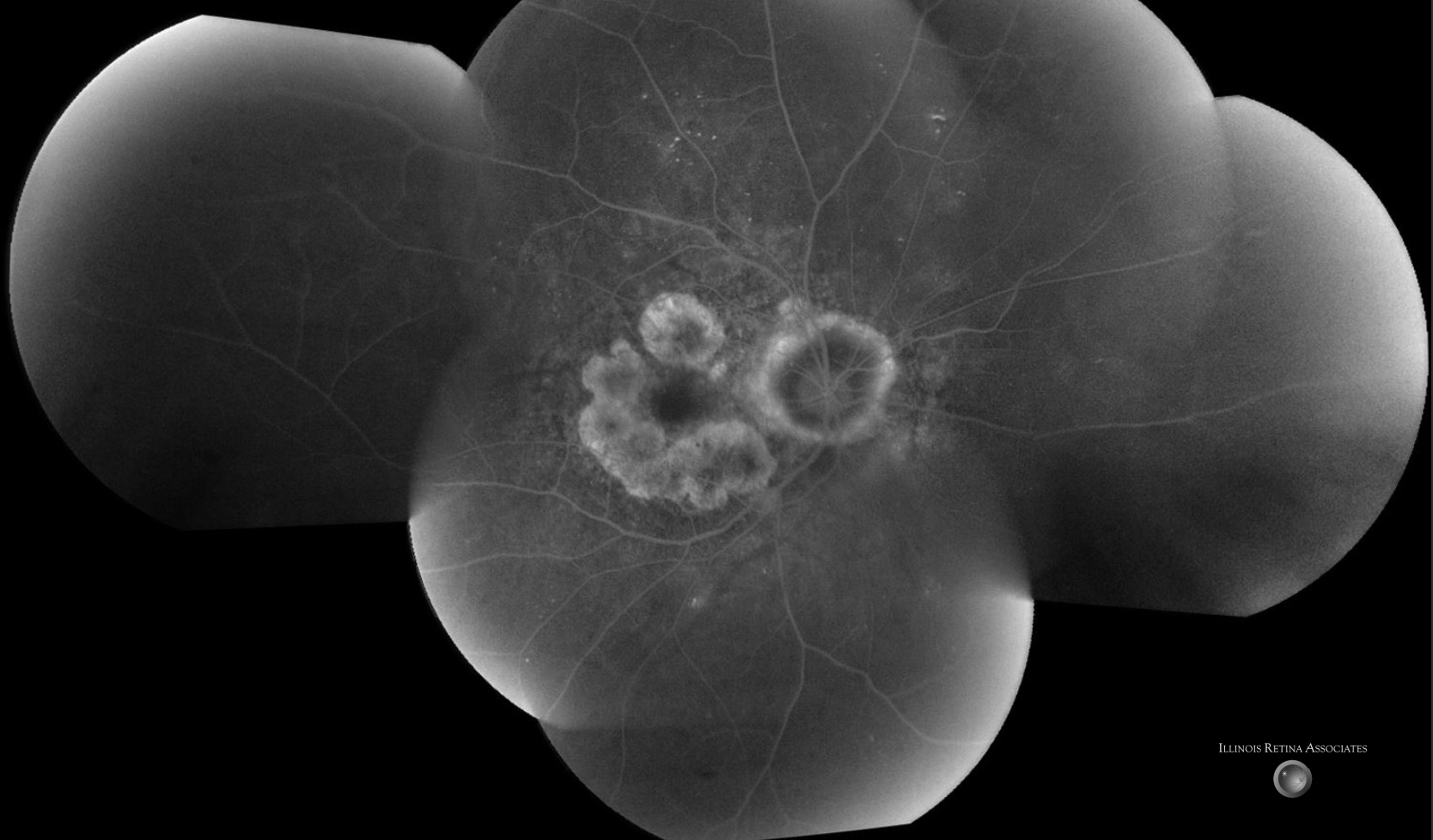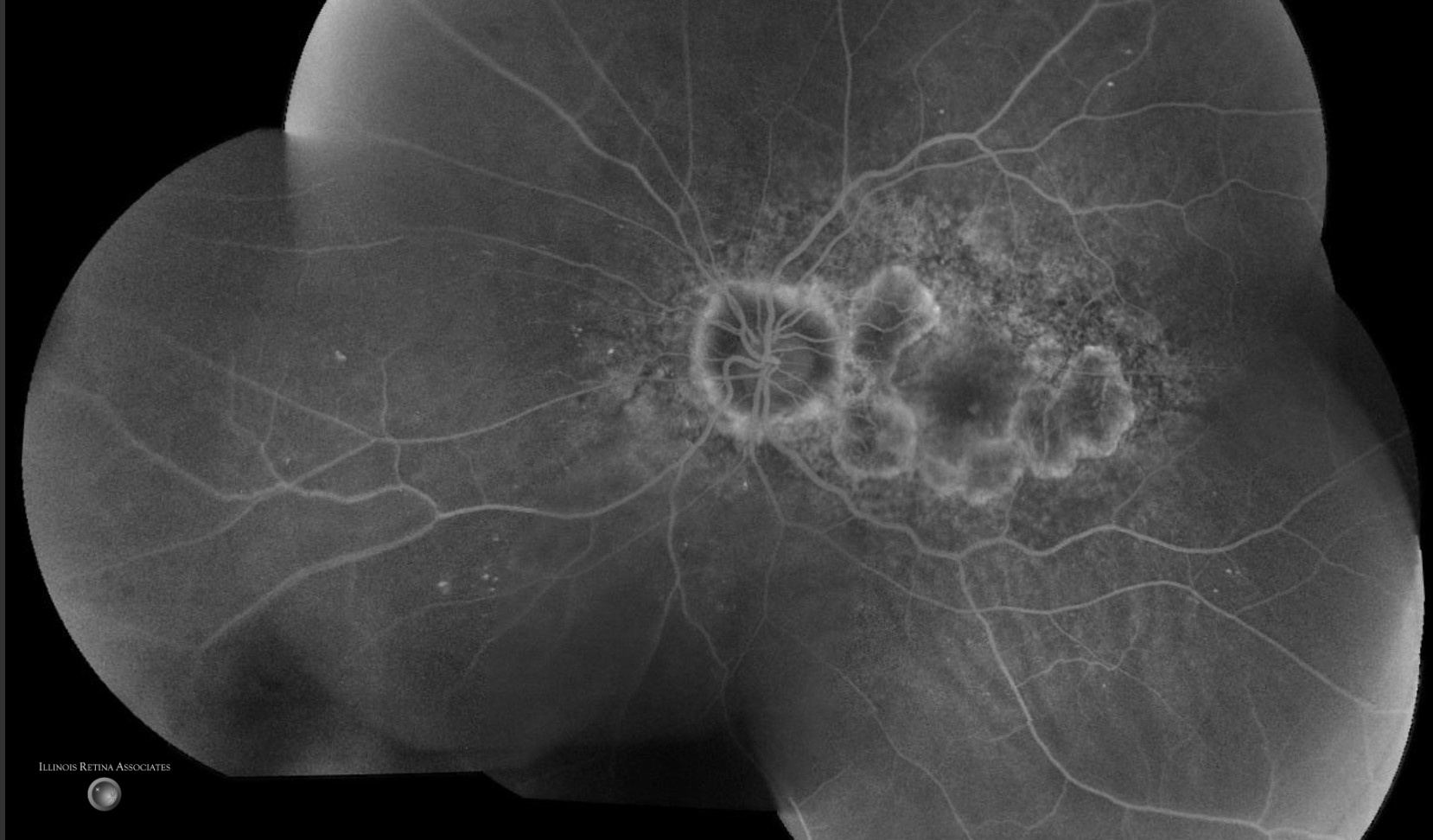 Figure 3: Fluorescein angiogram (FA) showed normal transit times. There were window defects in the areas RPE atrophy around the fovea. There were focal areas of hyperautofluorescence corresponding to microaneurysms.
Differential Diagnosis:
Macular degeneration with geographic atrophy

Enlarging laser scars
Maternally inherited diabetes and deafness
Pattern dystrophy
Discussion:
Maternally Inherited Diabetes and Deafness
Maternally inherited diabetes and deafness (MIDD) is inherited through maternal mitochondrial DNA. Our patient underwent genetic testing which confirmed the diagnosis. MIDD is responsible for 1% of all diabetes and is likely underdiagnosed. Onset of diabetes is in the mid 30s but can range from adolescents to middle age. The deafness associated with MIDD develops in about 75% of patients and typically presents in young adulthood before the diabetes is diagnosed. Patients with MIDD are typically short in stature with normal BMI. Other health complications such as cardiac disease, myopathy with muscle weakness, kidney disease, and strokes at a young age are more common in patients with MIDD. It is recommended that children of female patients with MIDD are either genetically tested or monitored closely.
If you are looking to schedule your first consultation, please contact us today by clicking HERE and find the location that is nearest you!
References:
Supale S, Li N, Brun T, Maechler P. Mitochondrial dysfunction in pancreatic beta cells. Trends Endocrinol Metab. 2012 Sep;23(9):477-87. doi: 10.1016/j.tem.2012.06.002. Epub 2012 Jul 4.

Ovens CA, Ahmad K, Fraser CL. Fundus Autofluorescence in Maternally Inherited Diabetes and Deafness: The Gold Standard for Monitoring Maculopathy? Neuroophthalmology. 2019 Sep 24;44(3):168-173. doi: 10.1080/01658107.2019.1653935. PMID: 32395168; PMCID: PMC7202421.
van den Ouweland, J. M. W., Lemkes, H. H. P. J., Ruitenbeek, W., Sandkuijl, L. A., de Vijlder, M. F., Struyvenberg, P. A. A., van de Kamp, J. J. P., Maassen, J. A. Mutation in mitochondrial tRNA(leu-UUR) gene in a large pedigree with maternally transmitted type II diabetes mellitus and deafness. Nature Genet. 1: 368-371, 1992.
Ballinger, S. W., Shoffner, J. M., Hedaya, E. V., Trounce, I., Polak, M. A., Koontz, D. A., Wallace, D. C. Maternally transmitted diabetes and deafness associated with a 10.4 kb mitochondrial DNA deletion. Nature Genet. 1: 11-15, 1992.