Pentosan Maculopathy – March, 2022
Pentosan Maculopathy – March, 2022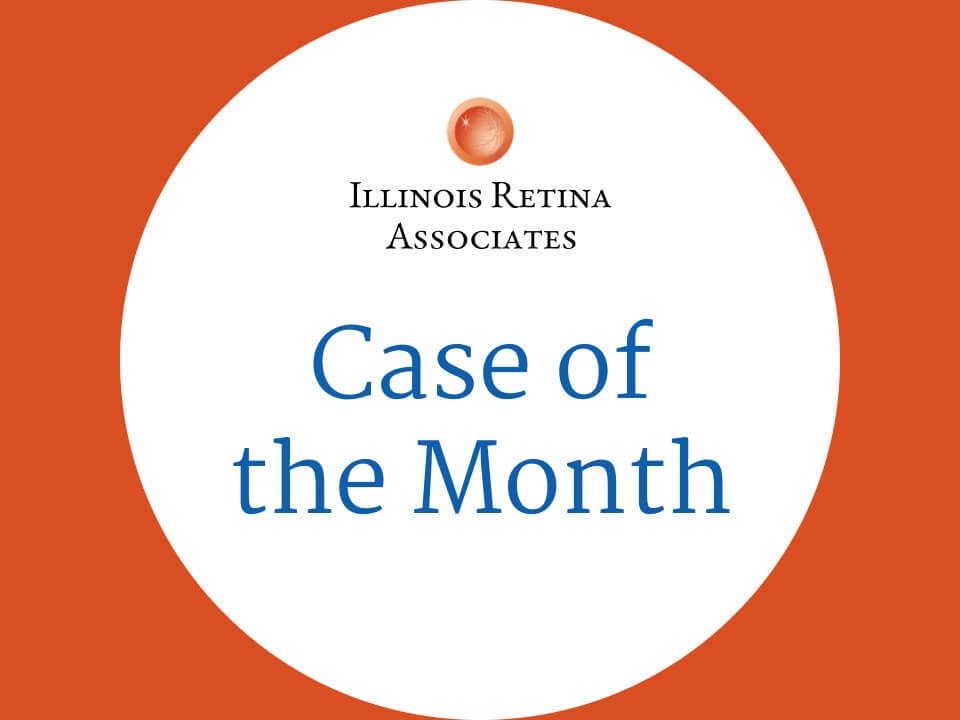 History
A 75-year-old woman was referred by her ophthalmologist for age-related macular degeneration (AMD) with new subretinal fluid in the left eye. She noticed metamorphopsia starting 5 days prior. Her past medical history was significant for interstitial cystitis for which she took Pentosan polysulfate sodium (Elmiron). Review of systems was non-contributory.
Exam
Her visual acuity was 20/50 and 20/25 in the right and left eye, respectively. There was no RAPD. Intraocular pressures were 12 and 16 in the right and left eyes, respectively. Anterior segment exam demonstrated early nuclear sclerosis in the both eyes. Dilated fundus examination demonstrated pigment clumping and RPE change in the central macula OU (Figure 1).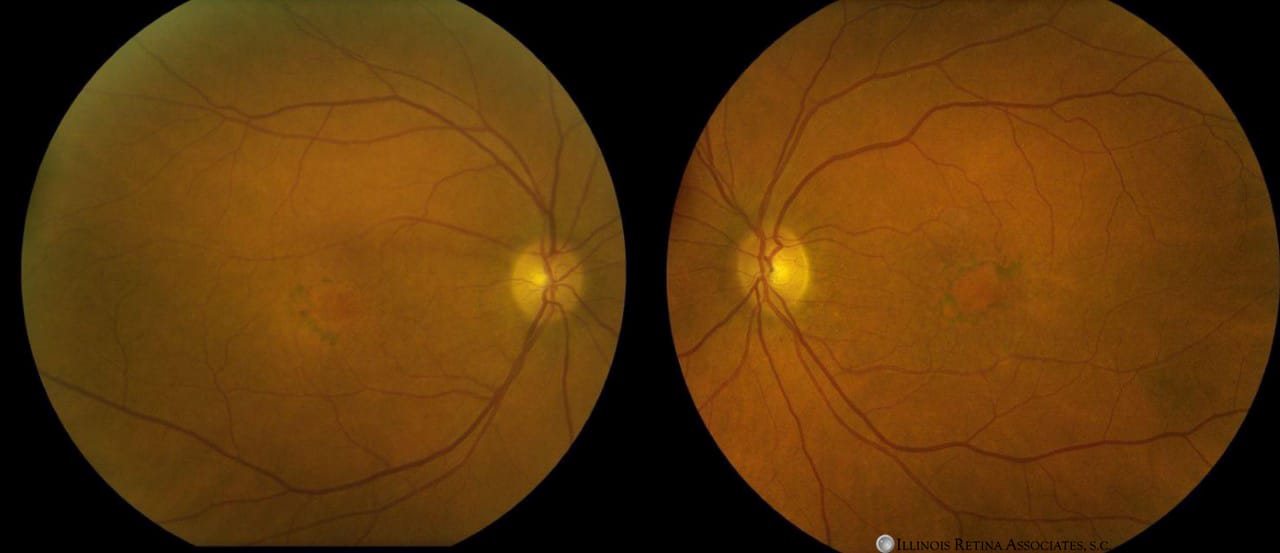 Figure 1: Fundus photographs of the right eye and left eyes demonstrating pigment clumping and RPE changes OU.
Fundus autofluorescence was more striking than the fundus photos with some peripapillary hypoautofluorescence with scattered hypoautofluorescence and hyperautofluorescent lesions in the macula OU (Figure 2).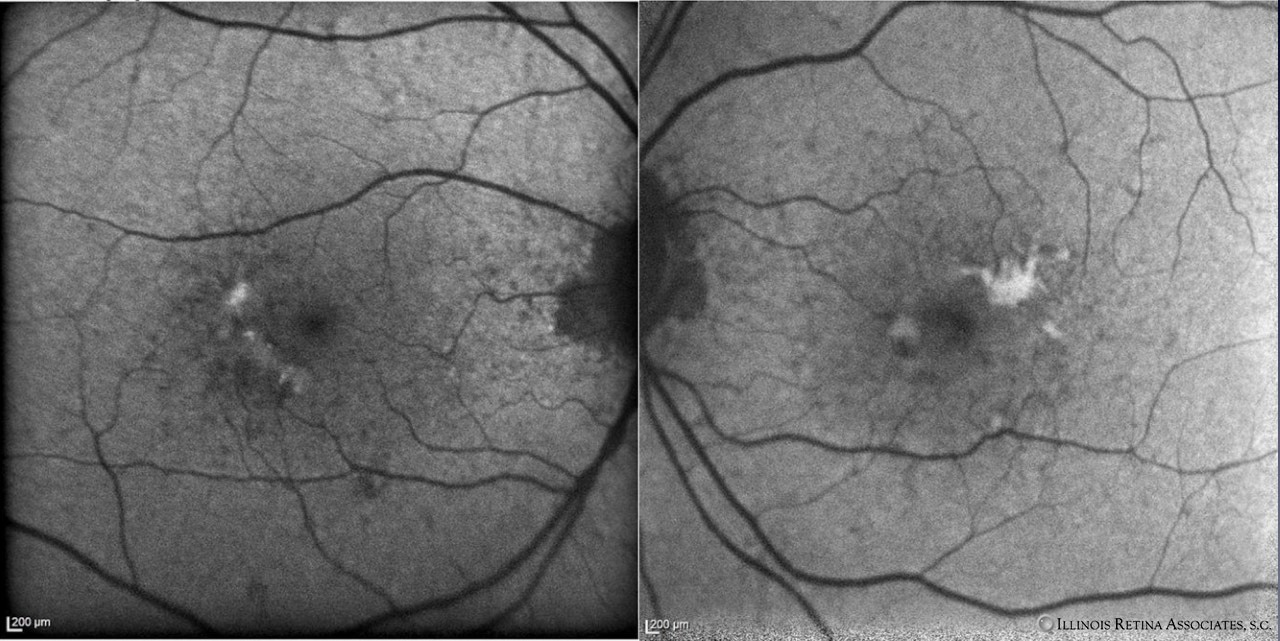 Figure 2: Fundus autofluorescence of the right and left eyes demonstrating peripapillary hypoautofluorescence with scattered macular hypoautofluorescence and hyperautofluorescent lesions.
Optical coherence tomography confirmed the presence of subretinal fluid in the left eye and, additionally, showed a loss of definition of the interdigitation zones and some RPE atrophy in both eyes (Figure 3).

Figure 3: OCT scans of the right and left eyes respectively demonstrating subretinal fluid in the left eye and a loss of definition of the interdigitation zones and some RPE atrophy in both eyes.
The patient was allergic to fluorescein so a fluorescein angiogram could not be performed. Optical coherence tomography angiography was performed which did not demonstrate the presence of a choroidal neovascular membrane.
Differential Diagnosis:
Neovascular Age-related Macular Degeneration
Pentosan Maculopathy with associated subretinal fluid
Pentosan Maculopathy with choroidal neovascular membrane
Central serous chorioretinopathy
Pattern dystrophy
Maternally inherited diabetes and deafness syndrome (MIDD)
Pachychoroid Pigment Epitheliopathy
Discussion:
Pentosan Maculopathy
Pentosan polysulfate sodium is the only FDA approved oral medication to treat interstitial cystitis. It was first approved in 1996 and the first case of maculopathy was reported in 2018. Studies have since found a dose-dependent association between Pentosan polysuflate sodium and this characteristic maculopathy. Patients typically present with trouble reading, prolonged dark adaptation, and a loss of visual acuity. Some patients may be asymptomatic, and no formal guidelines for screening currently exist.
Most cases demonstrate involvement of the macula however rare cases affecting the peripheral retinal have been reported. Other fundus findings include RPE changes, outer retinal atrophy, vitelliform maculopathy, and cystoid macular edema. Pentosan maculopathy can also be associated with subretinal fluid with or without the presence of a CNVM so it is important to perform IVFA or OCTA in these cases to rule out the presence of a CNVM.
Although there are no formal guidelines for screening annual exams have been suggested with fundus photography, fundus autofluorescence, OCT, and near infrared imaging. If toxicity is discovered, there is no known treatment and cessation of the medication is recommended.
Fundus autofluorescence imaging will reveal more striking changes than are typically noted on fundus examination with hyper and hyperautofluorescent spots centered on the macula.
Optical coherence tomography will demonstrate hyperreflective nodules at the level of the RPE in areas of pigment clumping and will demonstrate shadowing of the underlying choroid. Earlier disease will show irregularities of the outer retinal layers which can progress to advanced disease where outer retinal atrophy can develop.
The patient was recommended see their urologist regarding cessation of Pentosan polysuflate sodium. Their urologist recommended stopping therapy. Despite the absence of CNVM on OCTA, a trial of anti-VEGF was performed. However, a significant change in the subretinal fluid was not noted and the patient has remained stable after several months of observation.
If you are looking to schedule your first consultation, please contact us today by clicking HERE and find the location that is nearest you!
References:
Hanno PM, Erickson D, Moldwin R, Faraday MM, American Urological Association. Diagnosis and treatment of interstitial cystitis/bladder pain syndrome: AUA guideline amendment. J Urol. 2015;193(5):1545-1553.
Parsons CL, Schmidt JD, Pollen JJ. Successful treatment of interstitial cystitis with sodium pentosanpolysulfate. J Urol. 1983;130(1):51-53.
Malde S, Palmisani S, Al‐Kaisy A, Sahai A. Guideline of guidelines: bladder pain syndrome. BJU International. 2018;122(5):729-743.
Giusto LL, Zahner PM, Shoskes DA. An evaluation of the pharmacotherapy for interstitial cystitis. Expert Opin Pharmacother. 2018;19(10):1097-1108.
Pearce WA, Chen R, Jain N. Pigmentary Maculopathy Associated with Chronic Exposure to Pentosan Polysulfate Sodium. Ophthalmology. 2018;125(11):1793-1802.
Vora RA, Patel AP, Melles R. Prevalence of Maculopathy Associated with Long-Term Pentosan Polysulfate Therapy. Ophthalmology. 2020;0(0).
Hanif AM, Shah R, Yan J, et al. Strength of Association between Pentosan Polysulfate and a Novel Maculopathy. Ophthalmology. 2019;126(10):1464-1466.