Pentosan Polysulfate Maculopathy – April 2021
Pentosan Polysulfate Maculopathy – April 2021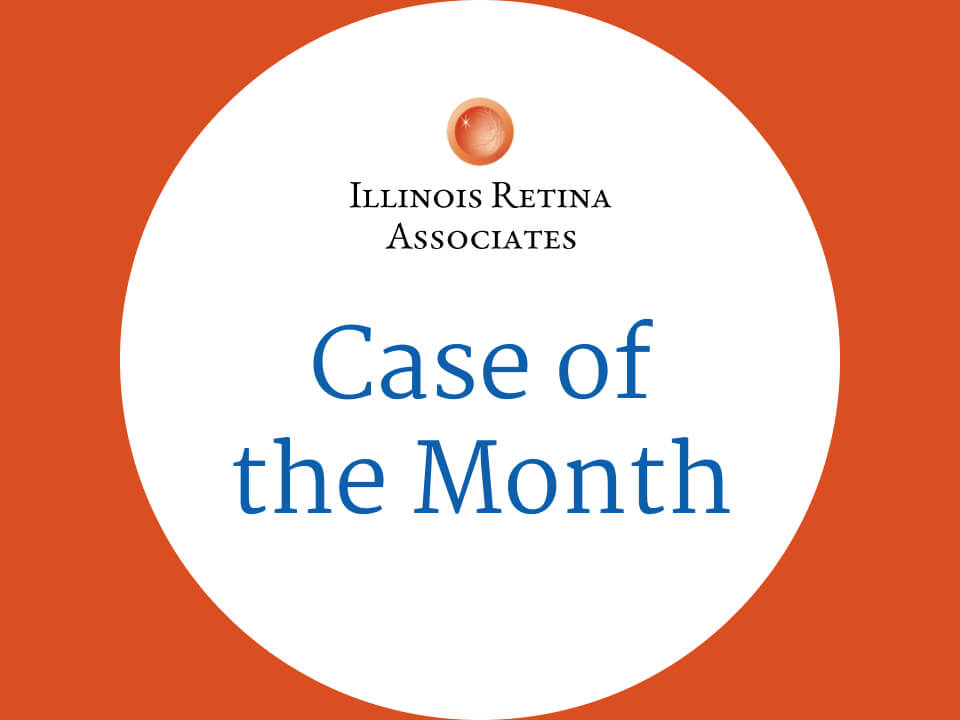 History
A 67-year-old Caucasian woman presented to clinic with complaints of worsening vision at both distance and near. Her ophthalmic history included dry macular degeneration bilaterally and cataracts. She had no eye pain, no redness, no trauma, no flashes, no floaters, and no field loss. Review of systems was negative. Medical history was significant for hypertension, irritable bowel syndrome, mitral valve disease, depression, and peptic ulcer disease. Current medications included spironolactone, citalopram, tizanidine, rosuvastatin, ondansetron, and AREDS-2. She denied smoking, alcohol use, or illicit drug use.
Exam
On exam, vision was 20/20 in the right eye and 20/50 in the left eye, respectively. IOP was 17 and 18. Confrontation visual fields were full bilaterally. Anterior exam of the both eyes was remarkable for 1+ nuclear sclerotic cataracts.
Evaluation of her posterior segment demonstrated vitreous syneresis OU. Below are her fundus photos: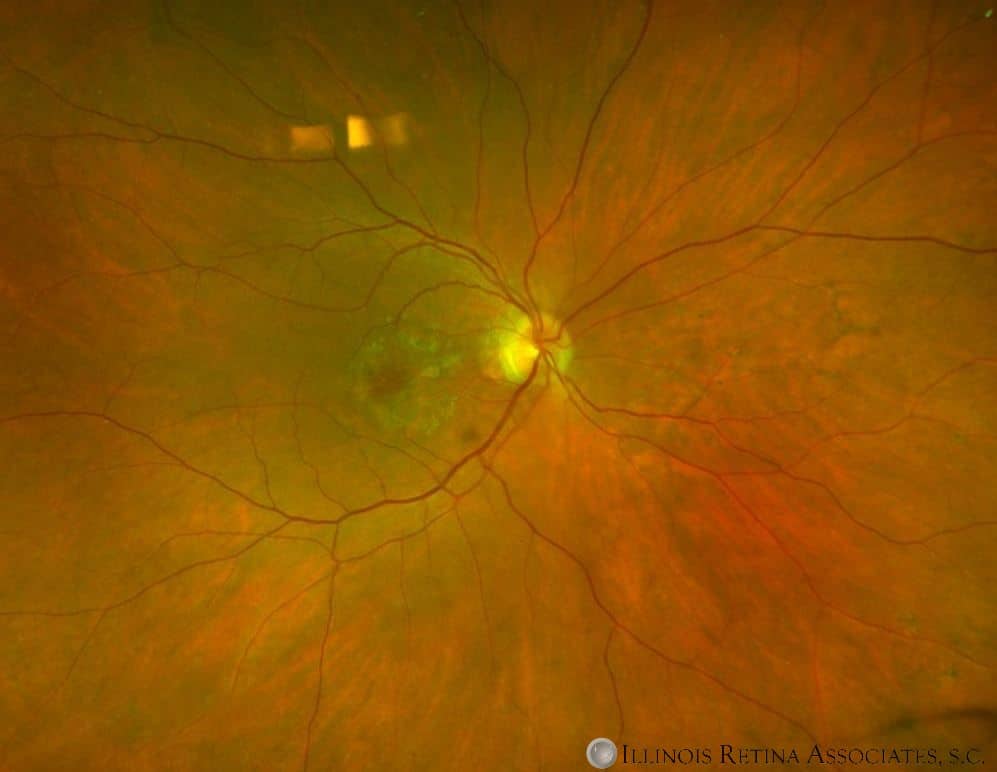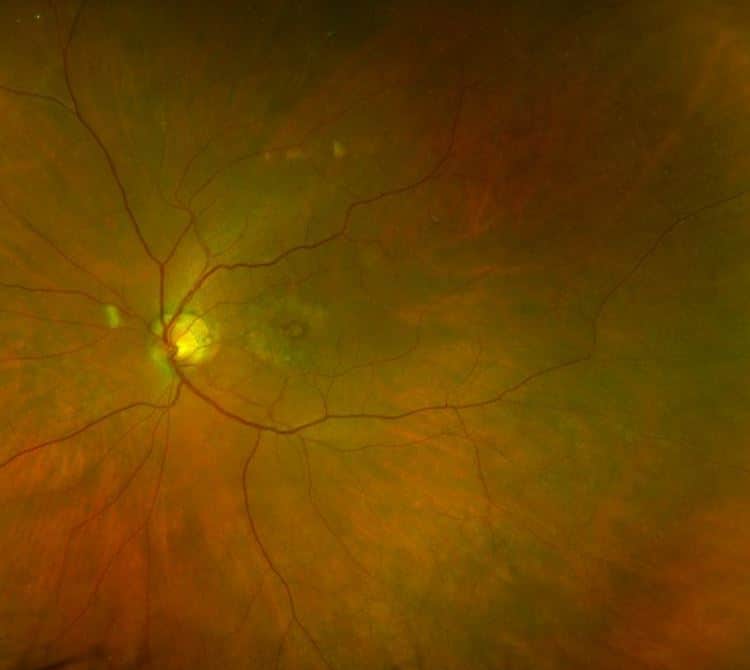 Fundus Photos: Both eyes show normal optic nerves with 0.3 C:D ratios. Both eyes also show central macular pigment mottling and RPE atrophy. Nasal to the optic nerves, there is also similar pigment mottling OU. Vessels and peripheral exam were unremarkable.
Based on abnormal findings on fundus exam, further imaging was completed. OCT and autofluorescence of both eyes are below.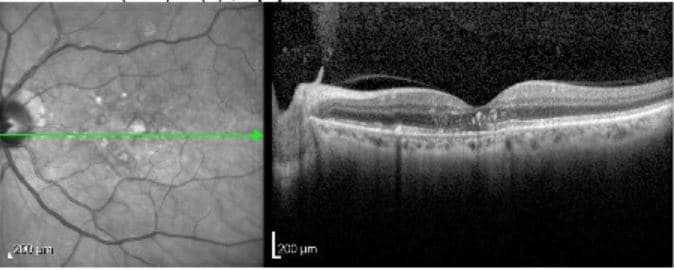 OCT OU: Both eyes demonstrated hyperreflective outer retinal clumps with corresponding shadowing of the choroid. There is also ill-defined irregularity in the outer retinal bands.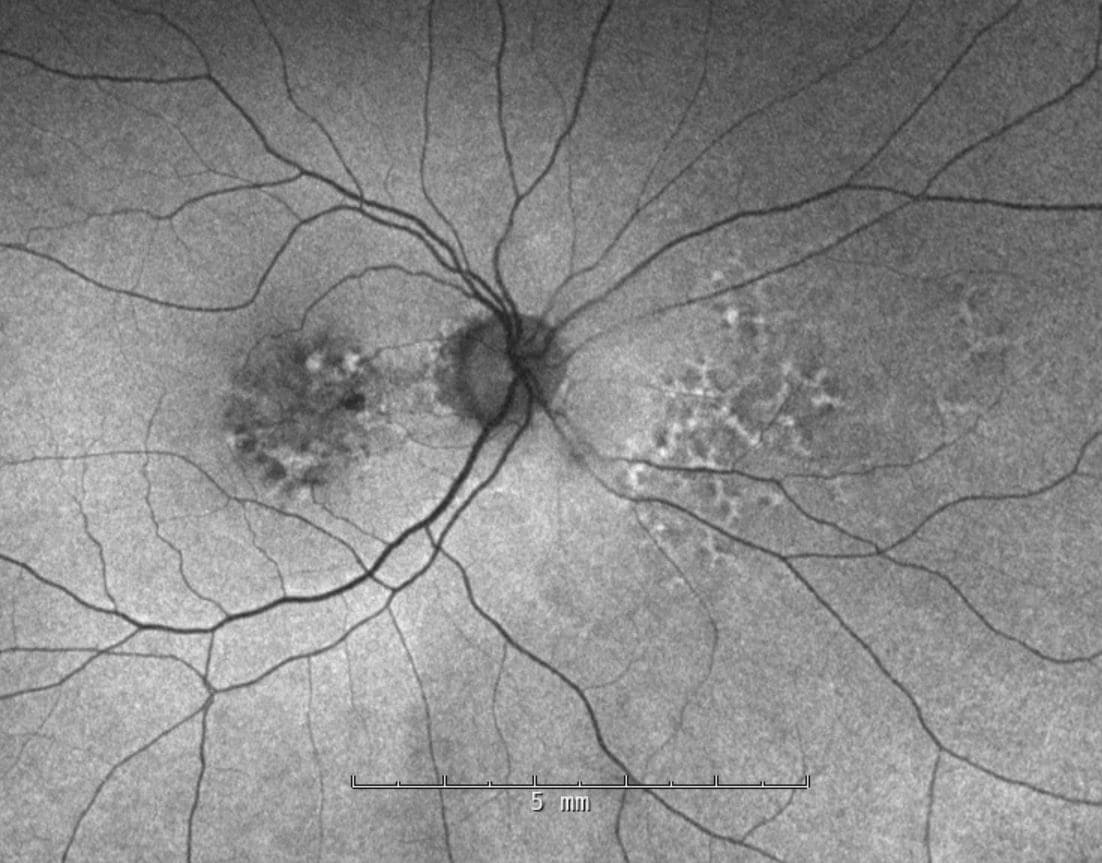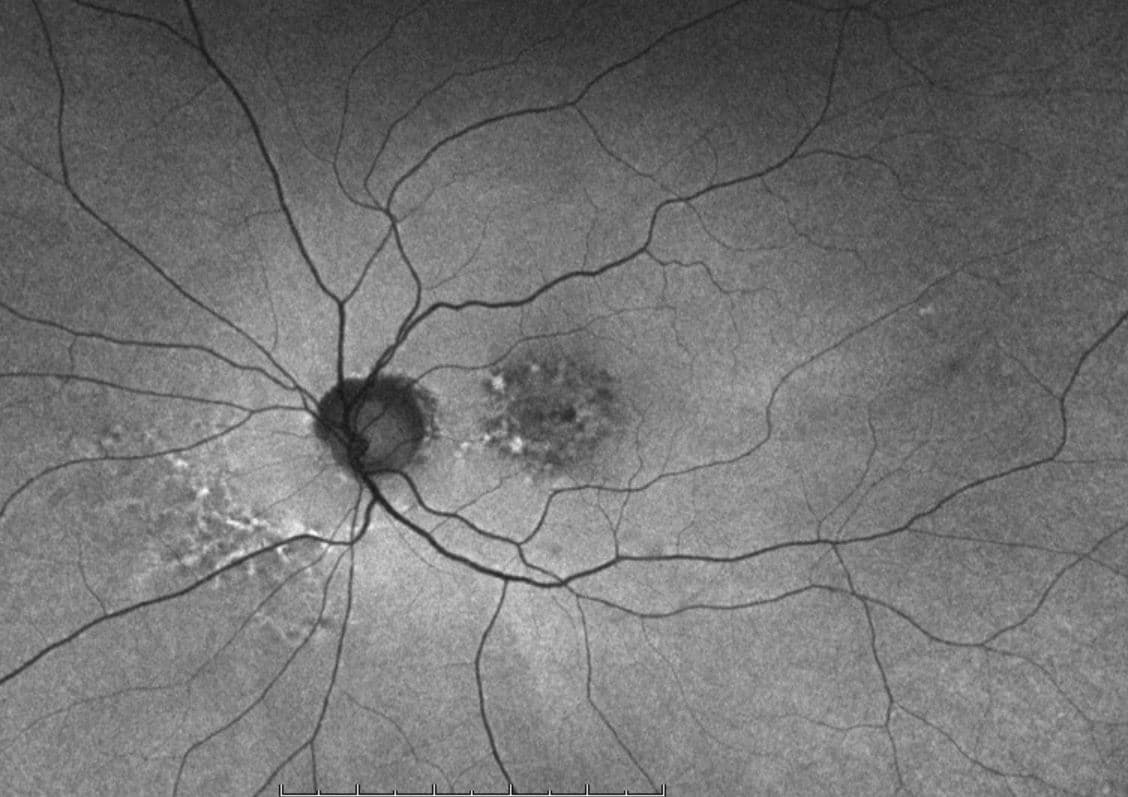 Autofluorescence OU: Both eyes demonstrated dense central areas of both hyper- and hypoautofluorescent spots centered around the fovea. Of note, there is also similar spotting nasal to the nerve.
Differential Diagnosis:
Dry Macular Degeneration
Pattern Dystrophy
Maternally inherited diabetes and deafness
Pachychoroid pigment epitheliopathy
Pentosan Polysulfate Maculopathy
Discussion:
Diagnosis – Pentosan Polysulfate Maculopathy
Pentosan Polysulfate (PPS) maculopathy is a relatively newly discovered disease associated with long-term use of PPS to manage interstitial cystitis (bladder pain syndrome). Interstitial cystitis (IC) is a constellation of urinary urgency, frequency, and pelvic discomfort most commonly seen in women. Previously used extensively for management of symptoms of IC, in 2018 a macular disease was described in a series of 6 patients who had been on long-term PPS. Common symptoms of macular disease include prolonged dark adaptation, difficulty reading, and often decreased vision. Although there is no clear cumulative dose limit yet defined for development of maculopathy, studies have shown that the average patient with PPS maculopathy will have been on the medication for at least 5 years.
Examination and imaging are crucial for a diagnosis of PPS maculopathy. Fundus exam reveals hyperpigmented spots in the macula and yellow subretinal deposits. As the disease progresses, there will likely be patchy RPE atrophy. However, a normal appearing fundus does not rule out PPS maculopathy. Fundus autofluorescence and OCT are very helpful modalities in the work-up of PPS maculopathy. Autofluorescence will likely show dense arrays of hyper- and hypoautofluorescent spots surrounding and involving the fovea. There is often also peripapillary involvement, even noted nasal to the nerve. OCT shows hyper-reflective nodules at the RPE as well as ill-defined outer retinal irregularity.
There is currently no known treatment for PPS maculopathy, with primary prevention the main goal of this newly diagnosed entity. A thorough history is crucial as many patients may not currently be taking the medication but may have in the past.
After examination and further questioning, our patient did mention that she used to take pentosan polysulfate for interstitial cystitis and had been on it for around 12 years in the past. She has not taken the medication for several years. Her vision has been stable since the initial exam and long-term monitoring was discussed with her. She will continue to be closely monitored with both examinations and imaging.
If you are looking to schedule your first consultation, please contact us today by clicking HERE and find the location that is nearest you!
References:
Huckfeldt RM, Vavvas DG. Progressive Maculopathy After Discontinuation of Pentosan Polysulfate Sodium. Ophthalmic Surg Lasers Imaging Retina. 2019;50(10):656-659. doi:10.3928/23258160-20191009-10
Pearce WA, Chen R, Jain N. Pigmentary Maculopathy Associated with Chronic Exposure to Pentosan Polysulfate Sodium. Ophthalmology. 2018;125(11):1793-1802. doi:10.1016/j.ophtha.2018.04.026
Shah R, Simonett JM, Lyons RJ, Rao RC, Pennesi ME, Jain N. Disease Course in Patients With Pentosan Polysulfate Sodium-Associated Maculopathy After Drug Cessation. JAMA Ophthalmol. Published online July 9, 2020.
Vora RA, Patel AP, Melles R. Prevalence of Maculopathy Associated with Long-Term Pentosan Polysulfate Therapy. Ophthalmology. 2020;0(0). doi:10.1016/j.ophtha.2020.01.017
Wang D, Au A, Gunnemann F, et al. Pentosan-associated maculopathy: prevalence, screening guidelines, and spectrum of findings based on prospective multimodal analysis. Canadian Journal of Ophthalmology. Published online January 20, 2020. doi:10.1016/j.jcjo.2019.12.001