Prechoroidal Cleft – August, 2023
Prechoroidal Cleft – August, 2023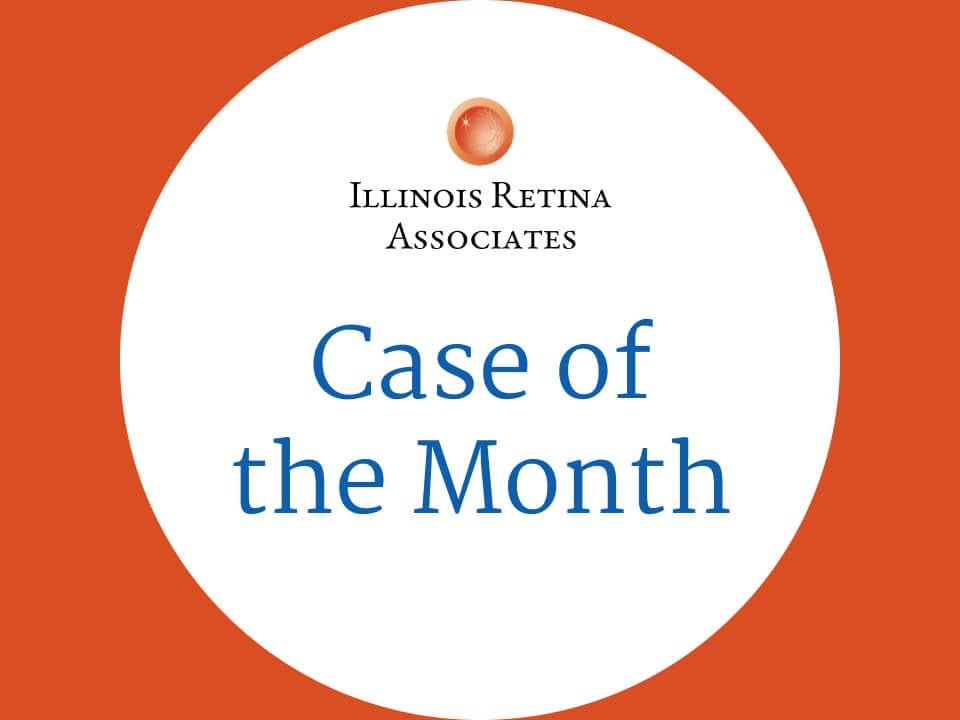 History:
An 82-year-old female presented as a referral for evaluation and treatment of age-related macular degeneration and cataract surgery clearance.
Exam:
Visual acuity was 20/200 right eye (OD) and 20/100 left eye (OS). IOP was 16 both eyes (OU). Pupils were equal, round and reactive. Anterior segment exam revealed 2+ nuclear sclerosis OU. Fundus exam OD showed macular intraretinal hemorrhage, drusen, pigment epithelial detachments, and lipid exudates. OS revealed drusen and subretinal fluid.
OCT OD showed a large prechoroidal cleft, overlying pigment epithelial detachments, intraretinal fluid, and intraretinal hyperreflective deposits corresponding to the areas of lipid exudates (Figure 1 and 2). OCT OS revealed multiple drusen and pigment epithelial detachments (Figure 3).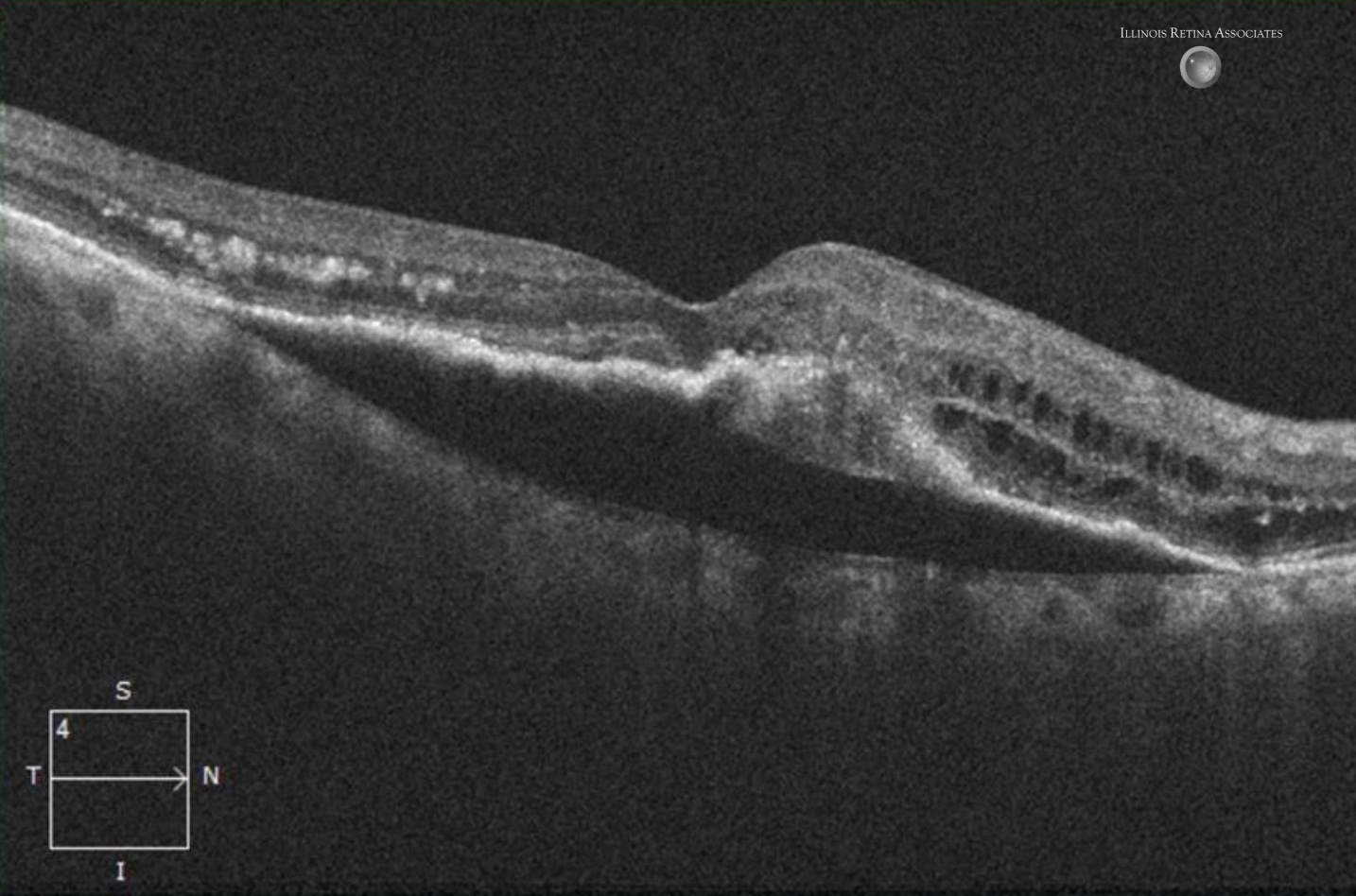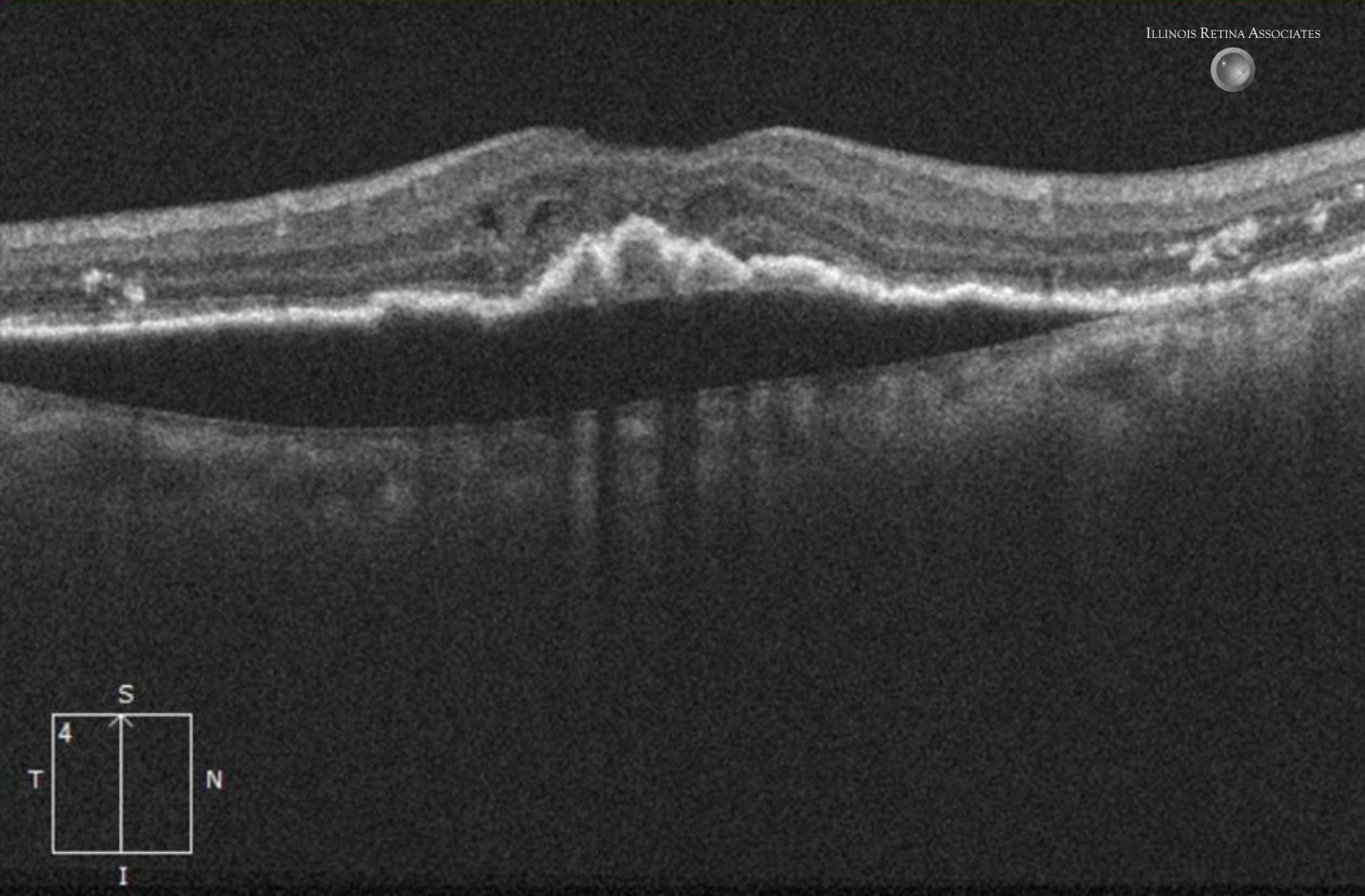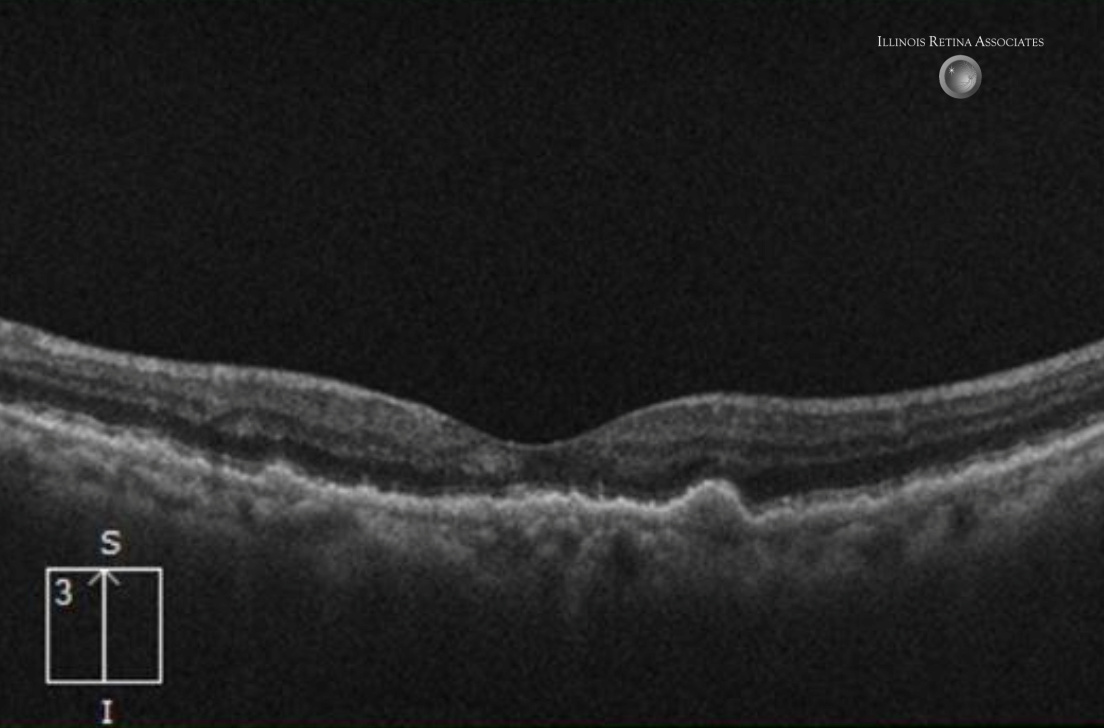 Clinical Course:
Patient was started on intravitreal anti-VEGF injections monthly which fully treated choroidal neovascularization OS. In the right eye, the intraretinal edema resolved while the prechoroidal cleft improved. Patient was then begun on newly available treatment with intravitreal anti-VEGF and anti-angiopoietin 2 (anti-Ang2) after which the prechoroidal cleft resolved after one treatment (Figure 4 and 5). On continued therapy, patient achieved a visual acuity of 20/80 and 20/50.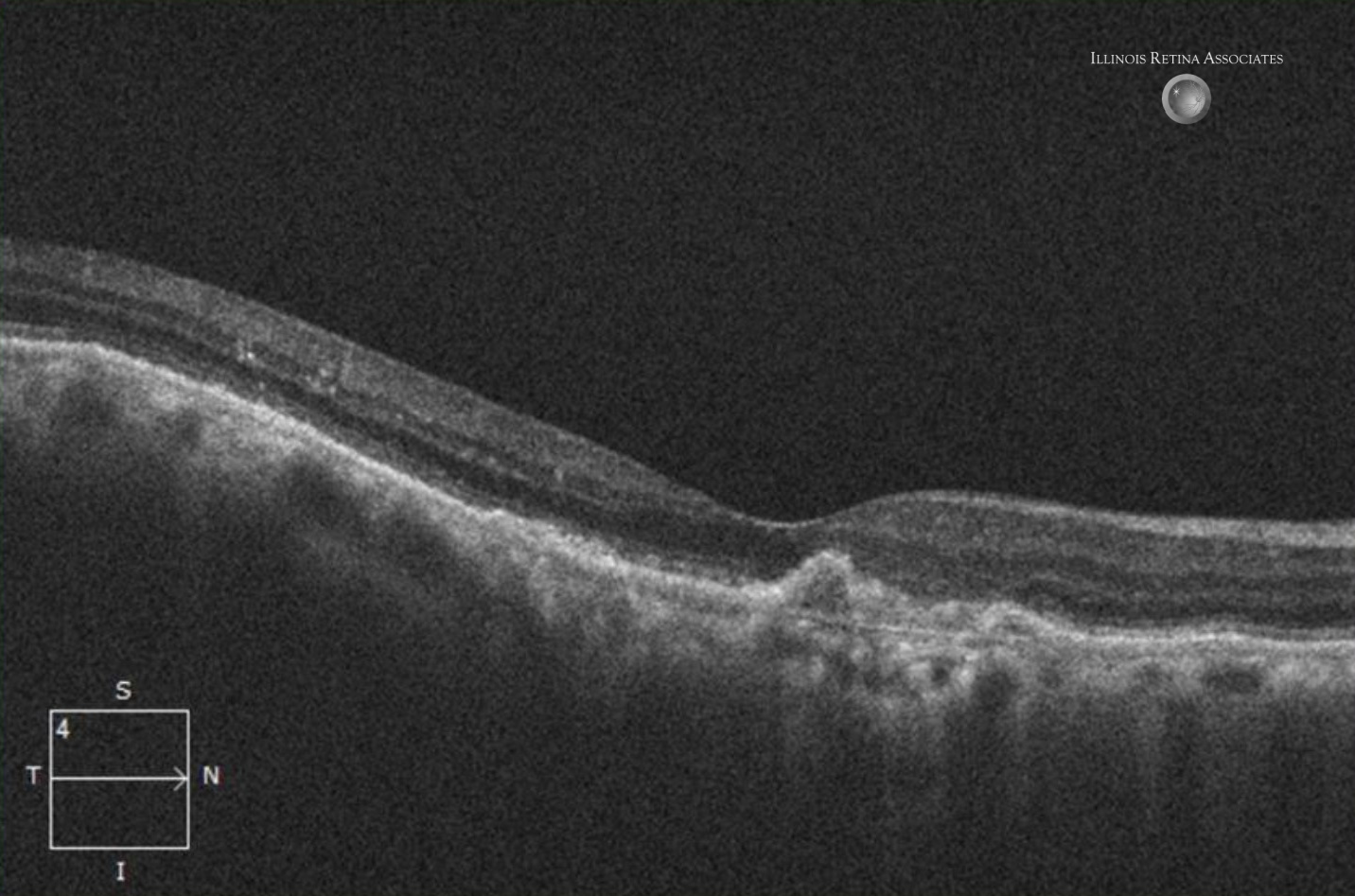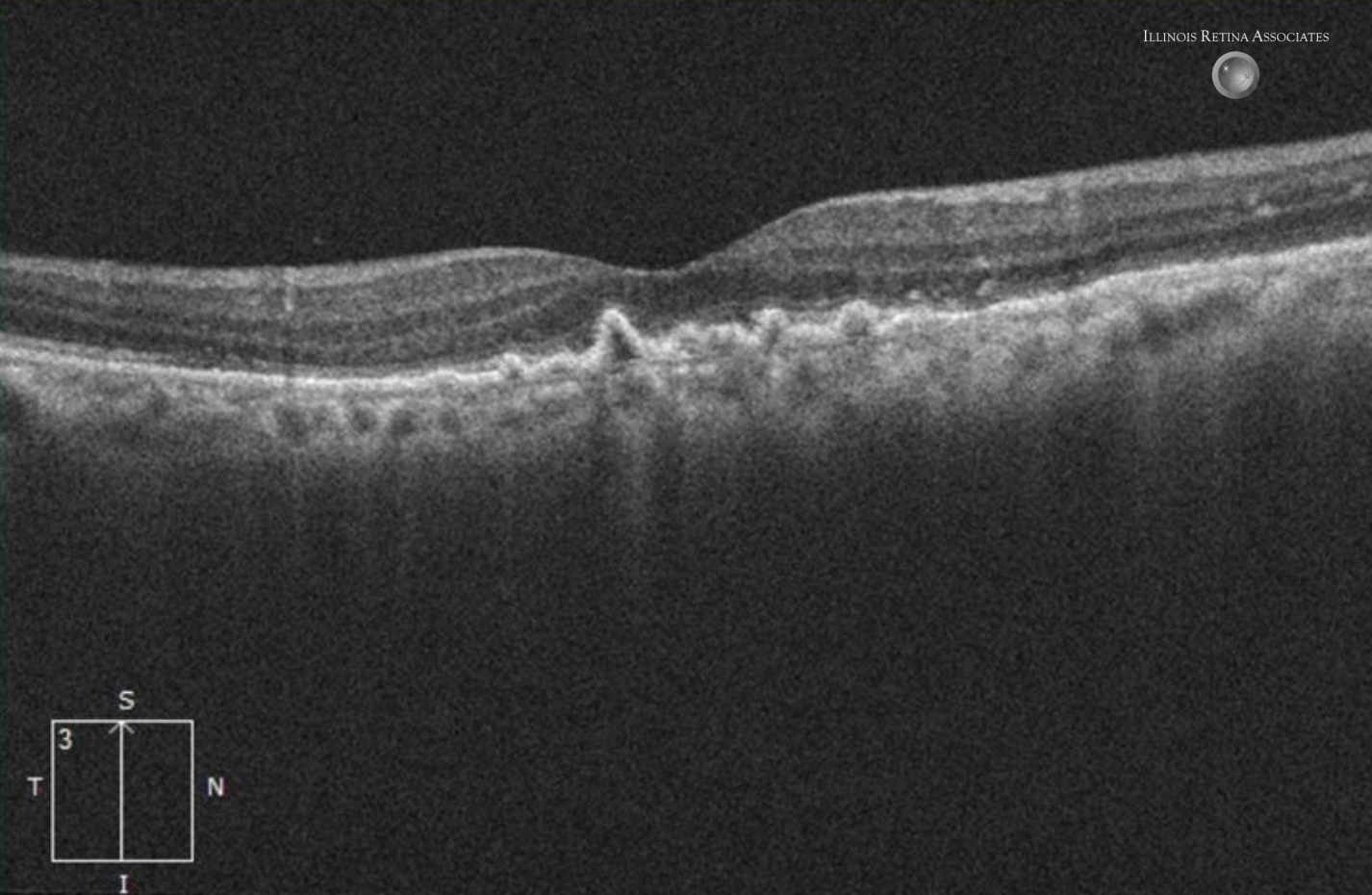 Discussion:
Prechoroidal Cleft
A prechoroidal cleft is characterized by a hyporeflecitve space between pigment epithelial detachment and Bruch membrane. The incidence of prechoroidal cleft varies between 8.1% and 10% in neovascular AMD. Studies have shown that eyes with prechoroidal clefts have higher incidence of RPE tears and subretinal hemorrhage and are subsequently associated with a poorer visual prognosis. In addition to this, eyes require more treatment with anti-VEGF compared to those without prechoroidal clefts. Patients with prechoroidal clefts should be warned of the higher likelihood of RPE tears and subretinal hemorrhage, both of which can cause sudden and profound visual loss.
If you are looking to schedule your first consultation, please contact us today by clicking HERE and find the location that is nearest you!
References:
Cozzi M, Monteduro D, Parrulli S, Ristoldo F, Corvi F, Zicarelli F, Staurenghi G, Invernizzi A. Prechoroidal cleft thickness correlates with disease activity in neovascular age-related macular degeneration. Graefes Arch Clin Exp Ophthalmol. 2022 Mar;260(3):781-789. doi: 10.1007/s00417-021-05384-w. Epub 2021 Sep 7.PMID: 34491426; PMCID: PMC8850287.

Kredi G, Iglicki M, Gomel N, Hilely A, Loewenstein A, Habot-Wilner Z, Zur D. Risk factors and clinical significance of prechoroidal cleft in eyes with neovascular age-related macular degeneration in Caucasian patients. Acta Ophthalmol. 2023 May;101(3):e338-e345. doi: 10.1111/aos.15273. Epub 2022 Oct 18. PMID: 36259092.

Kim JH, Chang YS, Kim JW, Kim CG, Lee DW. Prechoroidal Cleft in Type 3 Neovascularization: Incidence, Timing, and Its Association with Visual Outcome. J Ophthalmol. 2018 Nov 19;2018:2578349. doi: 10.1155/2018/2578349. PMID: 30581602; PMCID: PMC6276463.