Proliferative Diabetic Retinopathy – March 2020
Proliferative Diabetic Retinopathy – March 2020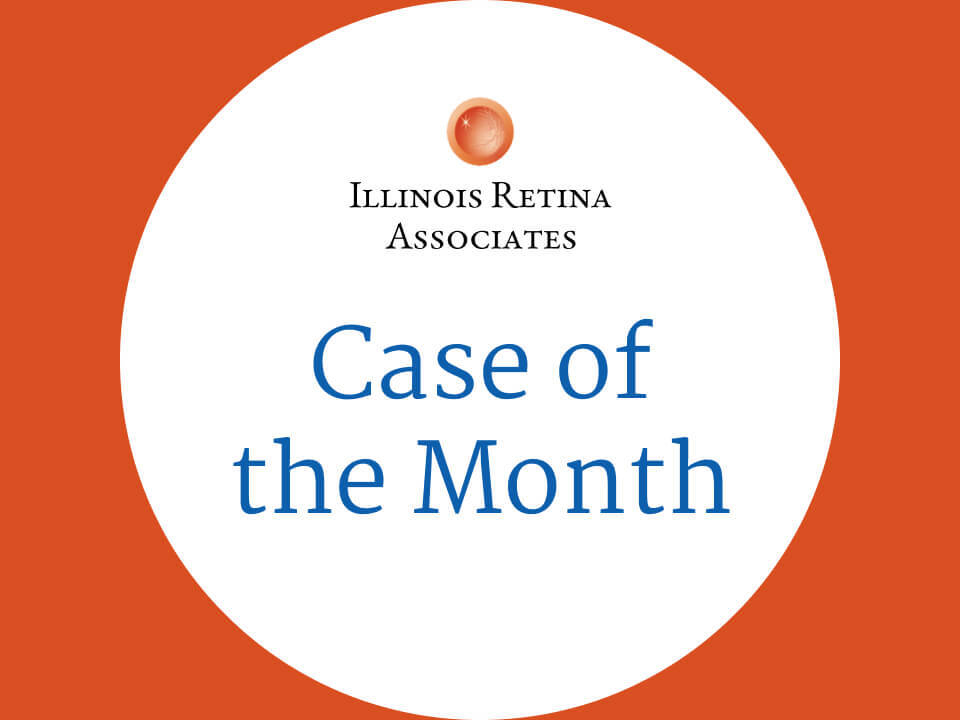 History
A 44-year-old African-American male (who had not seen an eye provider in years) presented to Illinois Retina for a diabetic evaluation. He complained of blurry vision for many years, but denied floaters, eye pain, redness, or any acute visual changes. His medical history was significant for type 1 diabetes mellitus, hypercholesterolemia, and hypertension. Review of systems was otherwise negative. He denied smoking, alcohol use, or any illicit drug use and had no known drug allergies.
Exam:
Vision was best corrected to 20/30 in both eyes. IOP was 20 in both eyes, respectively. Confrontation visual fields were full bilaterally. Anterior exam was unremarkable.
Evaluation of his posterior segment demonstrated clear vitreous bilaterally. Below are his fundus photos: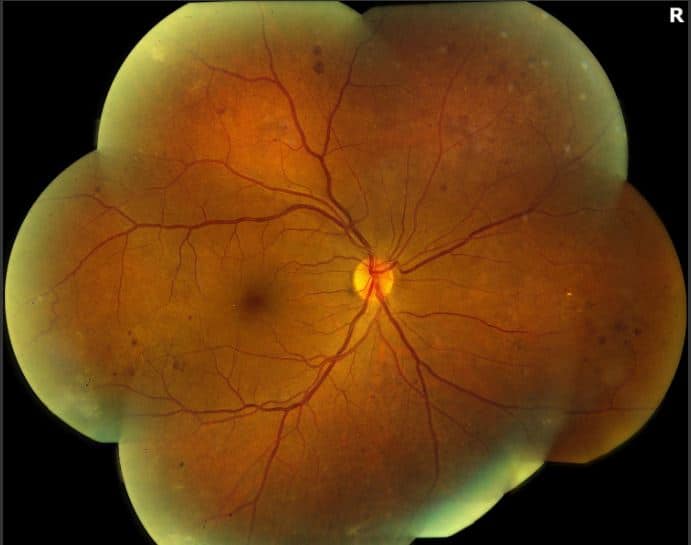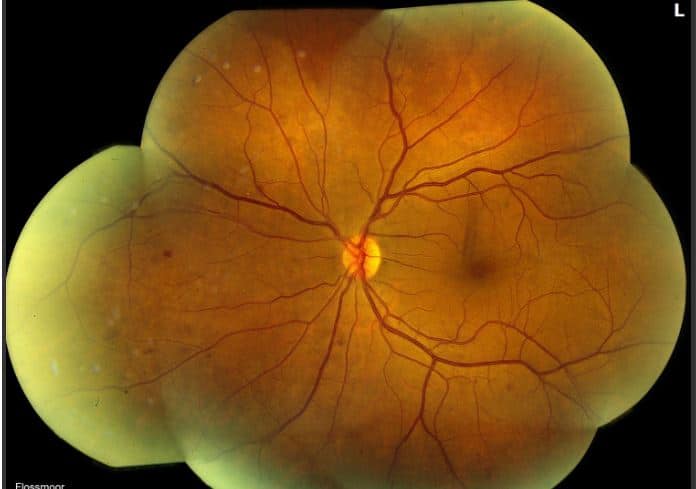 Fundus Photos: The right eye was significant for fibrotic neovascularization superotemporally and inferotemporally, as well as scattered retinal hemorrhages and microaneurysms in all four quadrants. The left eye demonstrated scattered hemorrhages in all four quadrants and cotton wool spots inferotemporally.
After initial diagnosis of proliferative diabetic retinopathy of the right eye, management was discussed with the patient and the decision was made for panretinal photocoagulation (PRP). Three months after completion of treatment in the right eye, the patient returned with acute onset floaters and blurry vision. Vision was 20/40 in the right eye. Exam revealed new sub-hyaloid hemorrhage and mild vitreous hemorrhage of the right eye (fundus photo below).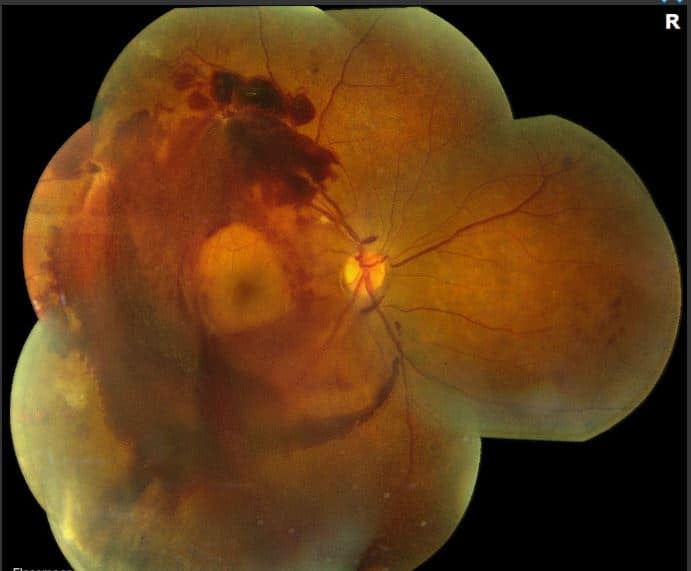 Differential Diagnosis:
Proliferative Diabetic Retinopathy
Hypertensive Retinopathy
Retinal Tear
Retinal Vein Occlusion
Valsalva Retinopathy
Discussion:
Vitreous Hemorrhage in setting of Proliferative Diabetic Retinopathy (PDR)
The three most common causes of vitreous hemorrhage are PDR, posterior vitreous detachment, and ocular trauma. Vitreous hemorrhage secondary to PDR is a common cause of severe vision loss in diabetic patients. Although laser PRP is a mainstay of treatment for PDR, vitreous hemorrhage after laser can still commonly occur. If the retina is still visualized in the setting of a bleed, observation is acceptable in the short term. Pars plana is indicated if the hemorrhage is not clearing or if a retinal tear or detachment cannot be ruled out.
An important discussion in today's management of PDR is the option of PRP vs. anti-VEGF injections. In Protocol S, PRP was compared to intravitreous ranibizumab 0.5mg injections for the treatment of PDR. In this study, 394 eyes with active PDR were divided into groups receiving either immediate PRP (1 to 3 sessions) or six injections of ranibizumab at monthly intervals, then further laser or injections were given according to a treatment algorithm over two years of follow-up. Retreatment was based on whether neovascularization was resolved, persistent but stable, or worsening. Additionally, center-involving macular edema at baseline was allowed in both groups and treatment with ranibizumab was done according to the DRCR algorithm. The study showed that intravitreal ranibizumab was non-inferior to PRP in relation to visual acuity in patients both with and without baseline central diabetic macular edema.
Although both options of PRP and anti-VEGF injections are useful in managing PDR, it is important to consider treatment burden, cost, and risk of worsening disease in patients. If a patient fails to return for follow-up or is unreliable, PRP is a strong treatment option for long-term stability. However, if they are consistent regarding follow-up, some patients may benefit from anti-VEGF injections if they are averse to laser treatment.
Our patient elected to receive further PRP to prevent future progression of disease because the retina was still well visualized. He then also received an intravitreal injection of ranibizumab and is currently being monitored.
If you are looking to schedule your first consultation, please contact us today by clicking HERE and find the location that is nearest you!
References:
El Annan J, Carvounis PE. Current management of vitreous hemorrhage due to proliferative diabetic retinopathy. Int Ophthalmol Clin. 2014;54(2):141–153. doi:10.1097/IIO.0000000000000027
Gross JG, Glassman AR, Liu D, et al.;Diabetic Retinopathy Clinical Research Network. Five-Year Outcomes of Panretinal Photocoagulation vs Intravitreous Ranibizumab for Proliferative Diabetic Retinopathy: A Randomized Clinical Trial. JAMA Ophthalmol. 2018 Oct 1;136(10):1138-1148
Spraul, CW and Grossniklaus, HE. Vitreous Hemorrhage. Surv Ophthalmol. 42:3-39, 1997