Recap of Illinois Retina Associates' Special Advocacy Discussion Hosted by Dr. Hasan
Recap of Illinois Retina Associates' Special Advocacy Discussion Hosted by Dr. Hasan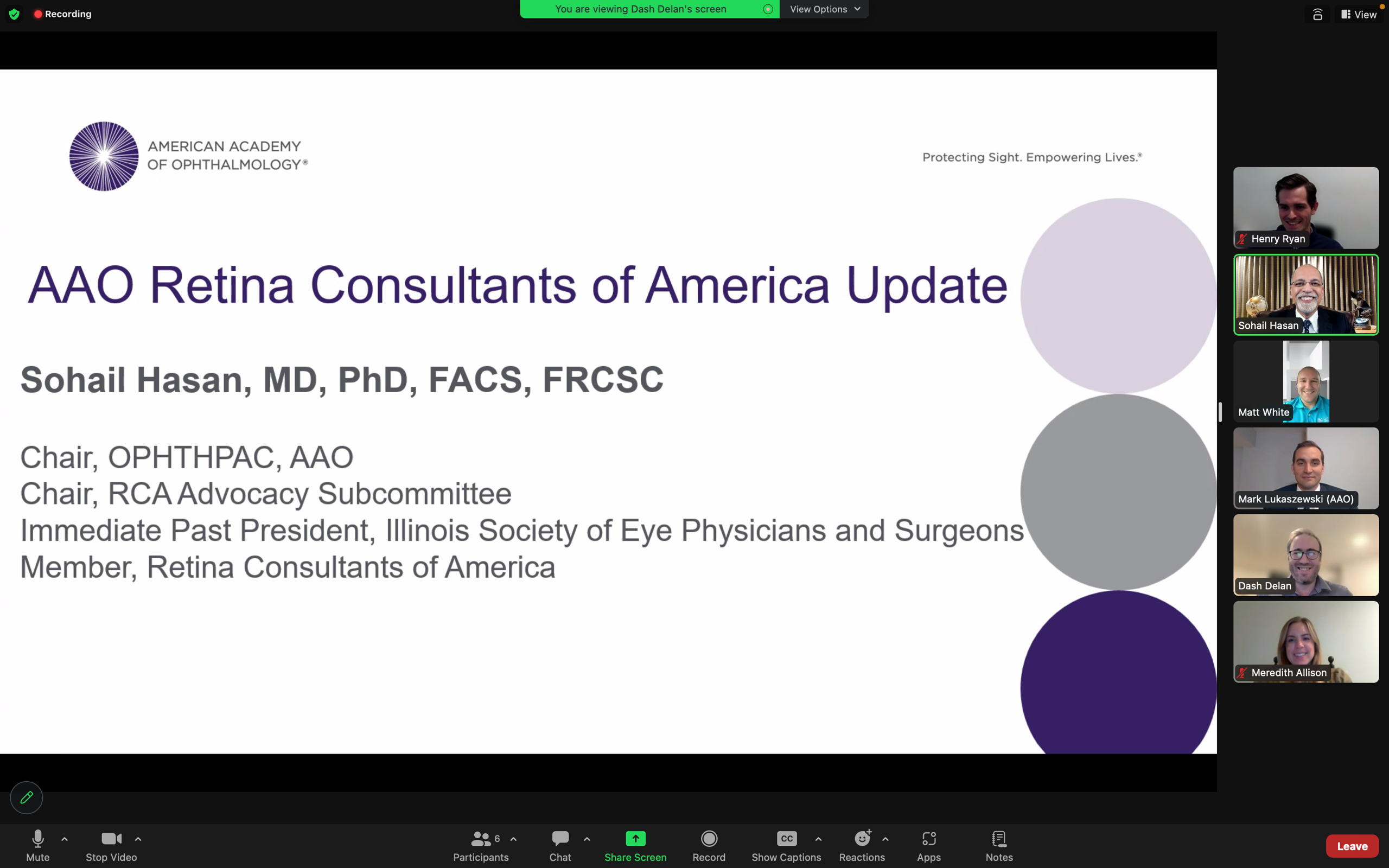 Illinois Retina Associates is excited to share a recap of the special advocacy discussion event that took place on Tuesday, October 10, 2023, led by Dr. Sohail J. Hasan, our esteemed Chairman of the Retina Consultants of America (RCA) Advocacy Subcommittee and Chair and Associate Secretary of the Ophthalmology Political Action Committee (OPHTHPAC) for the American Academy of Ophthalmology (AAO). This event aimed to address critical issues impacting our specialty and invited all RCA physicians to join forces with the AAO advocacy team in the mission to fight blindness.
Event Recap:
Date: Tuesday, October 10, 2023
Host: Dr. Hasan, Chairman of RCA Advocacy Subcommittee
Coordinated with: AAO Advocacy Team
Special Guests: We were especially honored to have the CEO of the AAO, Dr. Stephen McLeod, and the President of the AAO, Dr. Dan Briceland, in attendance. They shared their valuable insights and expertise with our audience. The CEO of RCA, Robby Grabow, was also in attendance, showing his commitment to our advocacy efforts.
Key Topics Covered:
Increased Prior-Authorization Burdens: Strategies to navigate heightened prior-authorization requirements were discussed.
Retina Day on The Hill:Opportunities to engage in advocacy efforts on Capitol Hill were explored.
OPHTHPAC Support: The crucial role of OPHTHPAC in supporting our profession was highlighted.
Joining the RCA Advocacy Subcommittee: Attendees learned how they could actively contribute to our mission.
More than 90 participants joined the discussion, making it a resounding success and a testament to our shared dedication to the cause of preserving vision.
At Illinois Retina Associates, we believe that we are stronger when we stand together. Our commitment to fighting blindness extends beyond the clinic, and this event exemplified our dedication to advocacy on behalf of our specialty and patients. We extend our gratitude to all those who joined us for this important discussion. Together, we are making a positive impact on the future of retinal care.