Angioid Streaks – September, 2023
Angioid Streaks – September, 2023
History:
A healthy 28-year-old female presented with a previous history of "abnormal fundus photos" and inconclusive skin biopsies. She had no vision complaints. Family history was unremarkable. In review of systems, she did note skin rashes.
Exam:
Her visual acuity was 20/20 in both eyes (OU). Her intraocular pressure was 17 and 14. Anterior segment exam was unremarkable. Dilated exam was significant for circumferential streaks around the nerve head OU. There were no hemorrhages, exudates, or edema noted. The peripheral exam was normal OU. There was a rash on the side of her neck noted to be papular in a reticular pattern.
Fundus photography (Fig 1) demonstrated streaks around the nerve head OU.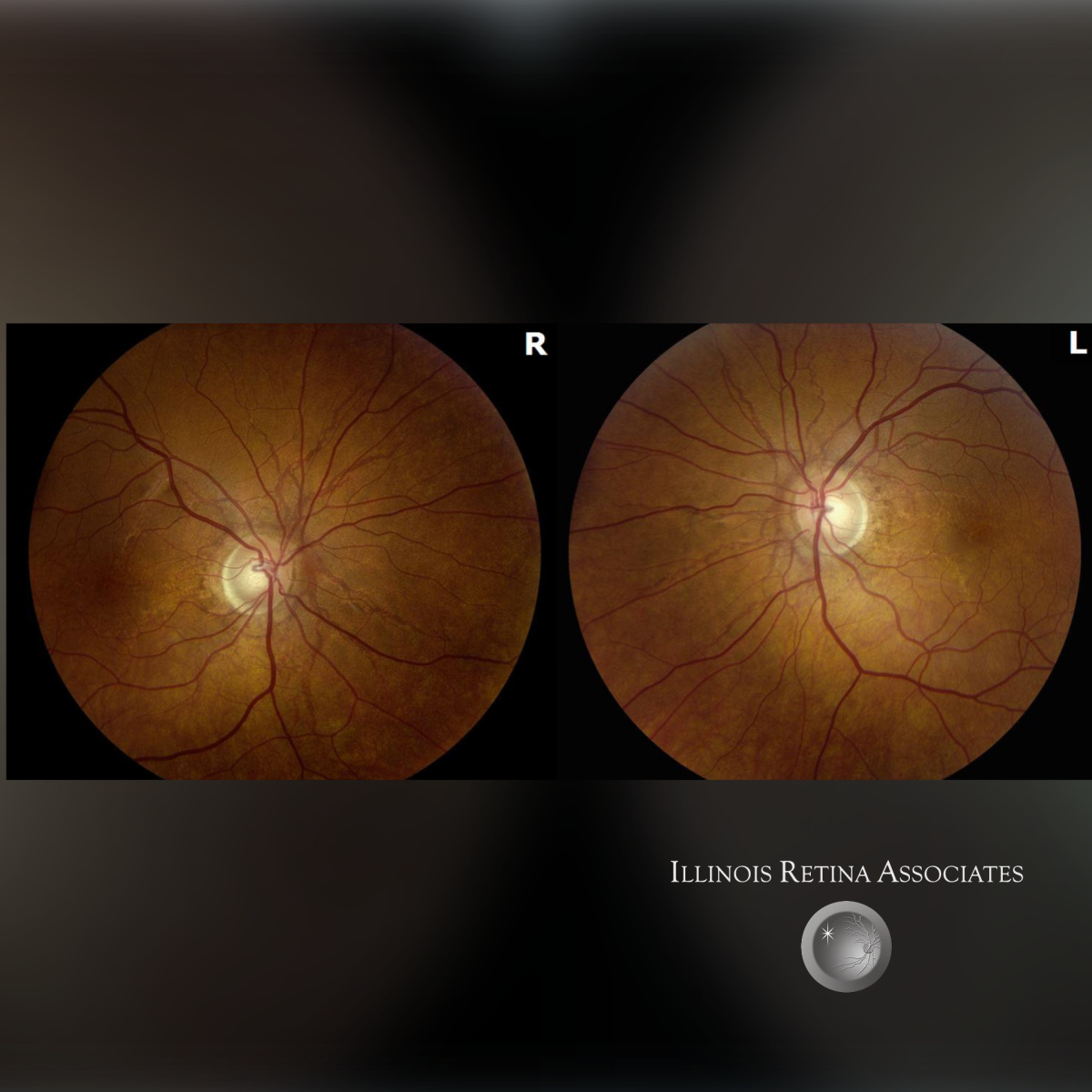 Optical coherence tomography (Fig 2) of the macular was unremarkable.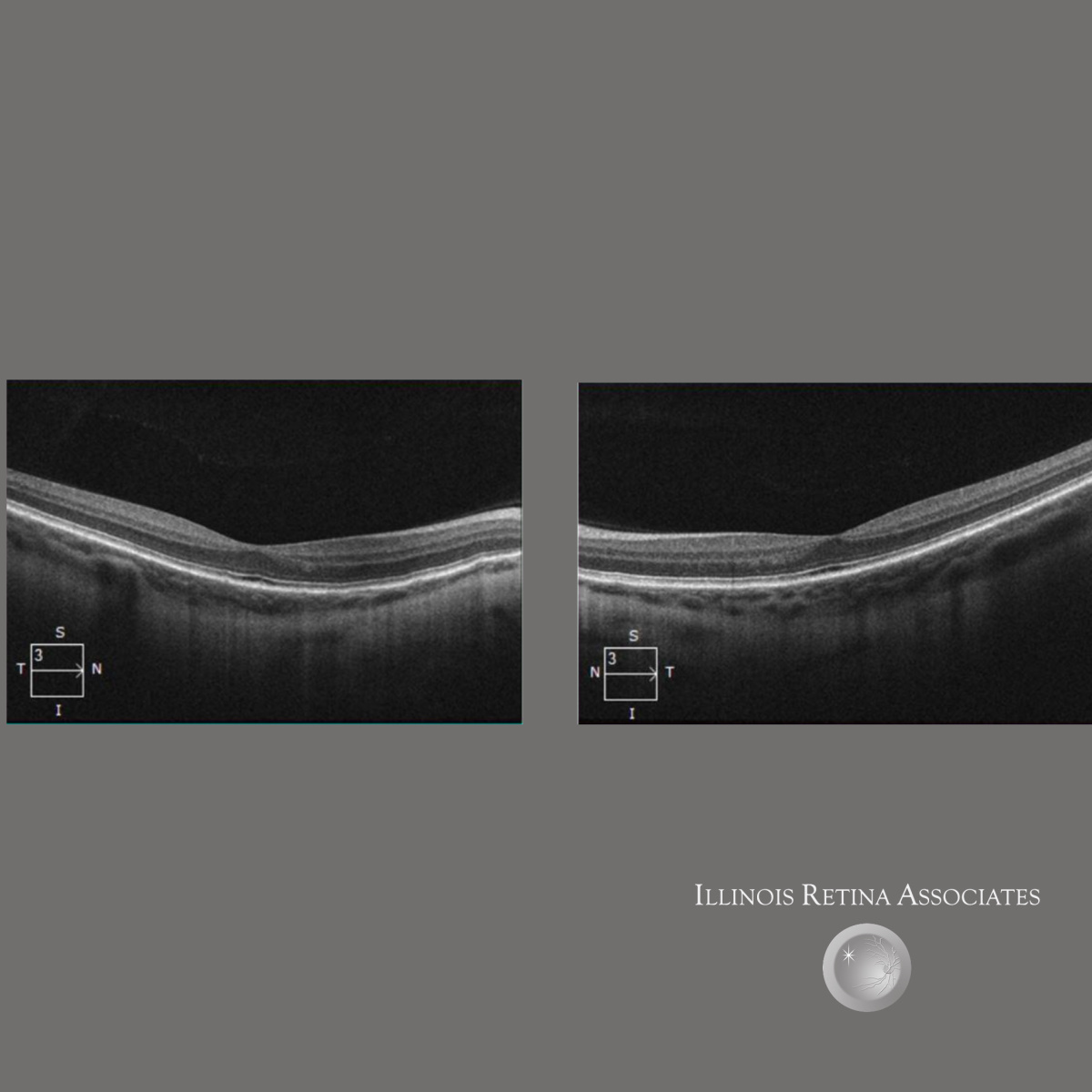 Differential Diagnosis:
• Angioid streaks
• Lacquer cracks (pathologic myopia)
• Choroidal rupture
• Toxoplasmosis
• Histoplasmosis
• Central serous chorioretinopathy
Discussion:
Angioid Streaks
Patient underwent genetic testing and was found to have two pathogenic variants for ABCC6, which is associated with autosomal recessive pseudoxanthoma elasticum.
Angioid streaks are irregular, jagged lines deep to the retina. Angioid streaks result from linear breaks in Bruch membrane. They may occur spontaneously due to predisposed Bruch membrane weakness or result from trauma. There are also known systemic associates remembered by the pneumonic PEPSI: pseudoxanthoma elasticum, Ehler-Danlos syndrome, Paget disease of the bone, sickle cell, and idiopathic. Other systemic manifestations include abetalipoproteinemia, acromegaly, diabetes, facial angiomatosis, hemochromatosis, hemolytic anemia, hereditary spherocytosis, hypercalcinosis, hyperphosphatemia, lead poisoning, neurofibromatosis, Sturge-Weber syndrome, and tuberous sclerosis. Patients with angioid streaks are more susceptible to choroidal rupture with trauma. There is also a risk of choroidal fibrovascular ingrowth which can lead to choroidal neovascularization.
If you are looking to schedule your first consultation, please contact us today by clicking HERE and find the location that is nearest you!
References:
Clarkson JG, Altman RD. Angoid Streaks. Surv Ophthalmol. 1982;26(5)235-46.
Singman EL, Doyle JJ. JAMA Ophthalmology. 2019 Mar 1;137(3):239. doi: 10.1001/jamaophthalmol.2018.5995.PMID: 30543351
Risseeuw, Sara. "The Extent of Angioid Streaks Correlates With Macular Degeneration in Pseudoxanthoma Elasticum." American Journal of Ophthalmology, 20 July 2020, www.ajo.com/article/S0002-9394(20)30379-2/fulltext#relatedArticles.