Suprachoroidal Hemorrhage – June, 2020
Suprachoroidal Hemorrhage – June, 2020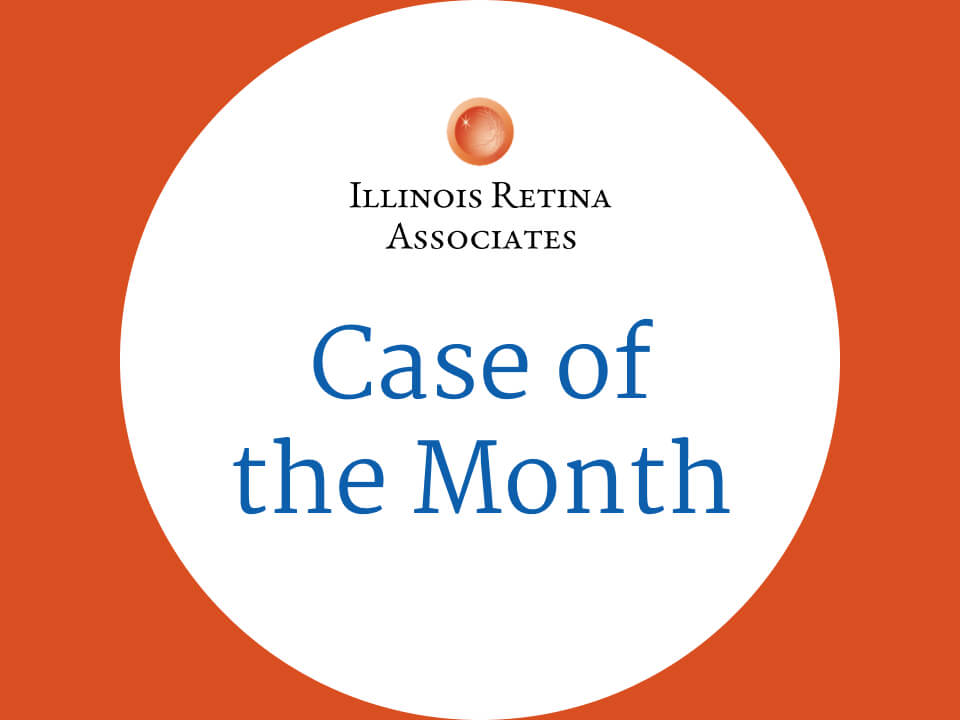 History
A 52 year old male presents one day after IOL refixation and Ahmed tube placement with extreme pain. He states the pain started 2 hours post-op, and is not relieved by over the counter pain medication. He reports a sharp pain that radiates across the whole left side of his head. He has a complex ocular history, beginning with trauma to the left eye in 1990 prompting cataract surgery and placement of an ACIOL. In 2015, he underwent a removal of the ACIOL, placement of a sutured IOL, and DSEK in 2015. His most recent surgery was due to uncoltrolled glaucoma and erosion of the sutures of the IOL. This surgery was uncomplicated.
Medical history: Hepatitis C, NASH with cirrhosis, hyperlipidemia, recurrent priogressive inflammatory polyharthritis.
Medications : Enbrel
Exam
On exam, his vision is 20/30 OD and light perception OS. IOP is 14 and 38. He has an APD (Afferent Pupillary Defect) in the left eye. At the slit lamp, his right eye is normal except for 2+ central gutatta. His left eye has a diffuse sub-conjunctival hemorrhage, and the bleb overlying the tube as well as his corneal incisions are seidel negative. The DSEK is attached, and the cornea is clear. The AC is shallow with a small nasal hyphema. The iris is peaked superiorly and dilated to 8mm. There is vitreous plugging the tube opening, the IOL is in place, and the retina can be seen behind the IOL.
There is no view with indirect ophthalmoscopy in the left eye. The right eye is normal.
B-scan ultrasound reveals the following image: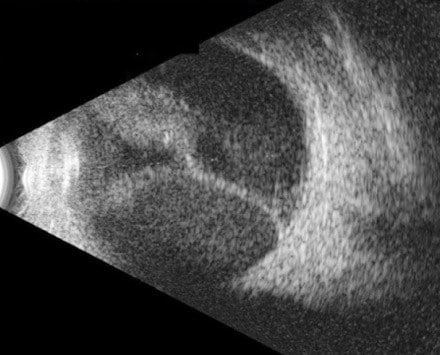 B-scan ultrasound of the left eye demonstrating large "kissing" choroidal detachments with hyperechoic material in the suprachoroidal space.
Differential Diagnosis: Suprachoroidal Hemorrhage
Plan: Patient was started on high dose oral steroids (60mg), Atropine, Combigan, Dorzolamide, Vigamox, as well as Diamox 500mg BID and Norco q6hrs. On post-operative day 2 he also received a subtenons Kenalog injection.
Course: Over the next two weeks, the choroidals improved in size.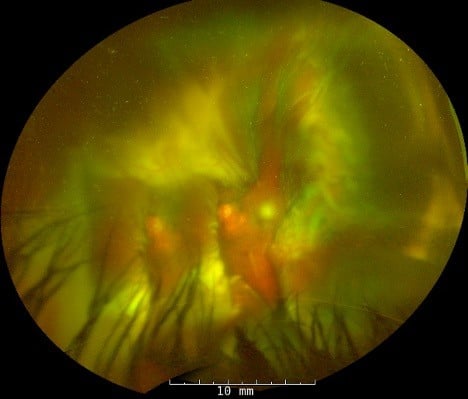 Pseudocolor photograph of the left eye demonstrating reduced size of choroidals with view to the posterior pole.
Discussion:
Suprachorodial hemorrhage describes an accumulation of blood in the potential space between the choroid and the sclera. They are likely due to rupture of the long or short posterior ciliary arteries, and there are two general time-frames, intra-op, or post-op (delayed). They are extremely rare complications of ocular surgery. The proposed mechanism involves low IOP leading to engorgement of the choriocapillaris. This then causes serous effusion in the suprachoroidal space, which stretches the posterior ciliary arteries and attachments. When stretched too far, the can tear leading to hemorrhaging into the suprachoroidal space. Intraoperative suprachoroidal hemorrhages can be recognized by loss of the red reflex, increased posterior pressure, AC shallowing, and sometimes extrusion of intraocular contents. This is often accompanied by extreme pain. Risk factors for suprachoroidal hemorrhage include advanced age, diabetes, hypertension, cardiovascular disease, and anticoagulation. The risk is highest during surgeries with large wounds such as corneal transplants, IOL exchange, or trabeculectomy. Glaucoma surgeries in general have the highest risk for delayed suprachoroidal hemorrhage, likely due to low IOP.
Management of suprachoroidal hemorrhage can vary. If it occurs intra-operatively, the most important step is to close the wounds to prevent expulsion of intraocular contents. Post operatively, IOP control, cycloplegics, and steroids to control inflammation are used. Patients are followed closely with serial B-scans. Surgical drainage of the hemorrhage should be considered if there is lens-corneal touch, retained lens material, retinal detachement or persistently elevated IOP. Other considerations which are less urgent include vitreous incarceration, persistent severe pain, and retinal apposition. Surgery is usually delayed to initially allow clot formation, and subsequently clot liquefaction. Historically clot lysis and liquefaction has been thought to occur around 14 days, which is why surgery is often delayed for that time, however, if there are other vision threatening complications surgery may need to be repaired more urgently. While there is limited data, a retrospective review of some cases demonstrated no significant difference in outcomes between early and delayed repair.
Our patient did well with drainage of the suprachoroidal hemorrhage. One day after the surgery his pain had improved significantly and at the first week visit his vision was 20/250 out of the left eye.
If you are looking to schedule your first consultation, please contact us today by clicking HERE and find the location that is nearest you!
References:
Foo R, Tsai A, Lim L. Management of suprachoroidal hemorrhage. American Academy of Ophthalmology Web site. https://www.aao.org/eyenet/article/management-of-suprachoroidal-hemorrhage. Updated 2018. Accessed May 12, 2020.
Massive Suprachoroidal Hemorrhage With Central Retinal Apposition
A Clinical and Echographic Study Thomas G. Chu, MD, PhD; Miriam R. Cano, MD; Ronald L. Green, MD; Peter E. Liggett, MD; John S. Lean, MD
Learned D, Eliott D. Management of delayed suprachoroidal hemorrhage after glaucoma surgery. Semin Ophthalmol. 2018;33(1):59-63. doi: