Toxoplasmosis Chorioretinitis – September, 2021
Toxoplasmosis Chorioretinitis – September, 2021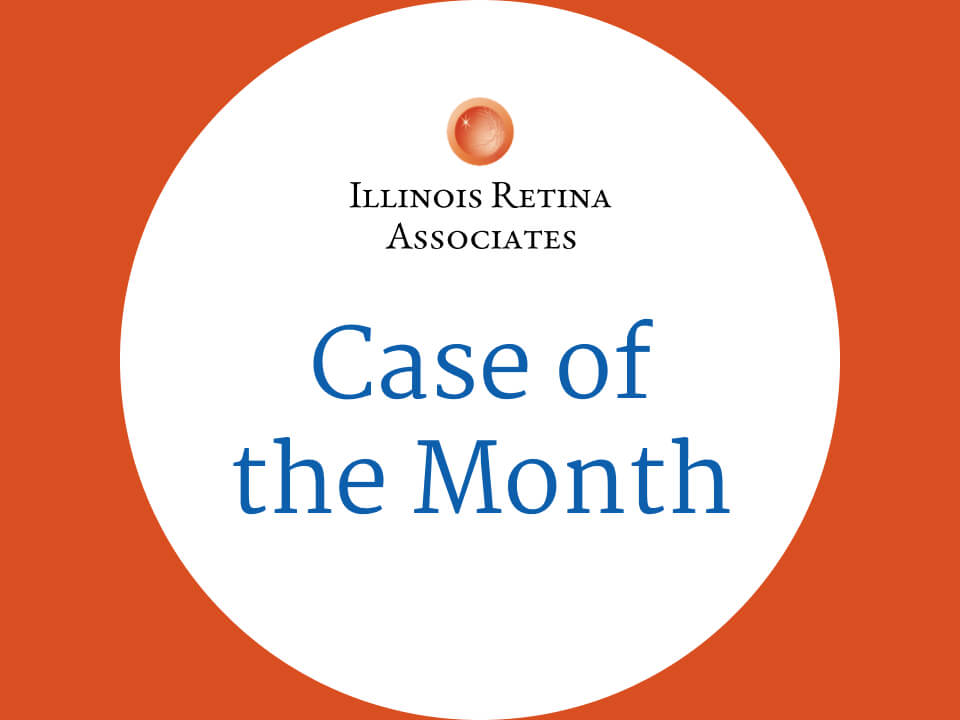 History
A 58 year-old woman presented upon referral from a retina specialist for evaluation of posterior uveitis in the left eye. The patient had developed new floaters and blurry vision in the left eye a few months prior. She was treated by the referring doctor with prednisolone and Combigan eye drops as her intraocular pressure was initially elevated however her condition never resolved. She was born in Puerto Rico and had an episode of posterior uveitis in her left eye 18 years ago after she had been scratched by a cat. This resolved without treatment and she had some recurrences which resolved without treatment. Her past medical history was significant for type 2 diabetes mellitus, and hypertension which were both controlled. She had a history of shingles 2 years prior. Her review of systems was otherwise unremarkable.
Exam
Her visual acuity was 20/20 in the right eye and 20/50 in the left eye. There was no RAPD. Intraocular pressures were 14 and 18 in the right and left eyes, respectively. Anterior segment exam was unremarkable in the right eye. The left eye demonstrated trace cell. Dilated fundus examination demonstrated mild non-proliferative diabetic retinopathy in the right eye. The left eye demonstrated 2+ vitritis with old chorioretinal scars with adjacent retinitis (Figure 1).
Fluoroscein angiogram (FA) (Figure 2) was obtained to further assess extent of disease.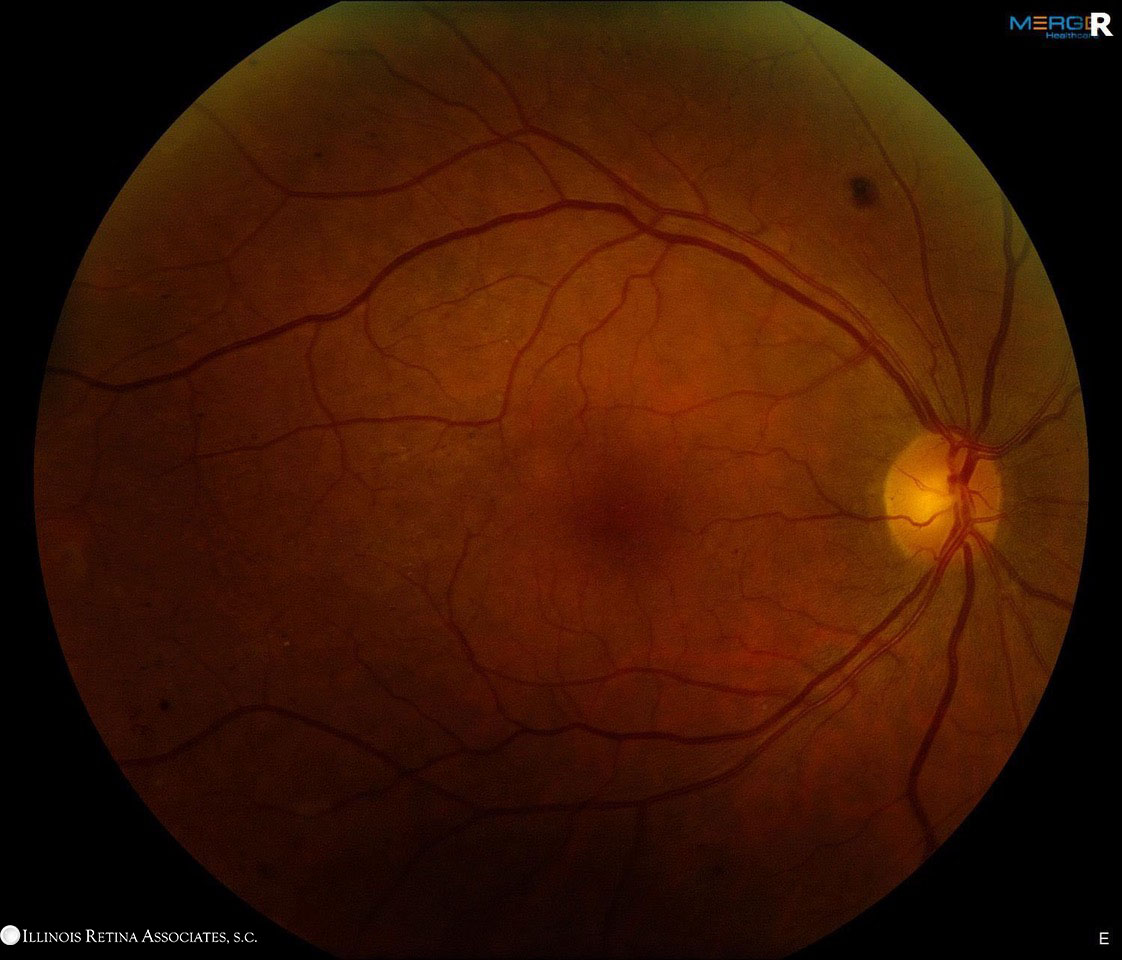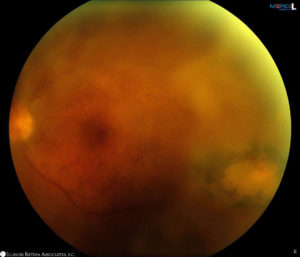 Figure 1: A. Fundus photo of the right eye demonstrates dot blot hemorrhages and microaneurysms consistent with non-proliferative diabetic retinopathy. B. The photo of the left eye demonstrates vitritis with a temporal chorioretinal scar and superotemporal retinitis.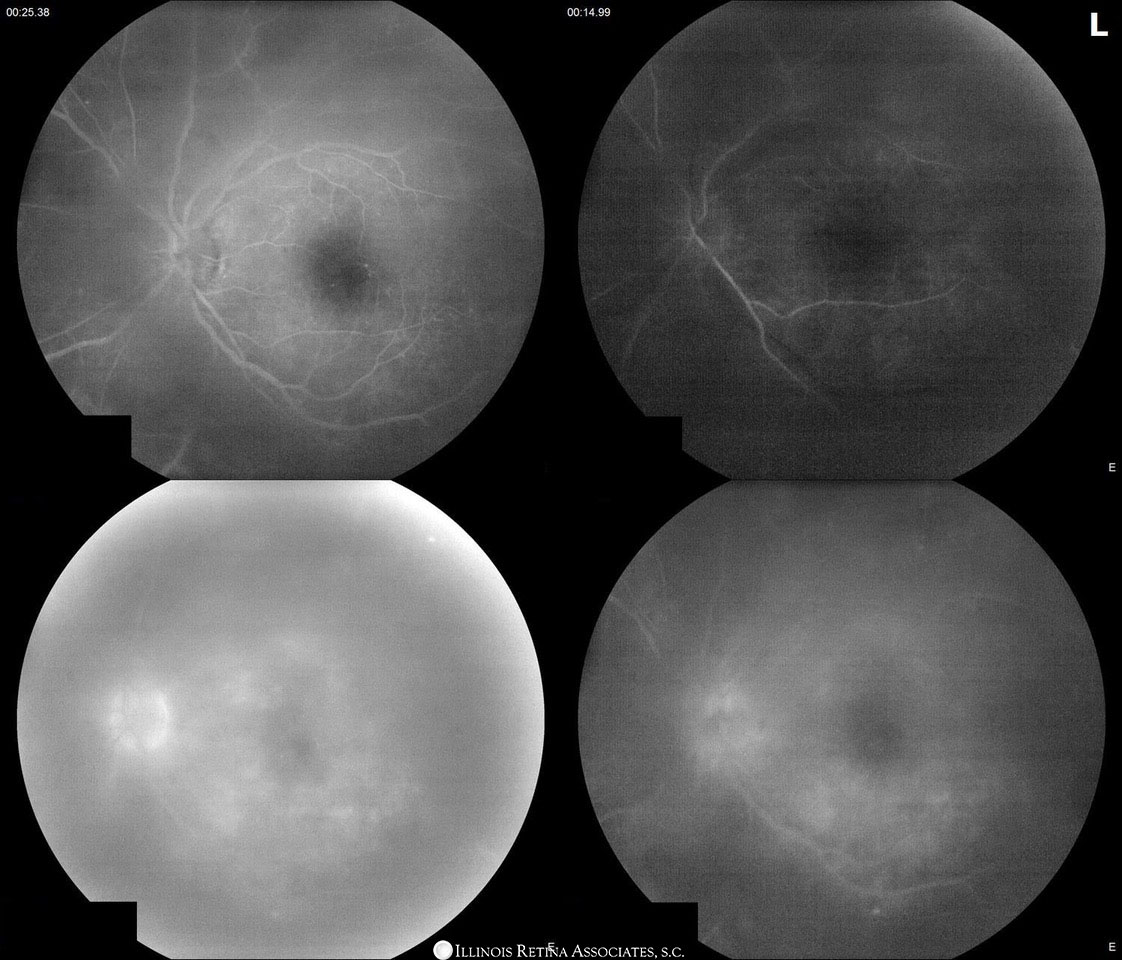 Figure 2: FA demonstrated late macular hyperfluorescence consistent with macular edema, late staining of the optic nerve head, and late staining of the lesion with no significant vasculitis.
Differential Diagnosis:
Viral (Acute retinal necrosis secondary to Herpes Simplex Virus, Varicella Zoster Virus, or Cytomegalovirus)
Bacterial (Syphilis, Tuberculosis, Endogenous Endophthalmitis)
Protozoal (Toxoplasmosis, Toxocariasis)
Sarcoidosis
White dot syndromes (Multiple Evanescent White Dot Syndrome (MEWDS), Punctate Inner Choroidopathy (PIC), Multifocal Choroiditis and Panuveitis (MCP), Acute Posterior Multifocal Placoid Pigment Epitheliopathy (APMPPE), Birdshot Chorioretinopathy and Serpiginous Choroiditis)
Masquerades (Lymphoma, Cancer Associated Retinopathy, Melanoma Associated Retinopathy)
Discussion:
Toxoplasmosis Chorioretinitis
Toxoplasmosis chorioretinitis is the most common cause of infectious posterior uveitis in immunocompetent patients. However, the differential for posterior uveitis remains broad which can include infectious and inflammatory etiologies, as well as neoplastic masquerades. Toxoplasma gondii, is a single cell, obligate, intracellular protozoan parasite, and cats are the definitive host. Humans, birds, reptiles, and a wide range of mammals may serve as intermediate hosts. Rates of ocular disease are low in the United States but are higher in Latin America. Risk factors include exposure to cats and the eating undercooked meat.
This case demonstrates some classic features such as ocular hypertension (found in 10-15% of cases), focal white retinitis with overlying vitreous inflammation ("headlight in the fog"), and an accompanying nearby chorioretinal scar. Additionally, retinal vasculitis may be present.
Despite a history of exposure to cats and classic clinical signs of toxoplasmosis, posterior uveitis requires a broad differential and other infectious and inflammatory etiologies must be ruled out. A directed lab workup was ordered which included complete blood count (CBC), erythrocyte sedimentation rate (ESR), syphilis serology, angiotensin converting enzyme (ACE), Toxoplasma IgG and IgM, and Quantiferon Gold were ordered.
Not all lesions require treatment, however indications include macula threatening or optic nerve lesions, marked visual impairment, larger lesions, pregnancy, monocular status, and immunocompromised patients. The patient was placed on a 6 week course of double strength Bactrim in addition to her topical drops initially. Of the laboratory tests, only Toxoplasma IgG was positive.
The patient's vision improved to 20/25 in the affected eye and her retinitis resolved (Figure 3). She was tapered off her drops. Bactrim was then tapered to 3 times weekly to prevent recurrences due to her history of previous episodes. Her primary care physician was asked to monitor her CBCs for leukopenia while on Bactrim as it can rarely affect folate metabolism. The patient has remained quiet over the following 2 years.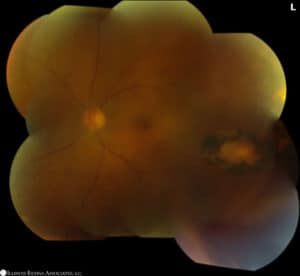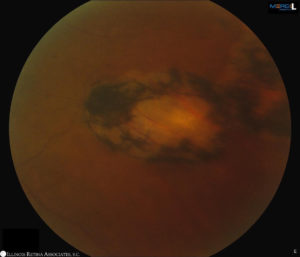 Figure 3: Fundus photo demonstrating resolved vitritis and inactive retinitis.
If you are looking to schedule your first consultation, please contact us today by clicking HERE and find the location that is nearest you!
References:
Bonfioli AA, Orefice F. Toxoplasmosis. Seminars in Ophthalmology. 2005;20:129-41.
Kim SJ, Scott IU, Brown GC, Brown MM, Ho AC, Ip MS, Recchia FM. Interventions for toxoplasma retinochoroiditis: a report by the American Academy of Ophthalmology.Ophthalmology. 2013;120(2):371-8
Stanford MR, See SE, Jones LV, Gilbert RE. Antibiotics for toxoplasmic retinochoroiditis: An Evidence-based systemic review. Ophthalmology. 2003;110:926-932.
Ho JM, Juurlink DN. Considerations when prescribing trimethoprim-sulfamethoxazole. CMAJ. 2011;183(16):1851-1858.