Acute Idiopathic Maculopathy – December, 2022
Acute Idiopathic Maculopathy – December, 2022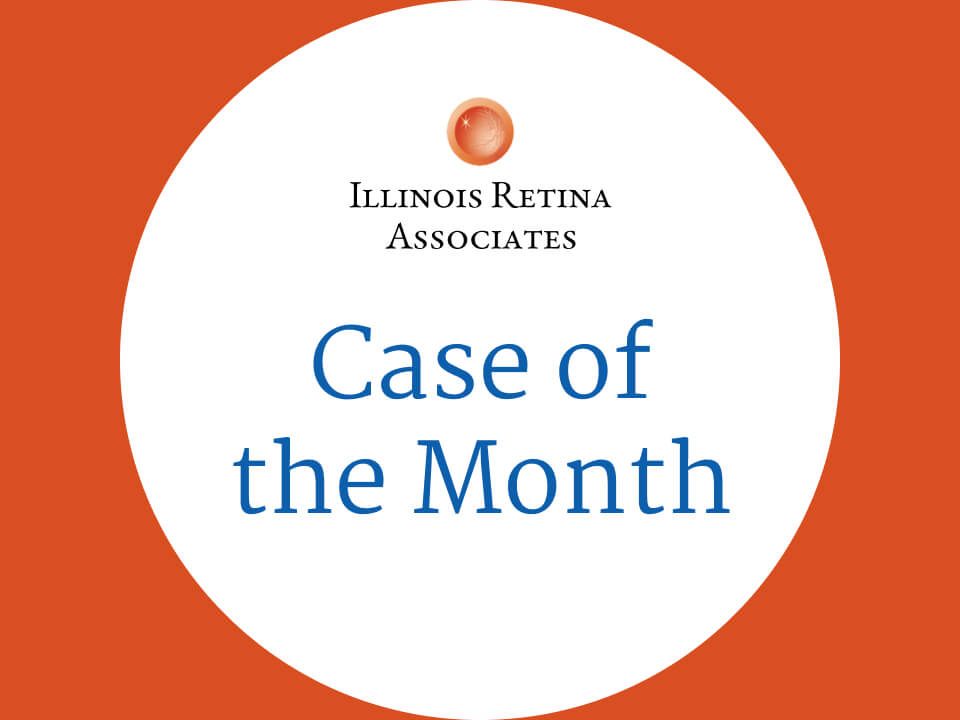 History:
A 33-year-old female with no significant past medical history presented with 1-2 weeks of a blind spot and ring of light in her right eye. She endorses a recent viral illness (not COVID) around the onset of symptoms. Her 4-month-old child also had a similar illness during this time. She was otherwise healthy and has no daily medications.
Exam:
Her visual acuity was 20/60 in the right eye and 20/20 in the left eye. Her pupils were normally reactive without RAPD. Her intraocular pressure was 18 in both eyes. Anterior segment exam was normal in both eyes. Her dilated exam was significant for retinal pigment epithelium mottling in the right macula. The left eye was normal. There are no hemorrhages, exudates, or edema noted. The peripheral exam was normal.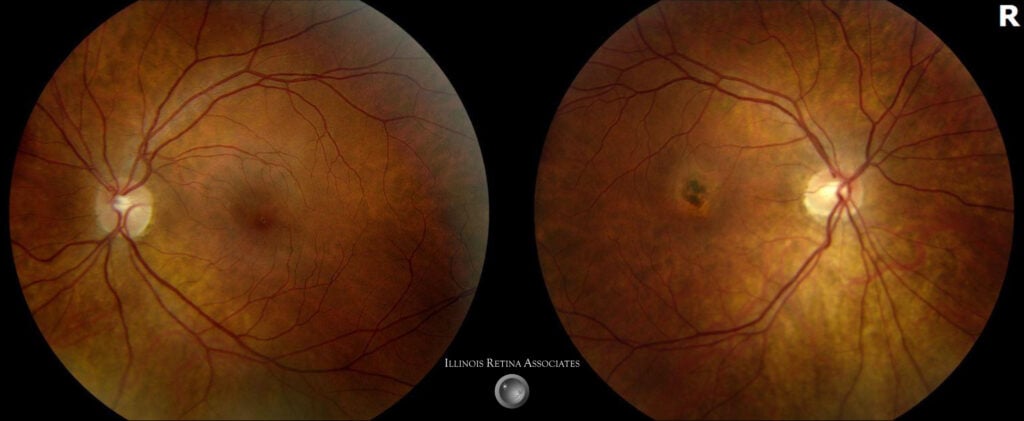 Figure 1: Fundus photography showed hyperpigmentation with surrounding hypopigmentation in the fovea in the right eye. The left eye was normal.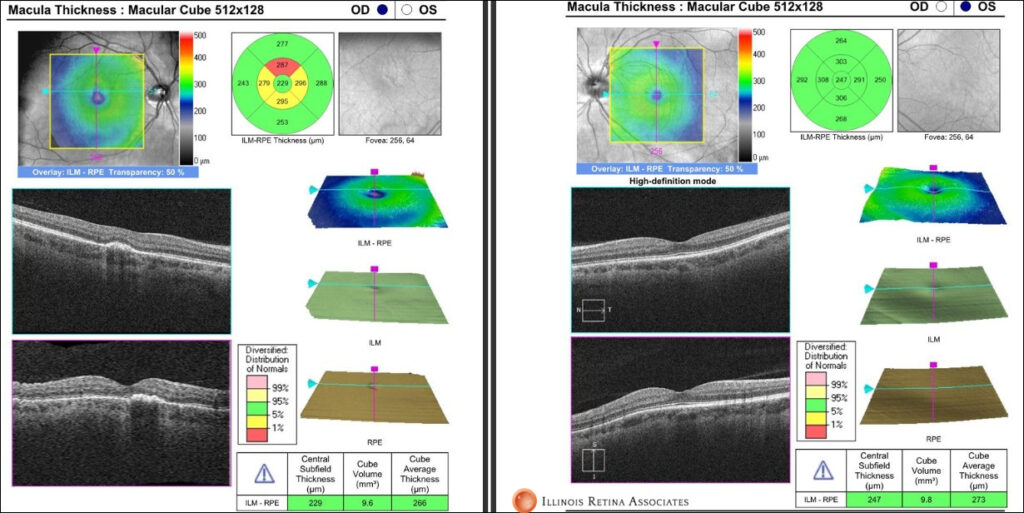 Figure 2: Optical coherence tomography (OCT) of the macula showed RPE elevation with hyper-reflective subretinal material in the right fovea. Left eye was normal.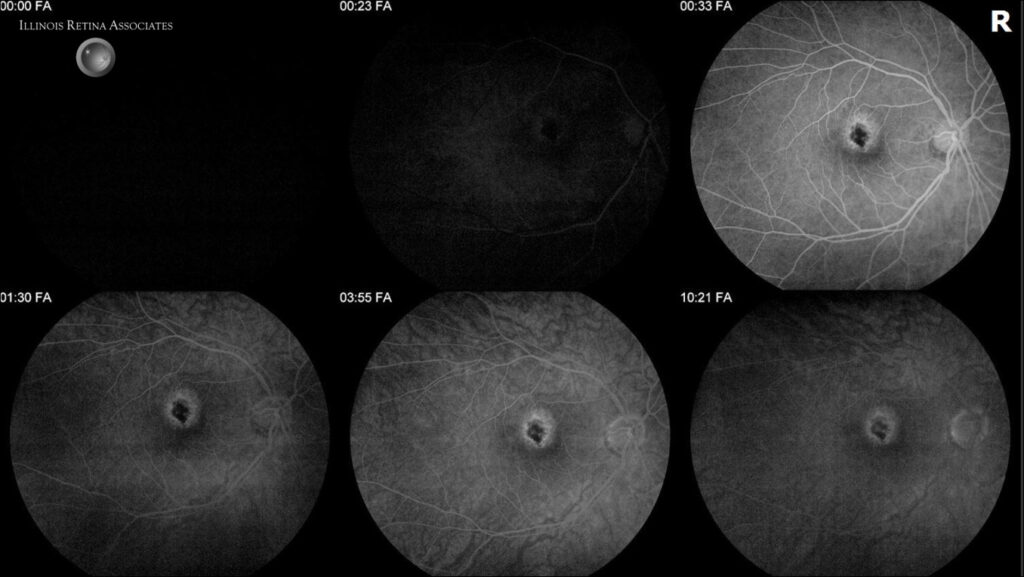 Figure 3: Fluorescein angiogram (FA) showed central hypo-fluorescence with a ring of hyper-fluorescence in the area of RPE changes in the right eye. Late frames showed mild staining. Left eye was normal.
Differential Diagnosis:
Unilateral Acute Idiopathic Maculopathy (UAIM)

Central Serous Chorioretinopathy
Infectious choroiditis
Harada Syndrome
Acute Posterior Multifocal Placoid Pigment Epitheliopathy
Cone-rod dystrophy
Discussion:
Acute Idiopathic Maculopathy (AIM)
Acute Idiopathic Maculopathy (AIM) is an uncommon disease of the RPE most commonly seen in healthy young adults. Patients often describe a viral prodrome, often hand-foot-mouth disease, immediately preceding the sudden onset of symptoms. There have been multiple studies that showed elevated Coxsackie titers in patients with AIM. Typically, the process is seen unilateral but there are bilateral cases reported.
Patients typically presented with severe unilateral vision loss, often 20/200 or worse. In the acute phase, OCT shows abnormal heterogeneous hyperreflective thickening at the level of the outer retina and RPE in the foveal region. The OCT typically improves with resolution of symptoms, but some patients are left with a submacular scar and persistent metamorphopsias. FA reveals early irregular hyper-fluorescence and hypo-fluorescence at the level of the RPE, followed by late phase staining. The symptoms spontaneously resolve over days to weeks but the typical "bulls-eye" appearance on fundus exam may remain long term.
There are reports of patients with a few intraretinal hemorrhages and mild inflammatory cells in the posterior vitreous. Other atypical findings included papillitis and eccentric macular lesions. Papillitis has occurred as both a primary disease and as an extension of the maculopathy. Patients presenting with eccentric macular lesions had better visual acuity than typical for AIM owing to the extrafoveal nature of their disease. Intraretinal hemorrhages are thought to be secondary to venous stasis produced by optic nerve. Subretinal exudation has also been noted and was thought to represent subretinal inflammatory cells or debris. These findings did not alter the disease course.
If you are looking to schedule your first consultation, please contact us today by clicking HERE and find the location that is nearest you!
References:
Adam, B., Jampol, L., Glasser, D., & Pollack, J. (2004). Is Coxsackievirus the Cause of Unilateral Acute Idiopathic Maculopathy? JAMA Ophthalmology, 122.

Camejo, D et al. A Rare Presentation of Unilateral Acute Idiopathic Maculopathy, Hand, foot, and mouth disease as presenting syndrome. Retinal Physician, Volume: 13, Issue: Jul/Aug 2016, page(s): 56, 58, 60
Hughes EH, Hunyor AP, Gorbatov M, Ho IV. Acute idiopathic maculopathy with coxsackievirus infection. Retin Cases Brief Rep. 2012 Winter;6(1):19-21. doi: 10.1097/ICB.0b013e3181f7f7ee. PMID: 25390701.