Angioid Streaks Part 2– October, 2023
Angioid Streaks Part 2– October, 2023
History:
A 57-year-old female presented with progressively blurred vision in the right eye. She had a history of Pseudoxanthoma elasticum, wears glasses for distance, and previously had laser treatment for a retinal hemorrhage 20 years prior.
Exam:
Visual acuity was 20/80 in the right eye and 20/50 in the left eye. Intraocular pressure was 16 in both eyes. Pupils were equal round and reactive and anterior segment exam was unremarkable. Dilated fundus exam of both eyes revealed angioid streaks with peripheral punched out chorioretinal scars. There was also macular pigment clumping and RPE atrophy in both eyes, right more than left (Fig 1 and 2). A subtle subretinal hemorrhage was seen superiorly in the right eye.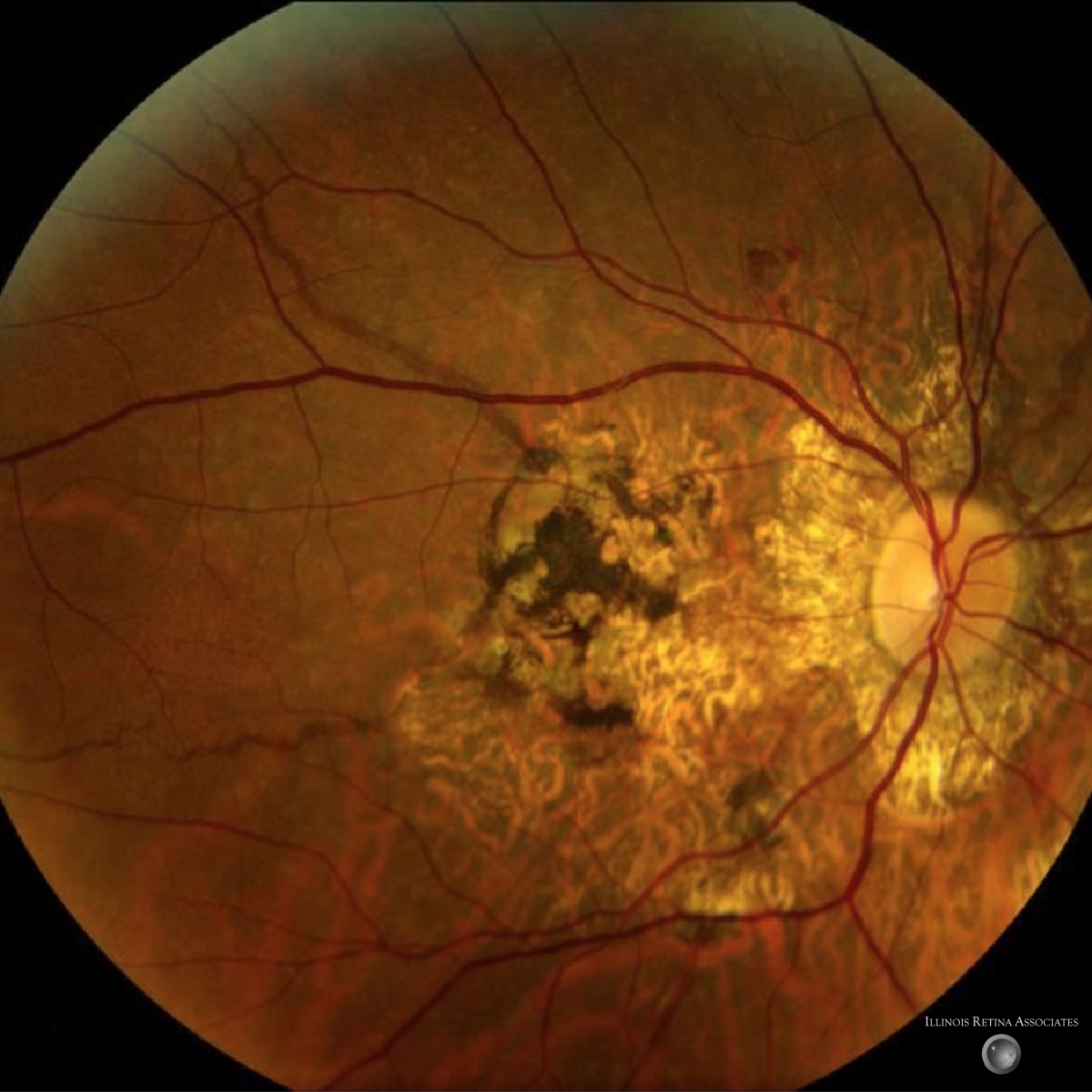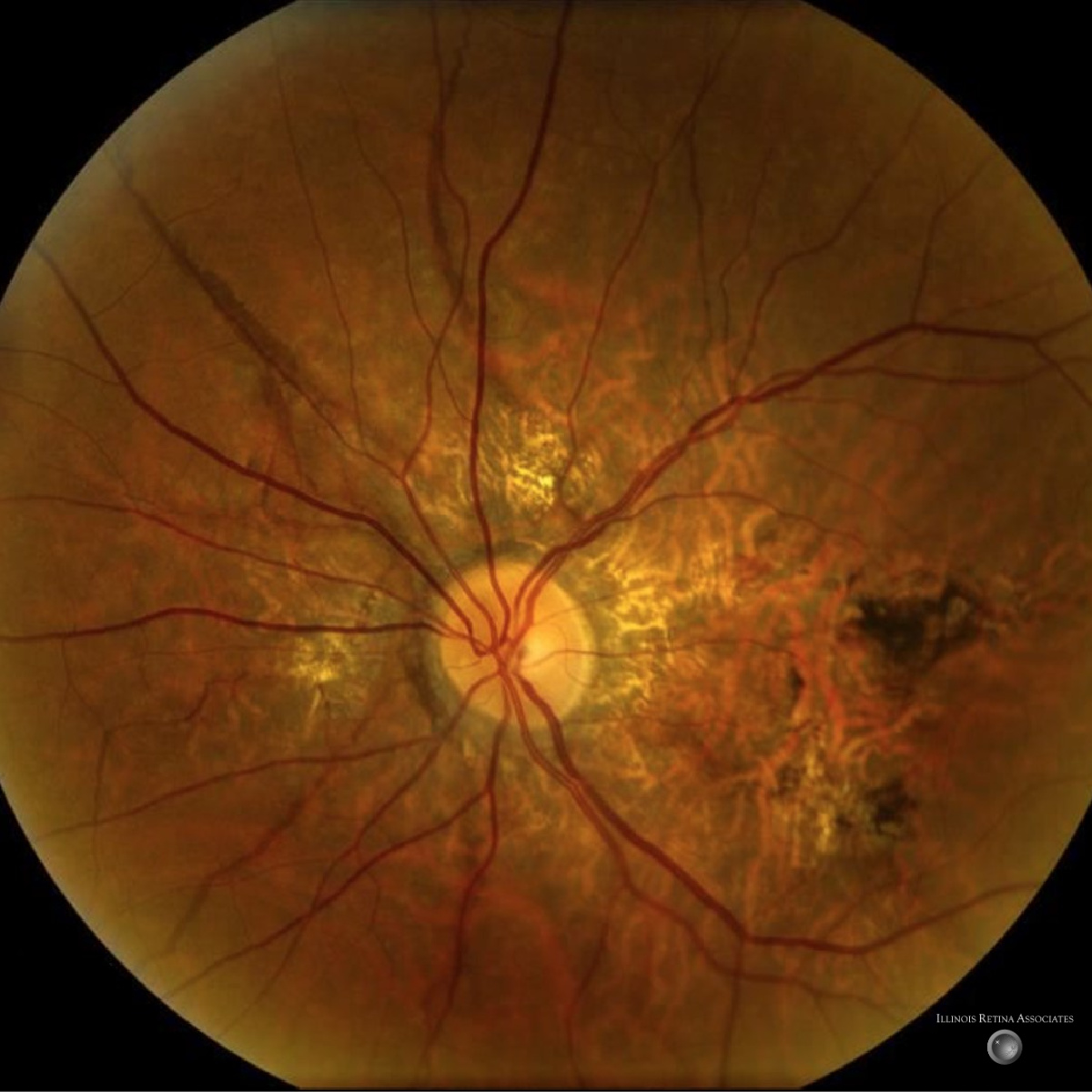 Optical coherence tomography
revealed subretinal fibrosis and atrophy in both eyes (Fig 3 and 4).
Fluorescein Angiography
of the left eye revealed superior extrafoveal leakage consistent with active CNV.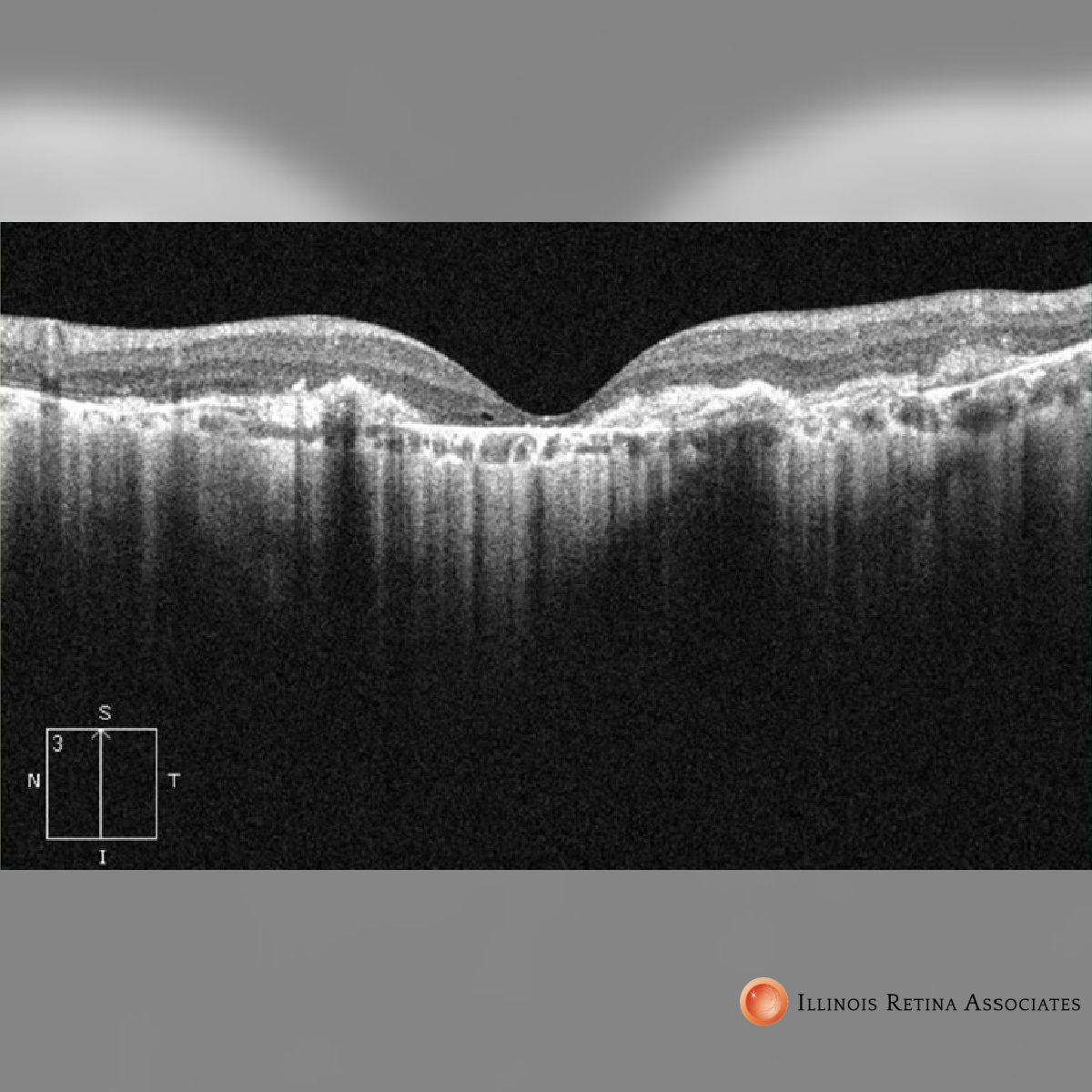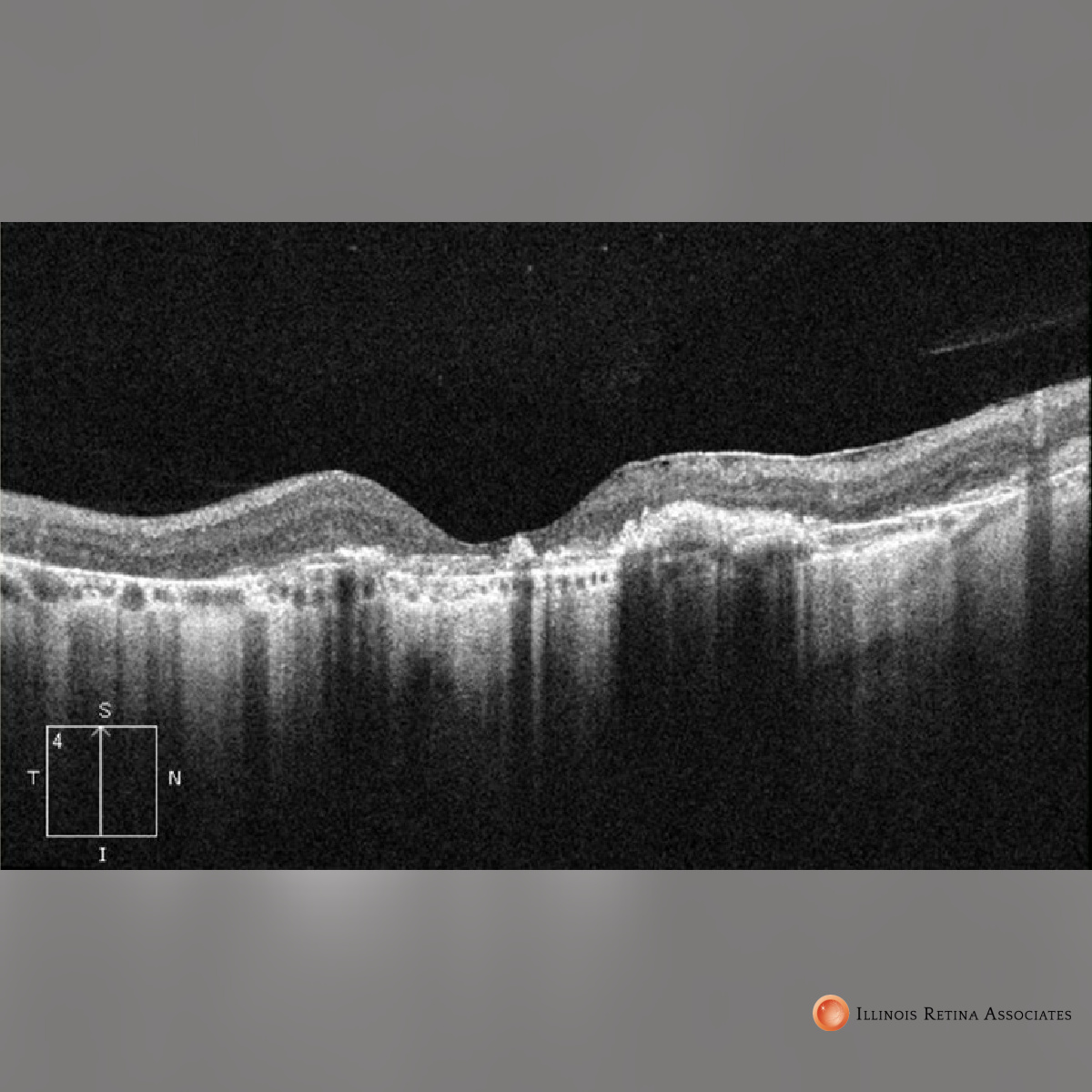 Differential Diagnosis:
• Lacquer cracks
• Choroidal rupture
• Toxoplasmosis
• Histoplasmosis
• Metastatic choroidal tumor
• Central serous chorioretinopathy
Discussion:
Angioid Streaks Part 2
Angioid streaks result from a weakness in Bruch membrane and are bilateral irregular lines which radiate from the optic disc. While there are numerous systemic associations with angioid streaks, the most common is Pseudoxanthoma Elasticum which is characterized by progressive calcification and fragmentation of elastic fibers affecting the skin, retina, and cardiovascular system.
Subretinal pigment epithelial space is abnormally thin in the region of angioid streaks and fibrovascular tissue growth may occur from the choroid causing subretinal hemorrhage, CNV, and disciform scarring, as seen in our patient. Angioid streaks are usually asymptomatic, however when associated with CNV, early intravitreal anti-VEGF is beneficial. Furthermore, patients are more susceptible to choroidal rupture and should be encouraged to wear eye protection to prevent blunt trauma.
If you are looking to schedule your first consultation, please contact us today by clicking HERE and find the location that is nearest you!
References:
Clarkson JG, Altman RD. Angioid streaks. Surv Ophthalmol. 1982 Mar-Apr;26(5):235-46. doi: 10.1016/0039-6257(82)90158-8. PMID: 7046115.
Gliem M, Finger RP, Fimmers R, Brinkmann CK, Holz FG, Charbel Issa P. Treatment of choroidal neovascularization due to angioid streaks: a comprehensive review. Retina. 2013 Jul-Aug;33(7):1300-14. doi: 10.1097/IAE.0b013e3182914d2b. PMID: 23719398.
Finger RP, Charbel Issa P, Ladewig MS, Götting C, Szliska C, Scholl HP, Holz FG. Pseudoxanthoma elasticum: genetics, clinical manifestations and therapeutic approaches. Surv Ophthalmol. 2009 Mar-Apr;54(2):272-85. doi: 10.1016/j.survophthal.2008.12.006. PMID: 19298904.