Lipemia Retinalis – November, 2023
Lipemia Retinalis – November, 2023
History:
A 43 year old male with no known past medical history presented for evaluation of retinal whitening. Patient denied any ocular symptoms and had no significant family history or medications.
Exam:
Visual acuity was 20/20 and IOP was 23 in both eyes. Anterior exam was normal, only trace cataracts. Dilated fundus exam showed normal discs and no macular pathology. The exam and fundus photos were notable for milky whitening of the retinal vessels in the mid-periphery in both eyes (Figure 1).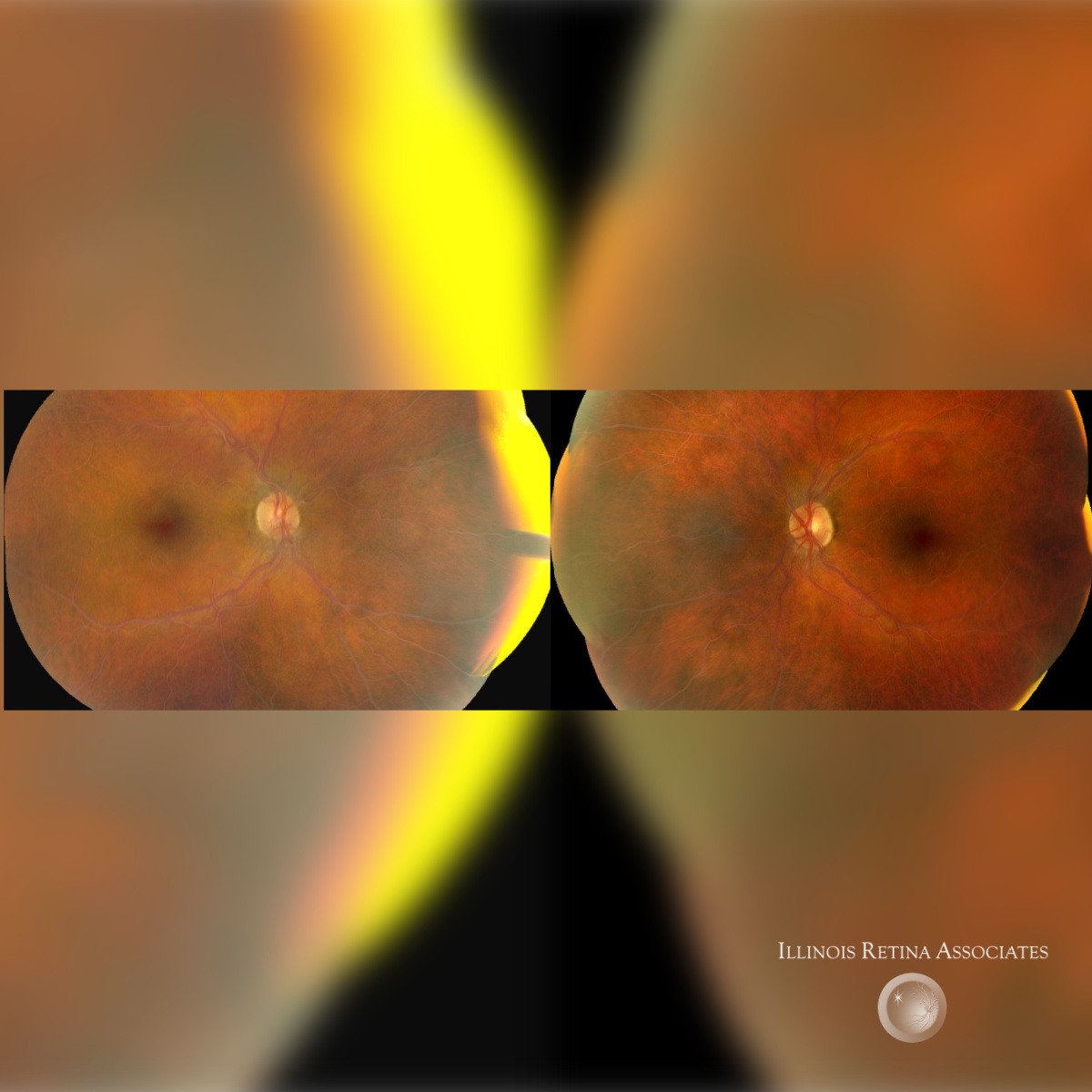 OCT of the macula showed hyper-reflective material in the inner retina (Figure 2).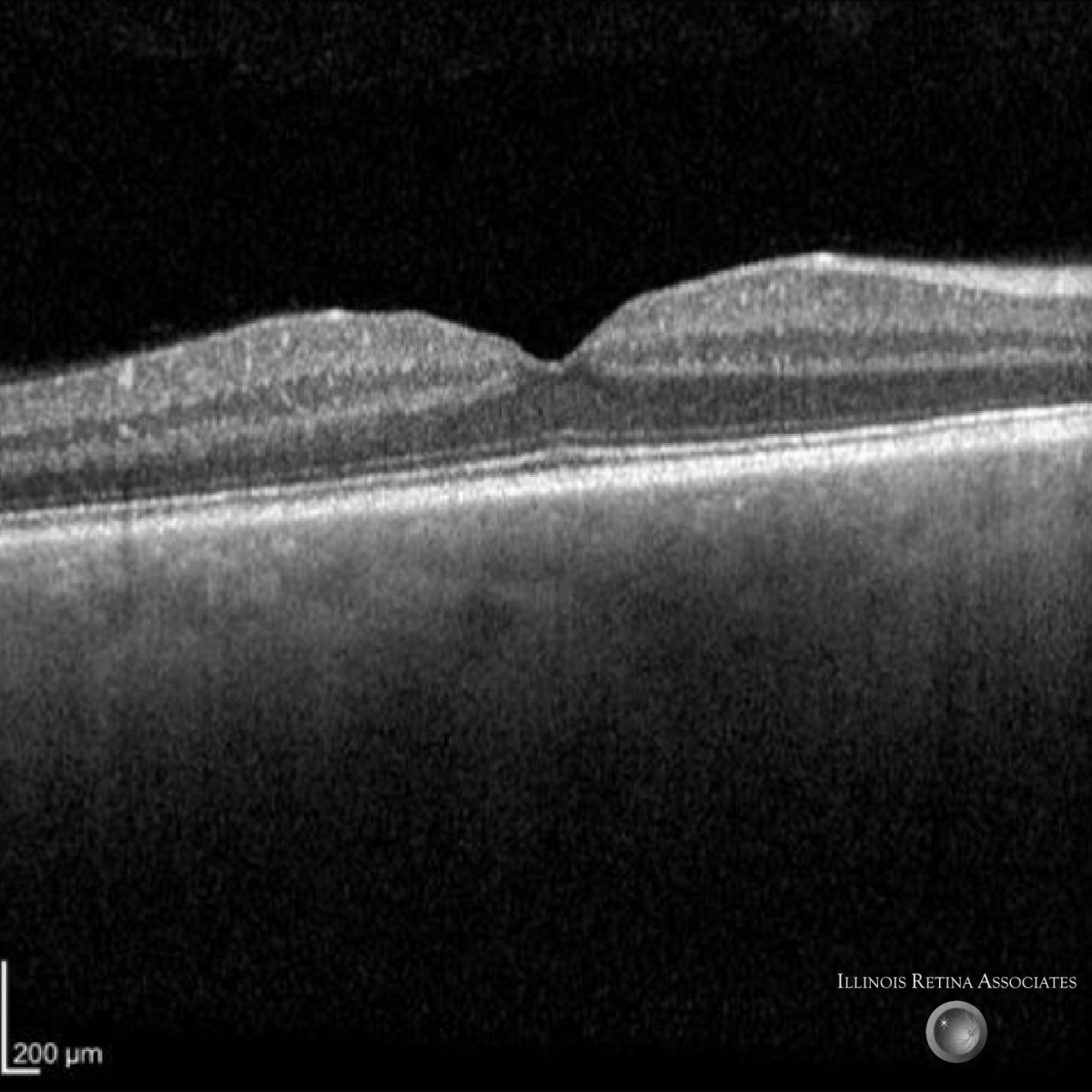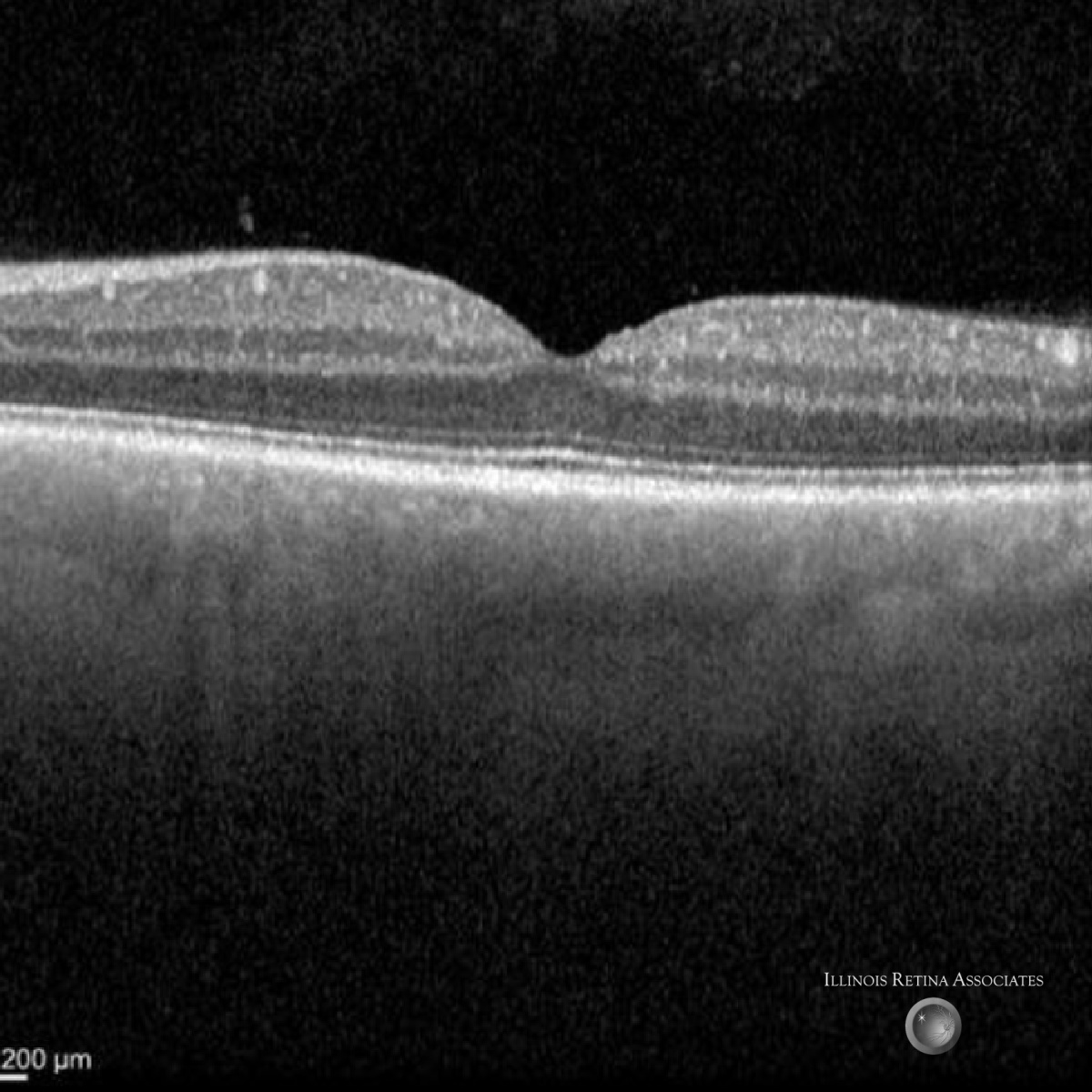 Differential Diagnosis:
Lipemia retinalis
Retinal artery occlusion
Retinal vein occlusion
Hypertensive retinopathy
Diabetic retinopathy
Patient was sent to his primary care physician was noted diagnosed with elevated triglyceride levels.
Discussion:
Lipemia Retinalis
Lipemia retinalis is caused by elevated serum triglycerides, typically above 1000 mg/dl. Early on, retinal changes are seen in the periphery but involvement of the posterior pole becomes more likely with severe disease. With serum triglyceride levels of 2500–3499 mg/dL, the peripheral vessels begin to appear creamy. With levels of 3500–5000 mg/dL, the vessels in the posterior pole becomes involved and appears creamy. At levels exceeding 5000 mg/dL, the whole fundus becomes salmon-colored and all the vessels may appear creamy.
OCT findings are typically white dots in the inner retina, which can slowly resolve as triglyceride levels normalize. FA and ICG are typically unremarkable.
There is no specific treatment for lipemia retinalis itself, but the findings do warrant a systemic workup for elevated triglycerides and serum cholesterol levels. Many recommend serum hemoglobin A1c, as well, given the association with high cholesterol and diabetes. Multiple medications can be used to treat hypertriglyceridemia. Once the triglyceride levels normalize, the retinal findings tend to resolve quickly.
If you are looking to schedule your first consultation, please contact us today by clicking HERE and find the location that is nearest you!
References:
Özturk BT, Bozkurt B, Meşen A, et al. Spectral-Domain Optical Coherence Tomography Findings in Lipemia Retinalis. Ophthalmic Surg Lasers Imaging Retina. 2016 1;47.
Thomas PK, Smith EB. Ocular manifestations in idiopathic hyperlipaemia and xanthomatosis. Br J Ophthalmol. 1958;42(8):501–506.