Irvine-Gass Cystoid Macular Edema – July, 2021
Irvine-Gass Cystoid Macular Edema – July, 2021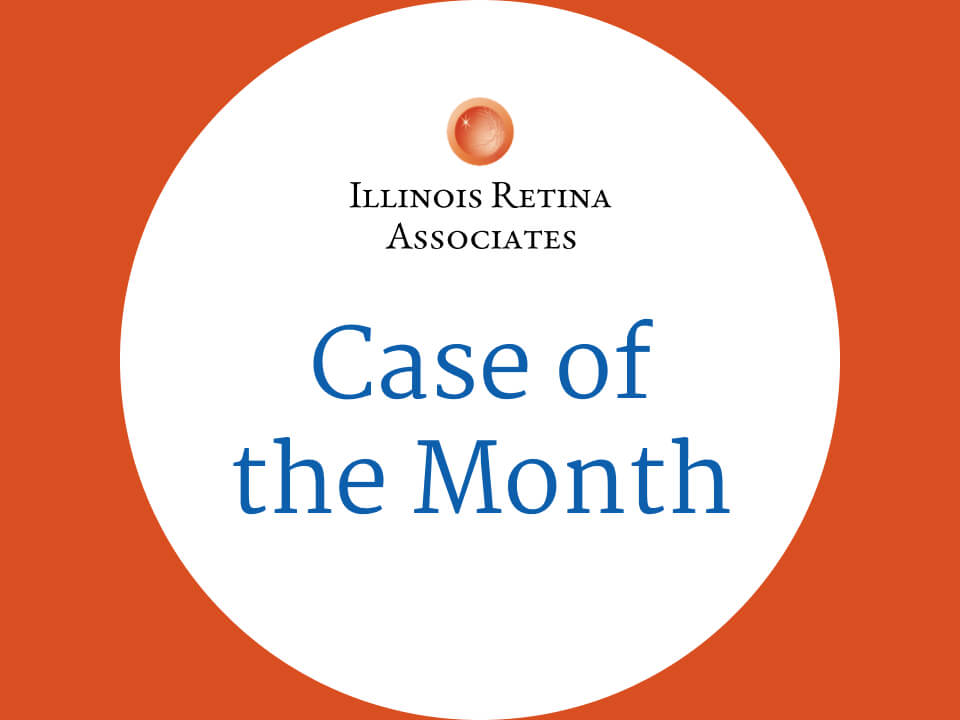 History
A 60-year old male presented upon referral from a comprehensive ophthalmologist for concern for retinal swelling unknown significance with concern for macular swelling due to Presumed Ocular Histoplasmosis Syndrome (POHS). He had undergone submacular surgery for resection of a chroidal neovascular membrane 10 years prior followed by a series of intravitreal avastin injections with the last one being 2 years prior. He had also recently had cataract surgery 3 months prior to the referral. Other than that, his past medical history was unremarkable.
Exam
His VA was 20/60 in the affected right eye and 20/20 in the left. There was no RAPD and his anterior segment exam was unremarkable. Fundus photos showed RPE atrophy and hyperplasia of the posterior pole OD and and epiretinal membrane (Figure 1). OCT through the macula demonstrated a thickening as well as the epiretinal membrane with ectopic inner foveal layers. (Figure 2).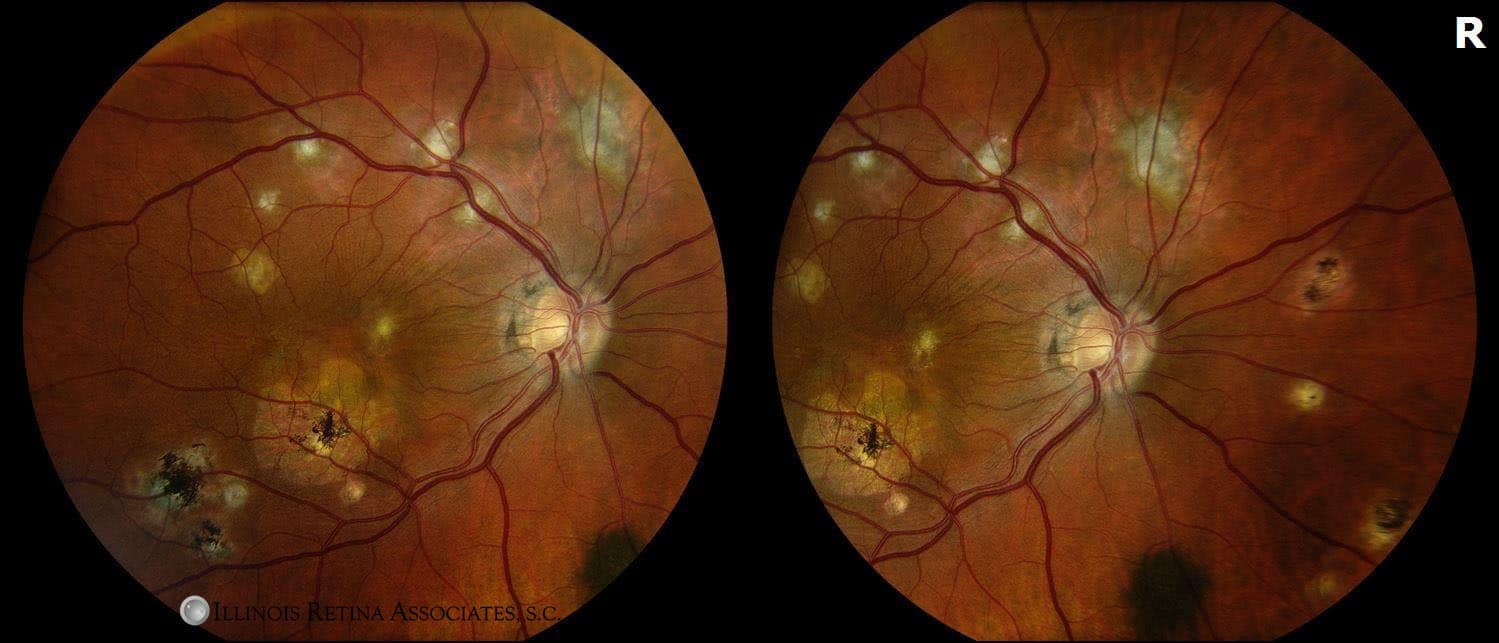 Figure 1. Fundus Photo: The fundus photos show and epiretinal membrane and multiple punched out "POHS-type" lesions in the macula. Inferior to the fovea appears a post-surgical submacular surgery scar for resection of an old choroidal neovascular membrane.
OCT was obtained to further elucidate macular pathology. It can be seen below: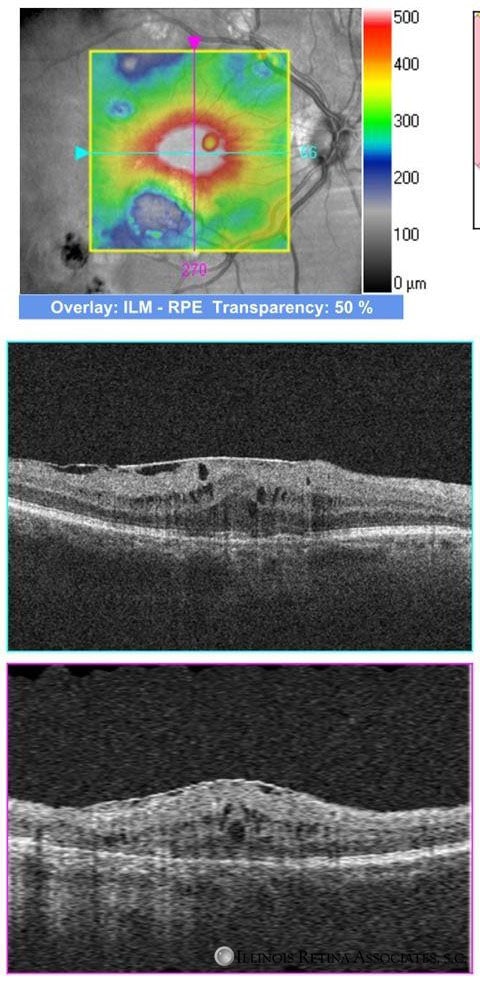 Figure 2. OCT demonstrates macular thickening and the epiretinal membrane.
To further elucidate any POHS related activity and better characterize the macular edema, a fluorescein angiogram was obtained: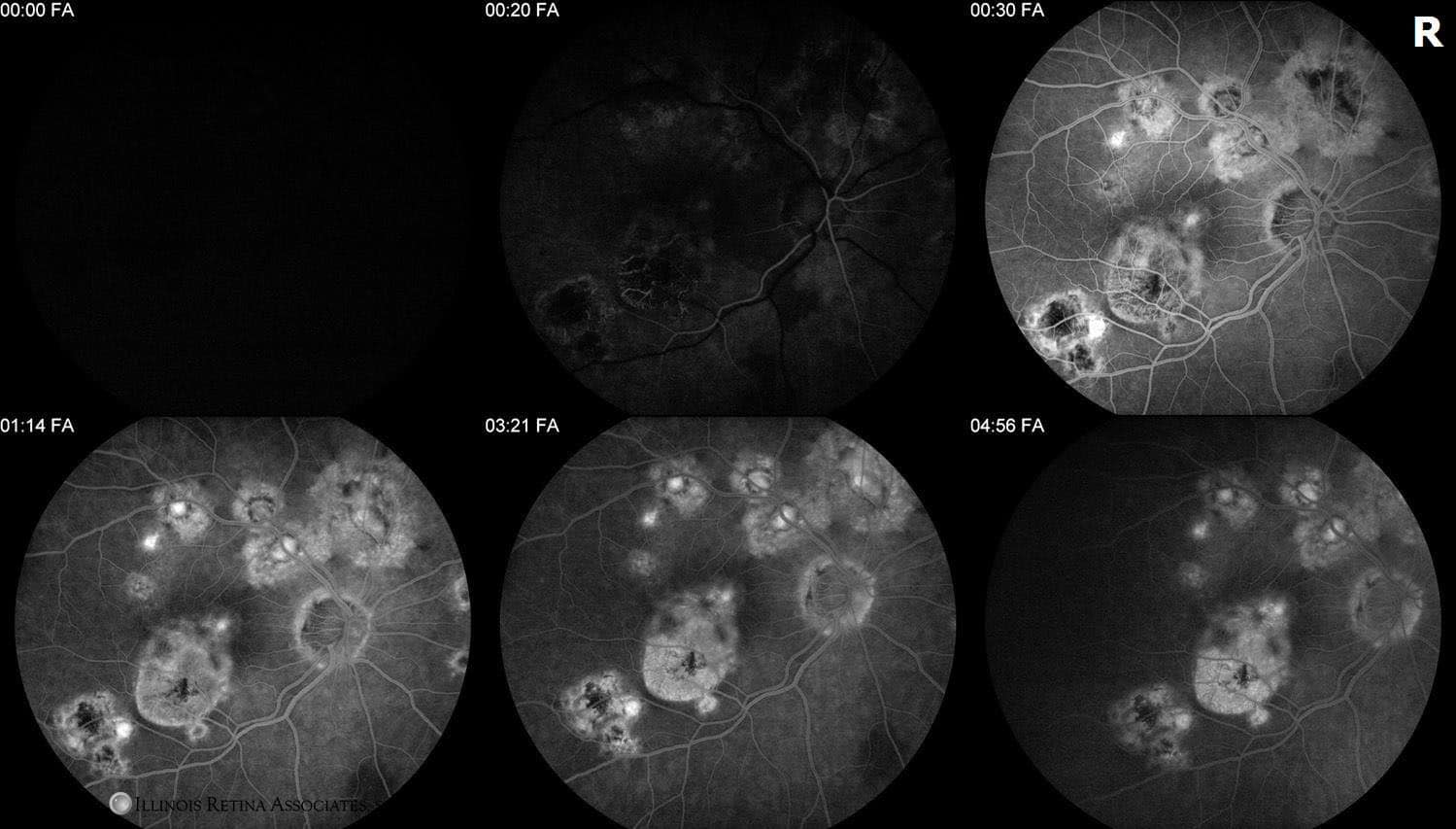 Figure 3. Fluoroscein angiography demonstrates late petaloid leakage near the fovea and distal to any choroidal neovascular membrane.
Discussion:
Irvine-Gass Cystoid Macular Edema
Given the petaloid leakage in the post-operative period distal to the POHS lesions, a diagnosis of Irvine-Gass cystoid macular edema was made. Despite the history of POHS and CNMV in this patient, this case demonstrates the benefits of maintaining a broader differential. Given the diagnosis elucidated on angiogram, we were able to avoid invasive intravitreal injections and pursue drop therapy.
Irvine-Gass or pseudophakic CME is thought to be due to multiple factors. Proteomic studies have found upregulation of growth factors and cytokines related to inflammation in the vitreous and aqueous after surgery. This results in vascular endothelial damage and release of blood products in the outer plexiform and inner nuclear layers of the retina, resulting in macular thickening and cystoid macular edema. Later in the disease course, untreated or unresolved macular edema can result in lamellar holes or macular holes.
Our patient was started on topical steroid and nonsteroidal anti-inflammatory drops and the follow-up OCT below shows that the macular thickening improved. His vision also subjectively improved, and the patient was happy. Should topical drop therapy not have resolved the edema, intravitreal anti-vascular endothelial growth factor or steroids are typically the best next therapy. Residual ectopic infer foveal layers may be addressed by membrane peeling surgery if the membrane progresses but will be monitored for in line with shared decision making with our patient.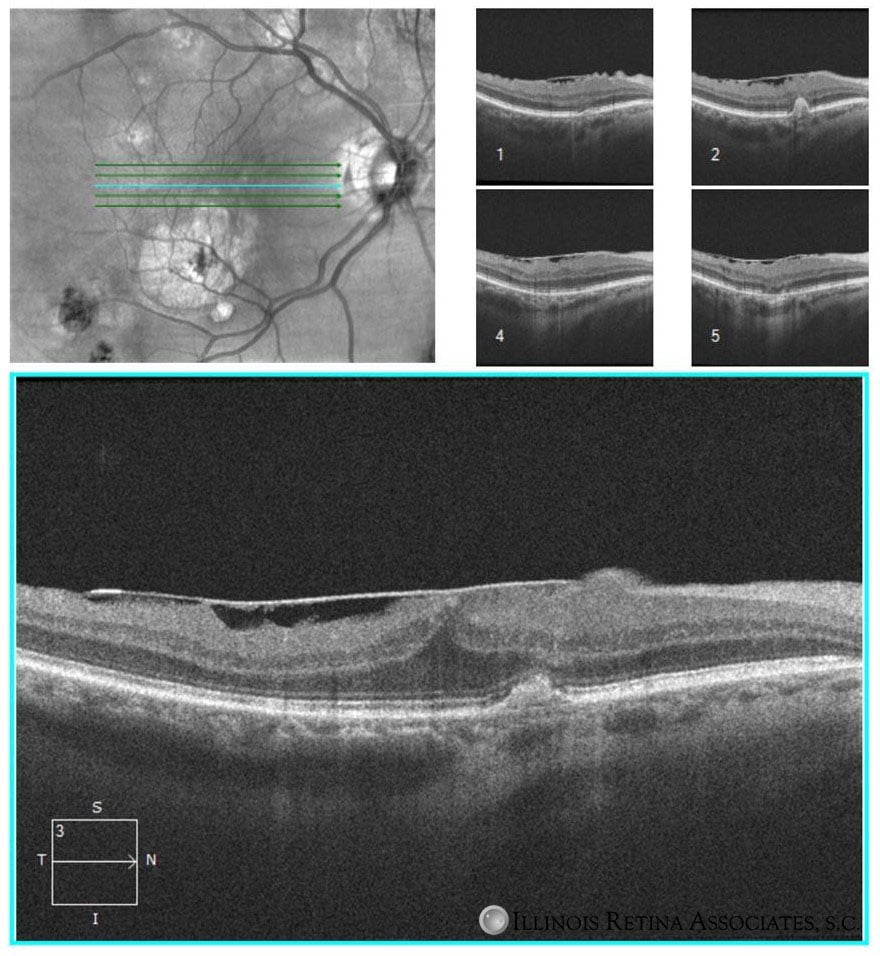 Figure 4. A follow-up OCT demonstrates decreased macular thickening and improved lamination of the retinal inner layers.
If you are looking to schedule your first consultation, please contact us today by clicking HERE and find the location that is nearest you!
References:
Flach AJ. The incidence, pathogenesis and treatment of cystoid macular edema following cataract surgery. Trans Am Ophthalmol Soc 1998;96:557-634.
Yonekawa Y, Kim IK. Pseudophakic cystoid macular edema. Curr Opin Ophthalmol 2012;23(1):26-32.
Feldman BH, Heersink S. Cataract. EyeWiki. https://eyewiki.aao.org/Cataract. Accessed 11/12/2011.
Irvine SR. A newly defined vitreous syndrome following cataract surgery. Am J Ophthalmol 1953;36:599-619.
Gass JDM, Norton EWD. Fluorescein studies of patients with macular edema and papilledema following cataract extraction. Trans Am Ophthalmol Soc 1966;64:232-249.
Gass JDM, Norton EWD. Cystoid macular edema and papilledema following cataract extraction. Arch Ophthalmol 1966;76:646-661.