Orland Park Office
Orland Park Office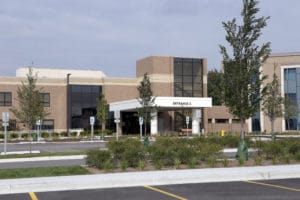 On the surface, Orland Park may be known for its extensive shopping and eateries, however, this village-which was incorporated in 1892-also boasts over 60 parks offering plenty of options for recreation, from sports complexes to nature trails. One of the largest, Centennial Park Aquatic Center is located just south of the Orland Park medical offices' medical complex. This 192-acre park features six water slides, two large pools, and a children's play area; it is one of the largest public pools in the area! Just south of the Aquatic Center is the 95-acre Lake Sedgewick, which features hiking paths, nature trails, boardwalks, boat ramps and paddle-boats and kayaks to rent.
The Orland Park office has been housed in the Palos Primary Care building since 2008. The buildings underwent extensive addition and renovation, transitioning to Palos Health in 2019.
To be enjoyed while you wait in our office are the color musical instruments as well as frame after frame of sheet music, all with an "eye" theme in the title!