Posterior Scleritis – January, 2022
Posterior Scleritis – January, 2022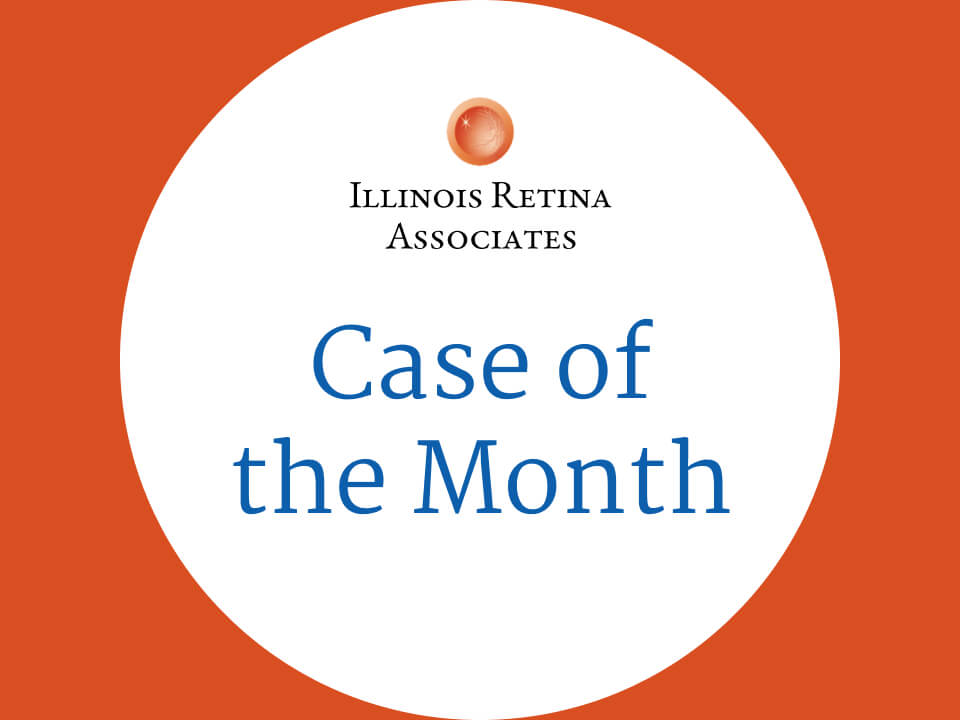 History
A 21-year-old woman presented to the emergency department with right eye pain, right temporal visual field "haziness" and headaches. She felt a pulling sensation on her eye with extraocular movements. She was otherwise healthy. On review of systems, she noted a single episode of hematuria. Around the same time, she developed a facial rash that subsequently resolved with Benadryl.
Exam
Her visual acuity was 20/400 and 20/20 in the right and left eye, respectively. There was no RAPD. Intraocular pressures were 14 and 16 in the right and left eyes, respectively. Anterior segment exam was unremarkable in both eyes. Dilated fundus examination demonstrated 1+ disc edema without hemorrhages and a serous retinal detachment of the macula of the right eye (Figure 1) and a normal fundus in the left eye.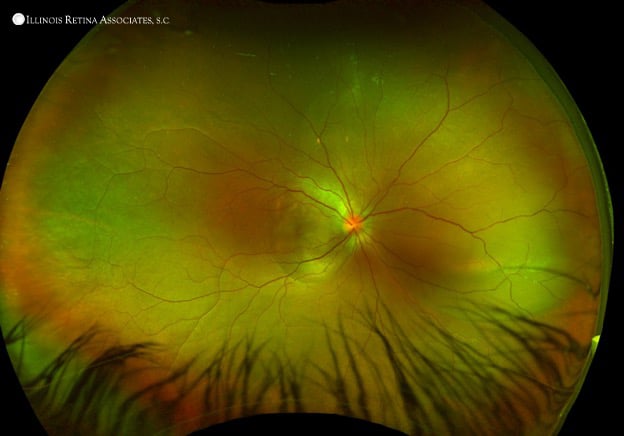 Figure 1: Optos fundus photograph of the right eye disc edema and a serous retinal detachment of the macula.
Optical coherence tomography confirmed the presence of subretinal fluid (Figure 2).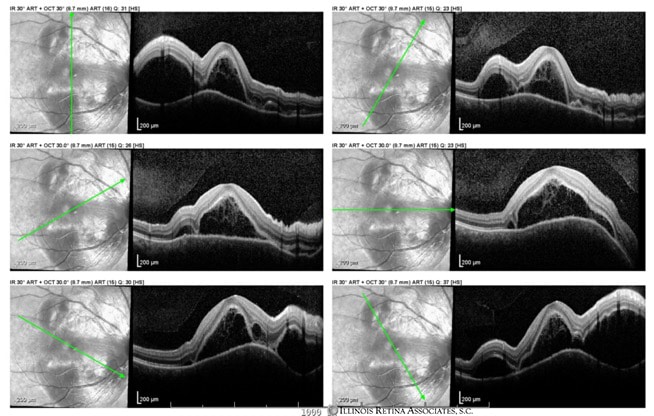 Figure 2: Optical coherence tomography demonstrated pockets of subretinal fluid in the macula of the right eye.
Fluorescein angiography demonstrated disc leakage with pooling and staining in the area of serous detachment (Figure 3).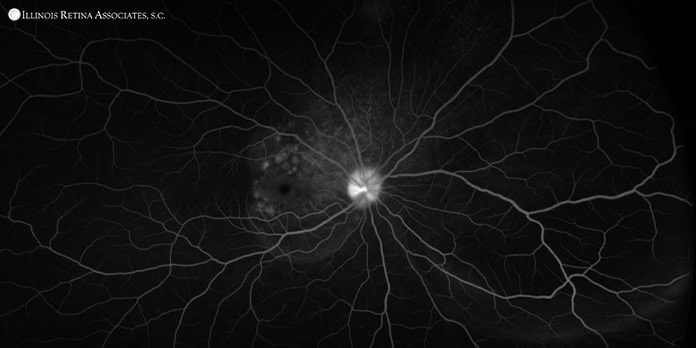 Figure 3: Fluorescein angiography (late phase) of the right eye with disc leakage and pooling in the area of the serous detachment.
Indocyanine green angiography demonstrated pinpoint areas of active inflammation of the choroid in the area of serous detachment (Figure 4).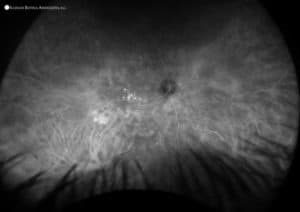 Figure 4: Indocyanine green angiography (late phase) of the right eye relative hypoperfusion and pinpoint areas of hypercyanesence representing active inflammation.
Differential Diagnosis:
Posterior Scleritis
Central Serous Chorioretinopathy
Vogt-Koyanagi-Harada Disease
Sarcoidosis
Age-Related Macular Degeneration
Sympathetic Ophthalmia
Hypertensive Chorioretinopathy
Uveal Effusion Syndrome
Polypoidal Choroidal Vasculopathy
Lupus Choroidopathy
Additional Workup:
Syphilis Treponemal Ab – neg
Quant Gold – neg
ACE – neg
HLA-B27 – neg
Urinalysis – unremarkable
Lyme Ab – neg
ESR/CRP – neg
ANA – Positive Titer of 1:640
p-ANCA – Positive Titer 1:80
Anti RNP and Anti SM – neg
c-ANCA – neg
SSA/SSB – neg
Rheumatoid Factor –neg
CCP Ab – neg
Uric Acid – neg
B-scan ultrasonography was performed which was consistent with a diagnosis of posterior scleritis with evidence of a "T sign" (Figure 5).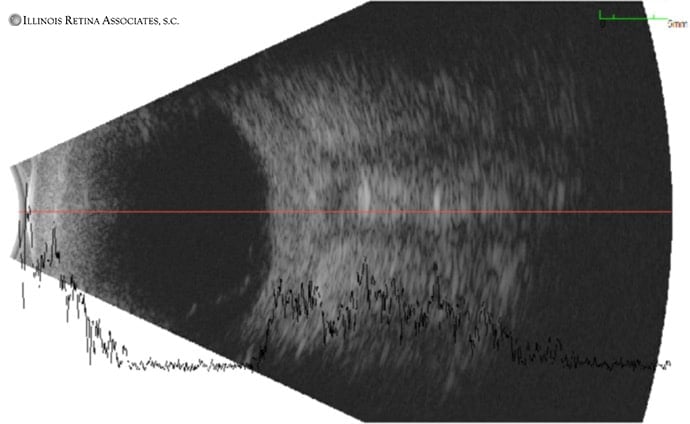 Figure 5: B-Scan ultrasound demonstrating posterior scleral thickening and a "T sign" which represents fluid accumulation in Tenon's space.
Discussion:
Posterior Scleritis
Posterior scleritis is a rare vision threatening condition with a variable presentation that can make its diagnosis challenging. The condition represents 10% of all cases of scleritis. Half of all cases can be associated with a systemic disease—most commonly rheumatoid arthritis—followed by other autoimmune conditions. Patients often describe a dull boring pain of the orbit which can wake them from sleep. This is accompanied by orbital signs such as pain with extraocular motility and in some cases proptosis. Review of systems, like in our case, is critical to the diagnosis and may also allude to a potential systemic association.
Slit lamp examination may demonstrate corneal edema, anterior chamber inflammation and in some cases shallowing of the anterior chamber due to rotation of the ciliary body and iris root. In rare cases, patients can even present in angle closure from this mechanism. The eye can be white if the inflammation is strictly posterior.
Fundus examination may show swelling of the optic nerve, exudative retinal detachment, or choroidal effusions.
All patients presenting with scleritis should be worked up for an associated systemic disease. Typically including quantiferon gold, syphilis IgG, ANA, ACE, ANCA, HLA-B27, rheumatoid factor, CCP Ab, and CBC.
Fluorescein and indocyanine green angiography don't have characteristic signs for posterior scleritis but they may be helpful in excluding other etiologies.
B-scan ultrasonography is crucial to the diagnosis with the pathognomonic T-sign due to fluid collecting in the posterior episcleral space and extending around the optic nerve.
The patient's scleritis was likely secondary to a p-ANCA vasculitis. This may explain her hematuria as well as facial rash which can be associated with this condition. The patient was started on systemic oral steroids and their serous detachment resolved and were referred to Rheumatology for further evaluation.
If you are looking to schedule your first consultation, please contact us today by clicking HERE and find the location that is nearest you!
References:
Lavric A, Gonzalez-Lopez JJ, Majumber PD, et al. Posterior Scleritis: Analysis of Epidemiology, Clinical Factors, and Risk of Recurrence in a Cohort of 114 Patients. Ocul Immunol Inflamm 2016;24:1: 6-15.
Benson WE, et al. Posterior Scleritis. Surv Ophthalmol 1988;32:297-316.
Watson PG, et al. Scleritis and Episcleritis. Br J Ophthalmol 1976;60(3):163-91.