Vogt-Koyanagi-Harada Disease (VKH) – December, 2021
Vogt-Koyanagi-Harada Disease (VKH) – December, 2021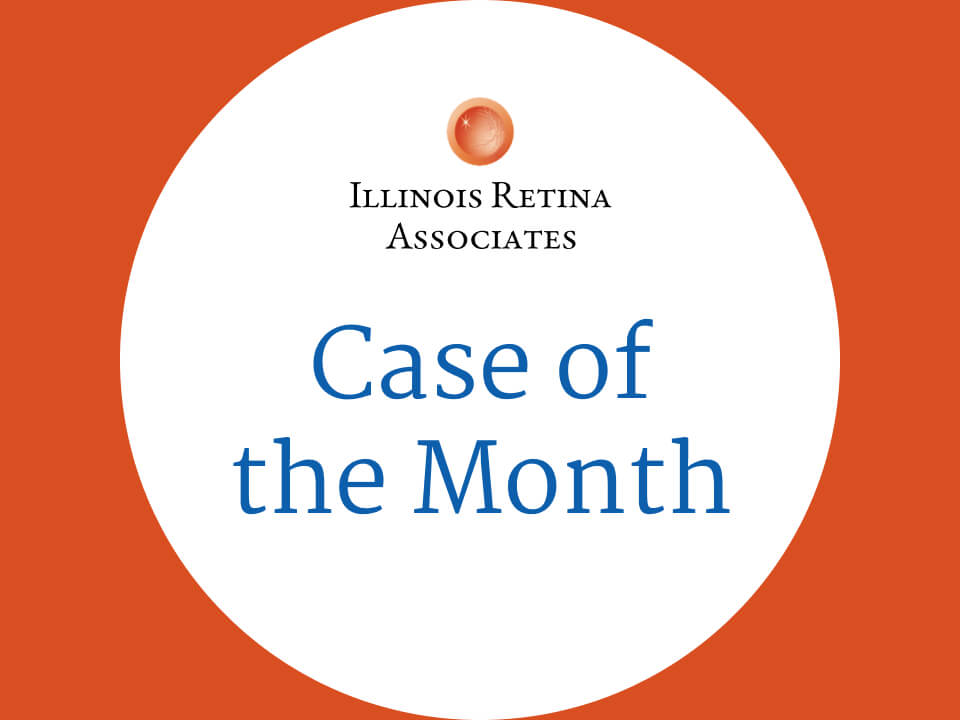 History
A 33-year-old Hispanic male presented to our retina and uveitis specialist after self-referring due to blurry vision that was not improving despite antibiotic therapy initiated by an outside doctor. The patient had symptoms of blurry vision in the left eye followed by the right eye starting 5 weeks prior. He was started on topical Ofloxacin drops, Bactrim, and then Clindamycin for several weeks for possible Toxoplasmosis Chorioretinitis without improvement. He had mild pain, redness, flashes, and floaters in both eye over this period. Review of systems was negative. He had a past medical history of hypertension treated with Amlodipine and an appendectomy many years ago. He had no family history of eye problems.
Exam
Vision was counting fingers at two feet in both eyes. IOP was normal at 13 and 11. Confrontation visual fields were somewhat constricted bilaterally. Anterior exam of both eyes was remarkable for 3+ flare, rare cell, and a sluggish left pupillary response. There was no cell in either vitreous cavity.
Below are his posterior segment and initial imaging findings: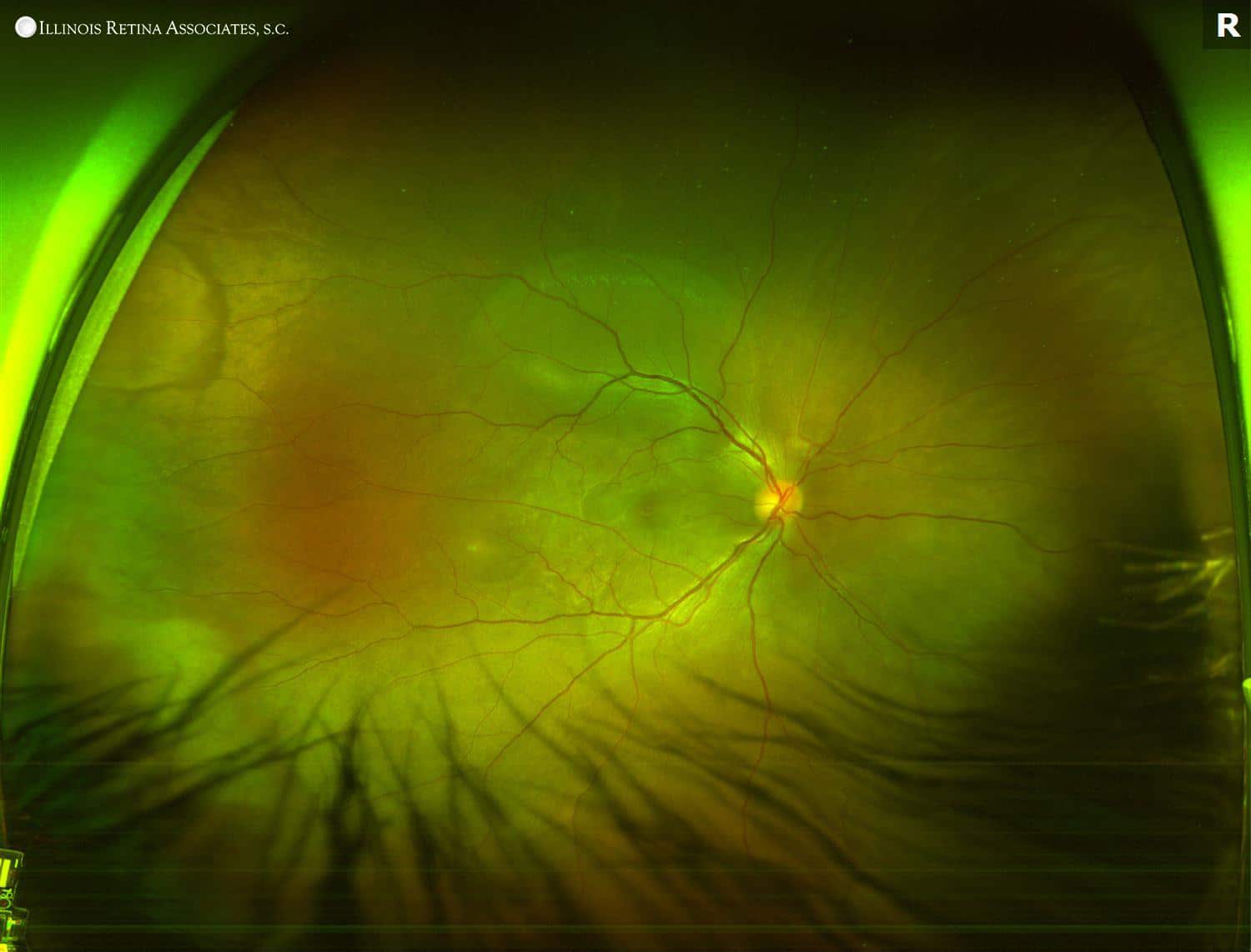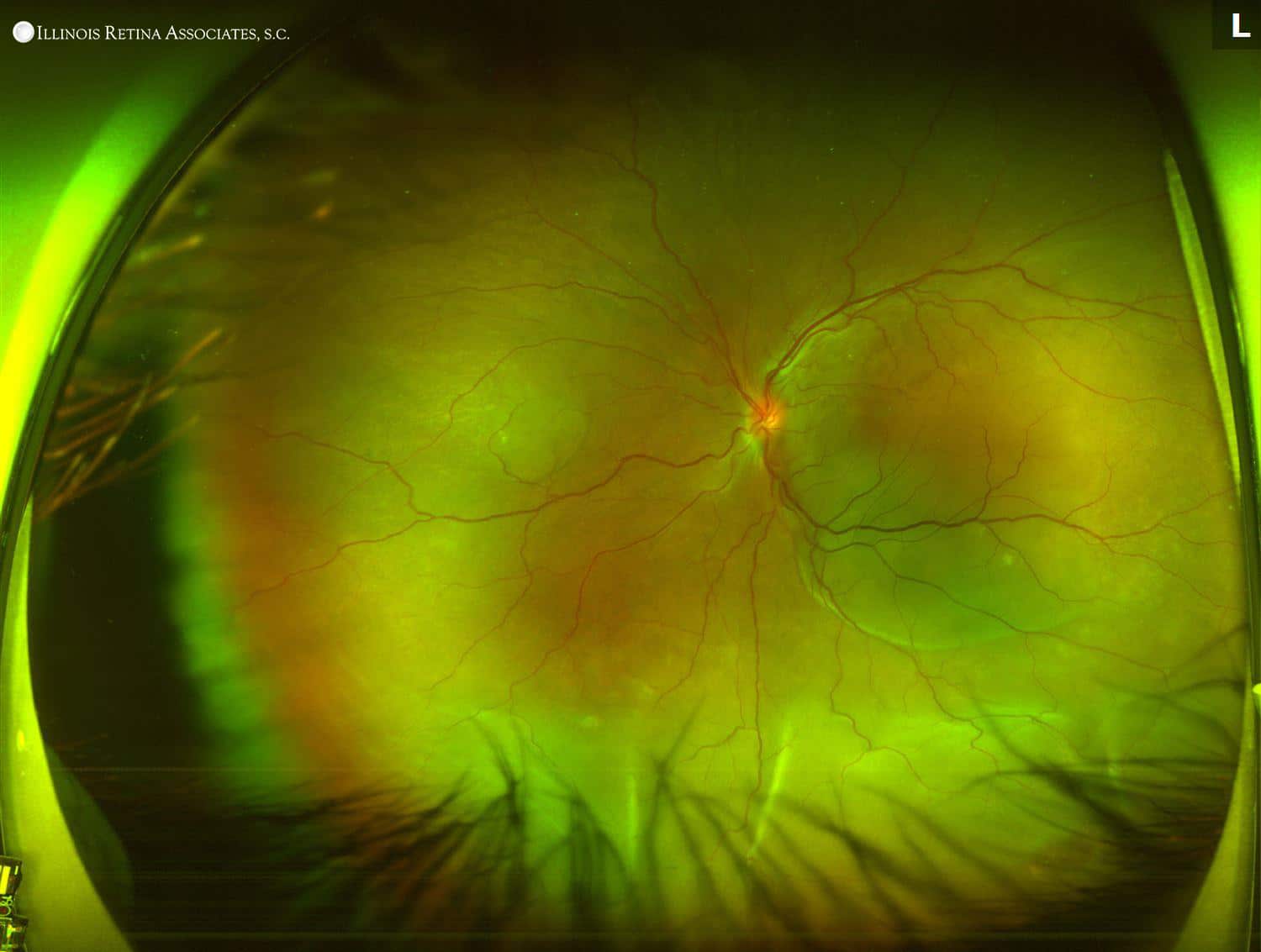 Figure 1: Optos wide-field fundus photos of both eyes. The optic discs were hyperemic in both eye, and there was subretinal fluid under both foveas. The left eye had a serous retinal detachment inferiorly. Based on abnormal findings on fundus exam, further imaging was completed. OCT and fluorescein angiogram of both eyes are below.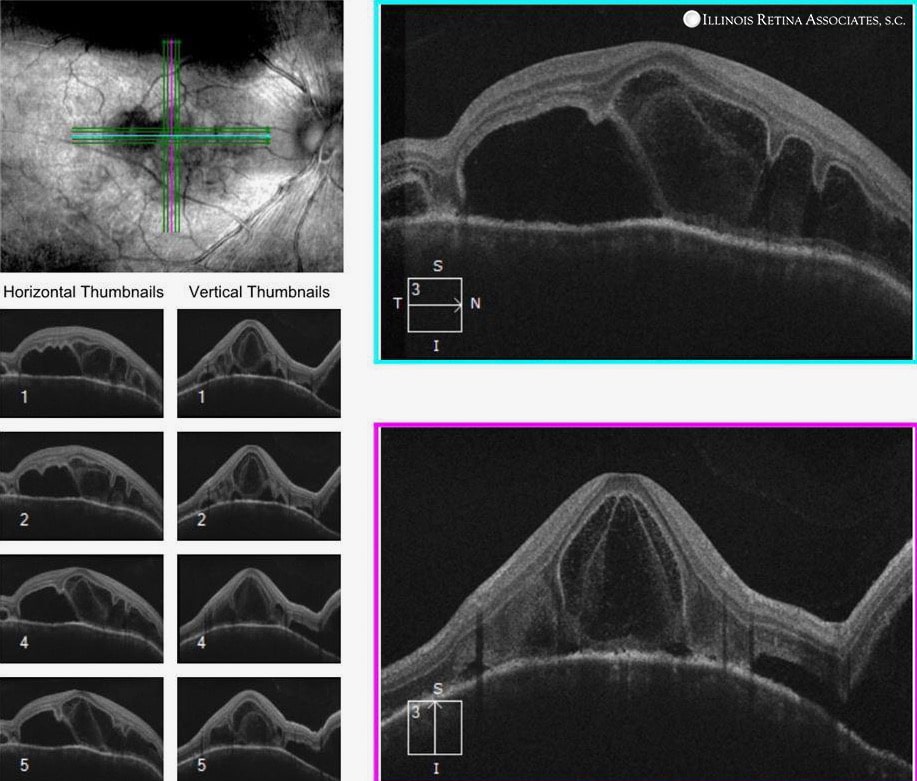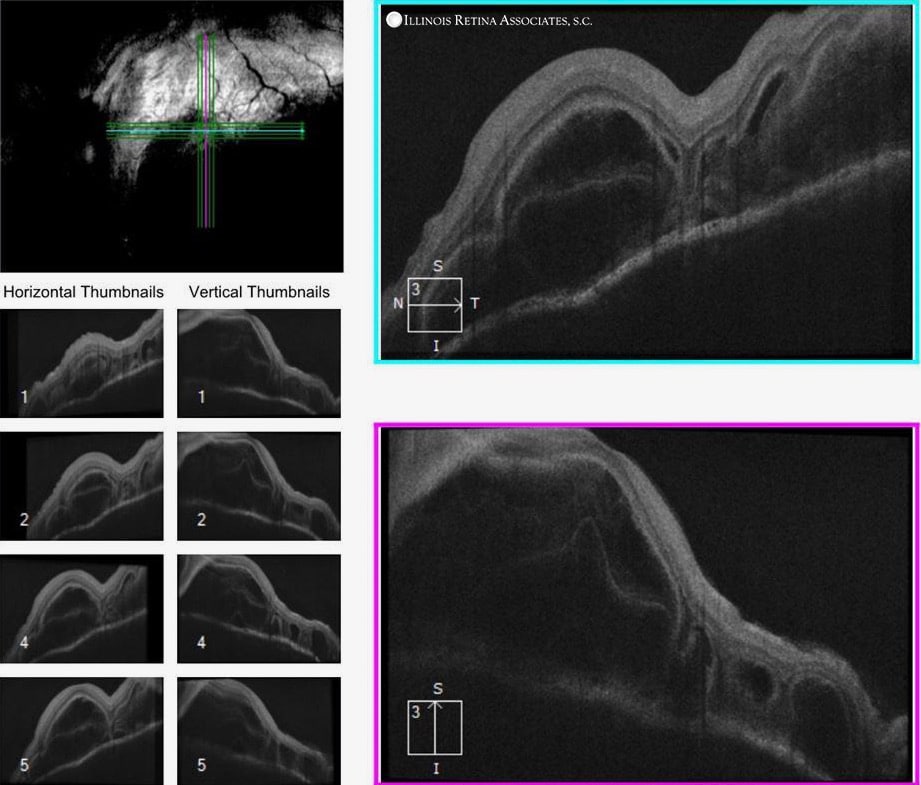 Figure 2: OCT of Left and Right Eyes. Both eyes demonstrated loculated areas of subretinal fluid with septae between inner retina and RPE.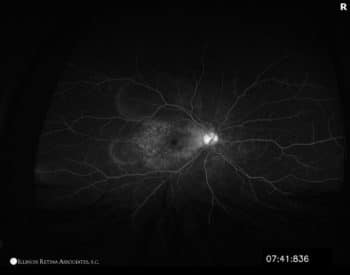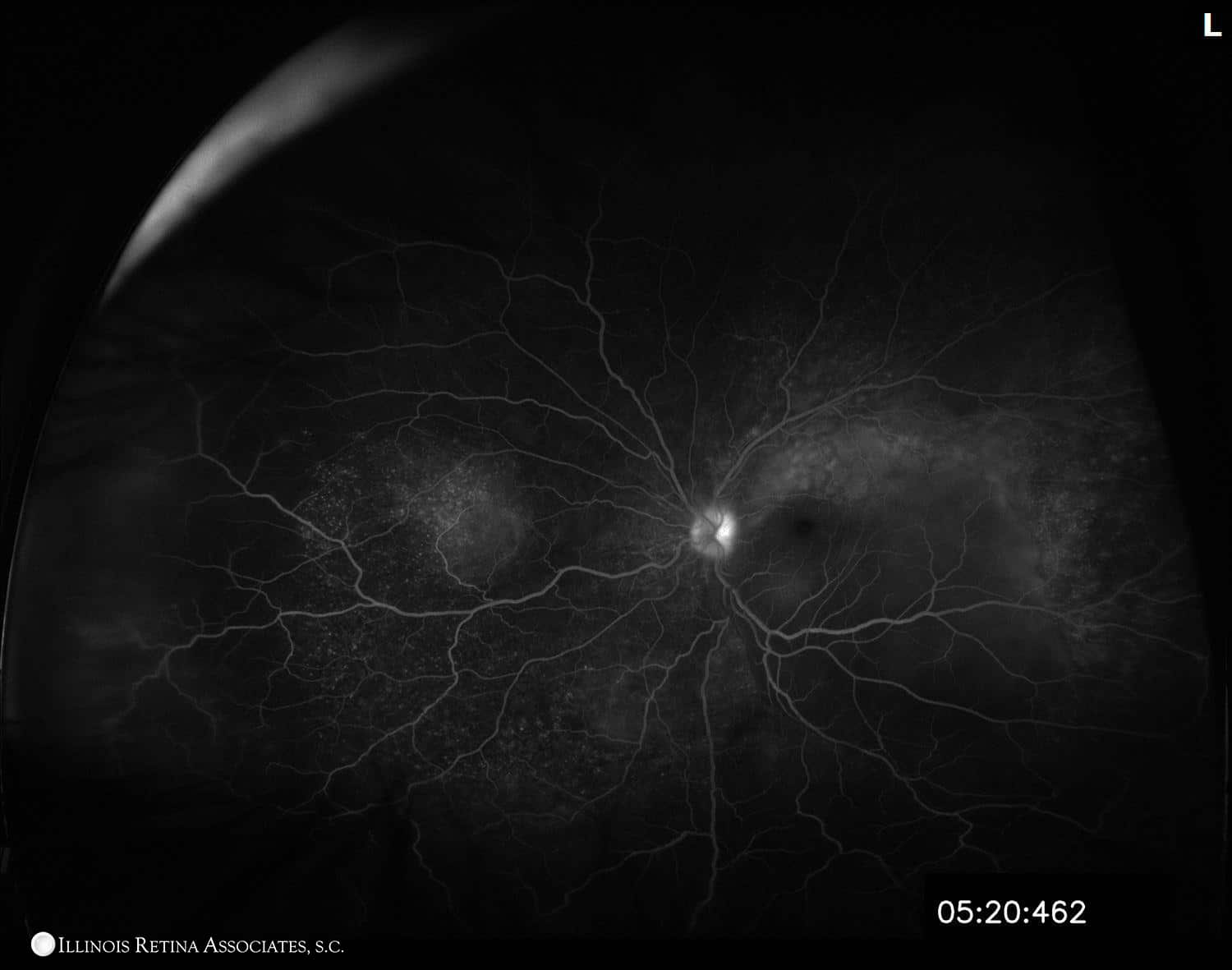 Differential Diagnosis:
Vogt-Koyanagi-Harada Disease (VKH)
Central serous chorioretinopathy
Syphilis
Sarcoidosis
Tuberculosis
Cat scratch disease
Sympathetic ophthalmia
Uveal lymphoid infiltration
Intraocular lymphoma
Uveal effusion syndrome
Posterior scleritis
Exudative retinal detachments due to malignant hypertension
The outside physician's prior diagnosis of toxoplasmosis chorioretinitis was revised to a working diagnosis of VKH. Toxoplasmosis, while the most common cause of posterior uveitis, would be more commonly associated with chorioretinal scars, infiltrates, and overlying vitritis, classically termed the "headlight in the fog" presentation. The bilateral serous retinal detachments in a Hispanic male with mild inflammation and stereotypical fluorescein findings of pinpoint hyperfluoresence ("starry sky FA") point towards VKH. Had the patient had prior eye surgery or trauma, sympathetic ophthalmia could have had a similar presentation. Central serous chorioretinopathy could result in exudative detachments as in this patient and could even have similar FA findings, however the septate divisions of subretinal fluid on OCT point more towards VKH, as well. Lymphoma can sometimes have such OCT findings, but this would be very rare for a healthy male in his 30s. Syphilis, sarcoid, and TB were ruled out with laboratory testing.
The clinical features of VKH can often follow a staged pattern. The prodromal phase may be characterized by 3-5 days of nonspecific symptoms like headache, tinnitus, and fever-all of which our patient denied. The uveitic phase is similar to the presentation of our patient, with bilateral optic nerve edema and multiple serous retinal detachments progressing from the posterior uveitis to a full-blown panuveitis. After weeks or months, the patient may transition to chronic or convalescent stages with Dalen Fuch's nodules and depigmentation termed "sunset glow" fundus appearance. Chronic recurrences can be seen months to years later.
Discussion:
Vogt-Koyanagi-Harada Disease (VKH)
In light of the patient's uveitis findings and lack of evidence for toxoplasmosis, antibiotics were stopped, and the patient was started on standard of care for VKH, which included high dose systemic corticosteroids. The serous retinal detachments started to resolve, and at 1 month after commencing PO Prednisone 60 mg/kg/day with a taper, the patient's OCTs demonstrated complete resolution of the acute sub retinal findings.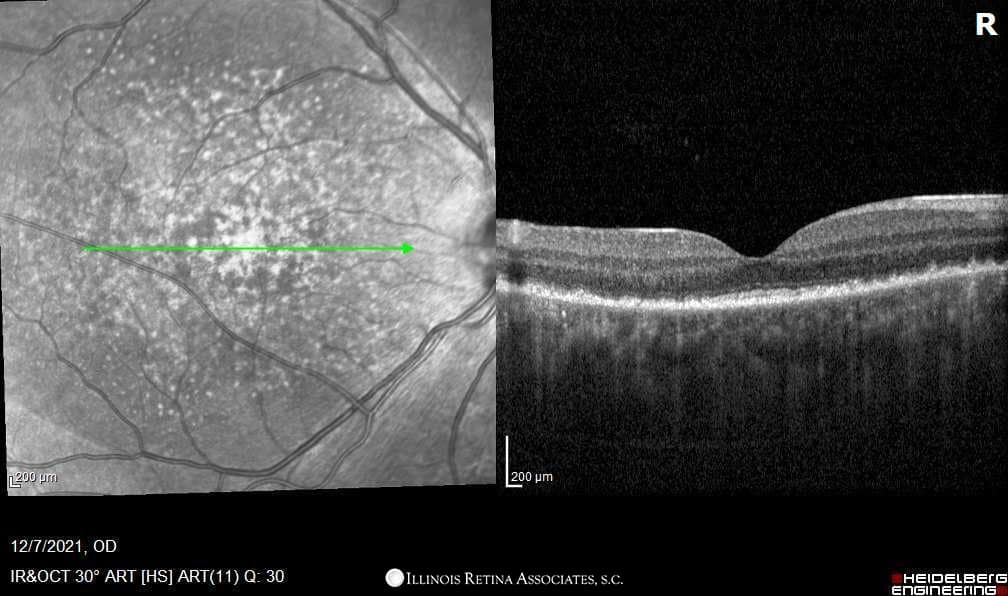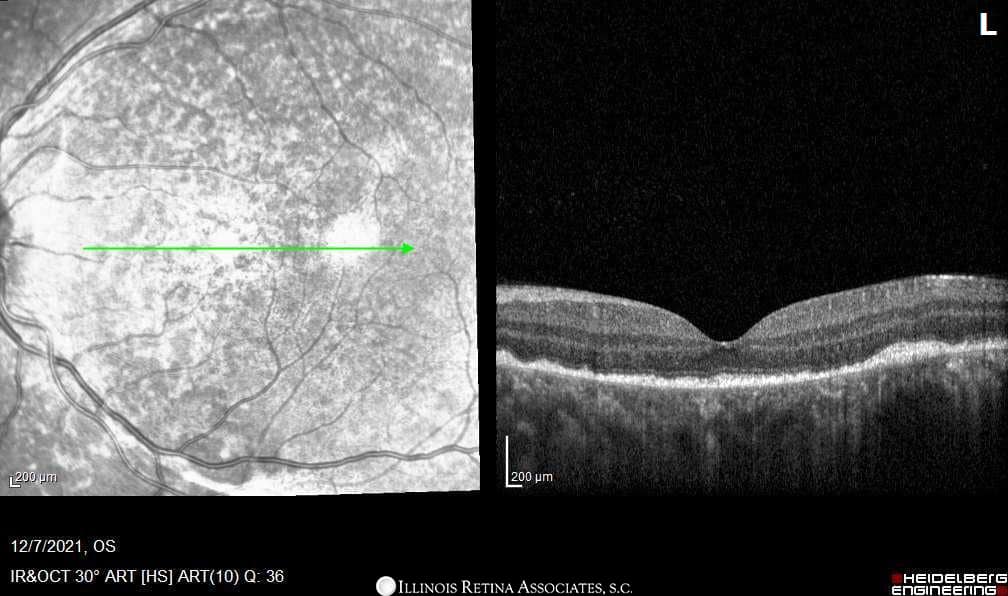 Figure 4: OCT of both eyes after 1 month. The images show resolution of subretinal fluid and septae with residual mild pigment epithelial detachment and subretinal drusen-like deposits.
While the patient deferred lab testing for HLA typing (HLA-DR1 and DR4), the resolution of the patient's serous retinal detachment with a high dose steroid regimen was tantamount to confirmation of the diagnosis of VKH. A consultation with a local rheumatologist was also requested in order to consider a steroid-sparing agent such as Humira in the event of a failed systemic steroid taper. The patient will also be monitored closely and referred back to their initial retina provider to coordinate care and monitoring for recurrence, choroidal neovascularization, subretinal fibrosis, cataract, glaucoma, or other complications of this illness.
Proactive treatment, early diagnosis, and cautious tapering of systemic steroids are key to good visual outcomes. Our patient's vision has improved from count fingers to 20/40 in the right eye and 20/25 in the left eye. This amount of visual improvement is rare, and it may be maintained by avoiding untreated recurrences through close monitoring and prompt resumption of therapy as needed.
If you are looking to schedule your first consultation, please contact us today by clicking HERE and find the location that is nearest you!
References:
Lai T, Chan R, Chan C, Lam D. Effects of the duration of initial oral corticosteroid treatment on the recurrence of inflammation in Vogt-Koyanagi-Harada disease. Eye (Lond). 2009; 23(3):543-548
Paredes I,Ahmed M, Foster C. Immunomodulatory therapy for Vogt-Koyanagi-Harada patients as first-line therapy. Ocul. Immunol. Inflamm. 2006; 14(2):87-90
Kim S, Yu H. The use of low-dose Azathioprine in patients with Vogt-Koyanagi-Harada disease. Ocul. Immunol. Inflamm. 2007; 15(5):381-387
Read RW. Vogt-Koyanagu-Harada disease. Ophthalmol Clin N Am 15 (2002)333-341