White Without Pressure – November, 2021
White Without Pressure – November, 2021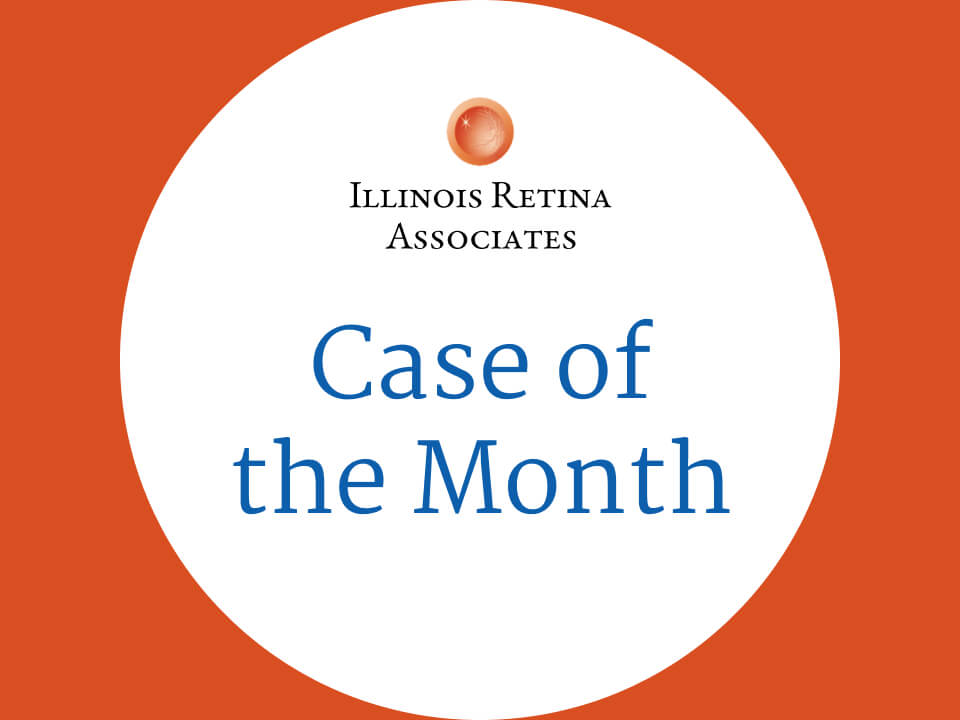 History
A 24-year-old pregnant woman with type 2 diabetes presented upon referral from a primary care physician for diabetic eye exam. The patient had occasional fluctuation of her vision and rare floaters. Her past medical history was significant for insulin dependent type 2 diabetes mellitus. Her review of systems was otherwise unremarkable.
Exam
Her visual acuity was 20/20 in each eye, respectively. There was no RAPD. Intraocular pressures were 14 and 16 in the right and left eyes, respectively. Anterior segment exam was unremarkable in both eyes. Dilated fundus examination demonstrated no evidence of diabetic retinopathy however the fundus demonstrated a relative whitening of the macula with darkening of the temporal retina with a sharp demarcation in the right and left eyes (Figure 1).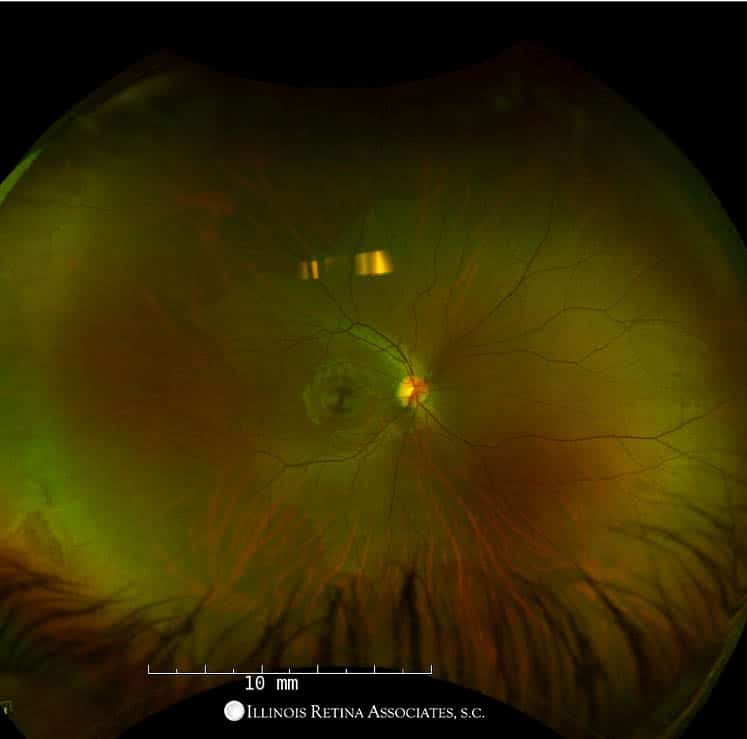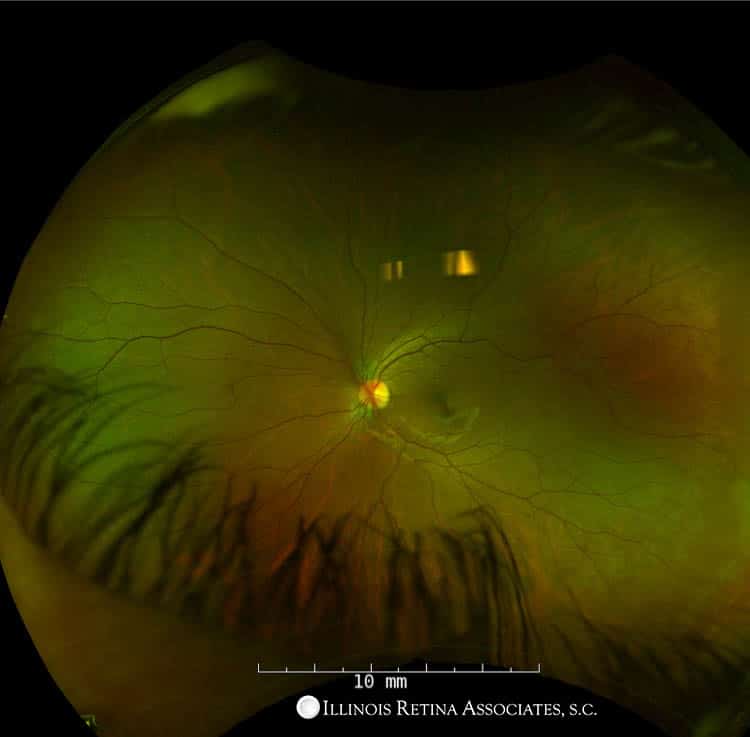 Figure 1: Optos ultra-widefield fundus photographs of the right and left eye demonstrating a relative whitening of the macula with darkening of the temporal retina with a sharp demarcation with an otherwise normal retina.
Optical Coherence Tomography (OCT) (Figure 2) was obtained to further assess the retina at the area of demarcation.

Differential Diagnosis:
Dark without pressure
Retinal detachment
Retinoschisis
Viral retinitis
Discussion:
White Without Pressure
White without pressure (WWP) was first described in 1967 and dark without pressure (DWP) was reported a few years later. The initial cohort of patients reported with DWP were darkly pigmented and had sickle cell disease or trait. In later series, this finding was shown in patients without any associated conditions. The exact pathology causing the appearance of the fundus in WWP and DWP is unknown, but WWP and DWP are thought to represent opposite ends of the spectrum of the appearance of a normal fundus. This appearance can be confused for retinal detachment or retinoschisis, however in such cases scleral depression will demonstrate the retina is apposed to the underlying retinal pigment epithelium. In 2014, a series of cases of DWP demonstrated these lesions correspond to an abrupt change in the hyporeflectivity of the ellipsoid and interdigitation zones in the affected retina on OCT. Additionally, it is known that these lesions can enlarge and/or migrate.
This case demonstrates the classic appearance of this condition with supporting OCT images demonstrating the expected change in hyporeflectivity.
The patient previously had a sickle cell screen which was negative. The patient's mild visual fluctuations were attributed to physiologic changes of pregnancy. Anticipatory guidance was provided to the patient.
If you are looking to schedule your first consultation, please contact us today by clicking HERE and find the location that is nearest you!
References:
Rutnin, U. and Schepens, C.L., 1967. Fundus appearance in normal eyes: IV. Retinal breaks and other findings. American journal of ophthalmology, 64(6), pp.1063-1078.
Condon, P.I. and Serjeant, G.R., 1972. Ocular findings in hemoglobin SC disease in Jamaica. Am J Ophthalmol, pp.921-31.
Okun, E., 1969. Development of sickle cell retinopathy. Documenta Ophthalmologica, 26(1), pp.574-581.
Nagpal, K.C., Goldberg, M.F., Asdourian, G.E.O.R.G.E., Goldbaum, M. and Huamonte, F., 1975. Dark-without-pressure fundus lesions. British Journal of Ophthalmology, 59(9), pp.476-479.
Fawzi, A.A., Nielsen, J.S., Mateo-Montoya, A., Somkijrungroj, T., Li, H.K., Gonzales, J., Mauget-Faÿsse, M. and Jampol, L.M., 2014. Multimodal imaging of white and dark without pressure fundus lesions. Retina, 34(12), pp.2376-2387.
Chen, X. and Liang, M., 2018. Changes in dark without pressure. Ophthalmology Retina, 2(10), p.1077.
Moysidis, S.N., Koulisis, N., Ameri, H., Matsunaga, D., Yi, J., Isozaki, V.L., Kashani, A.H. and de Koo, L.C.O., 2015. Multimodal imaging of geographic areas of retinal darkening. Retinal Cases and Brief Reports, 9(4), pp.347-351.
Pimentel, M.A.F., Duncan, J.L., de Alba Campomanes, A.G. and Moore, A., 2021. Dark without pressure retinal changes in a paediatric age group. Eye, 35(4), pp.1221-1227.