Combined Hamartoma Of Retina – November 2019
Combined Hamartoma Of Retina – November 2019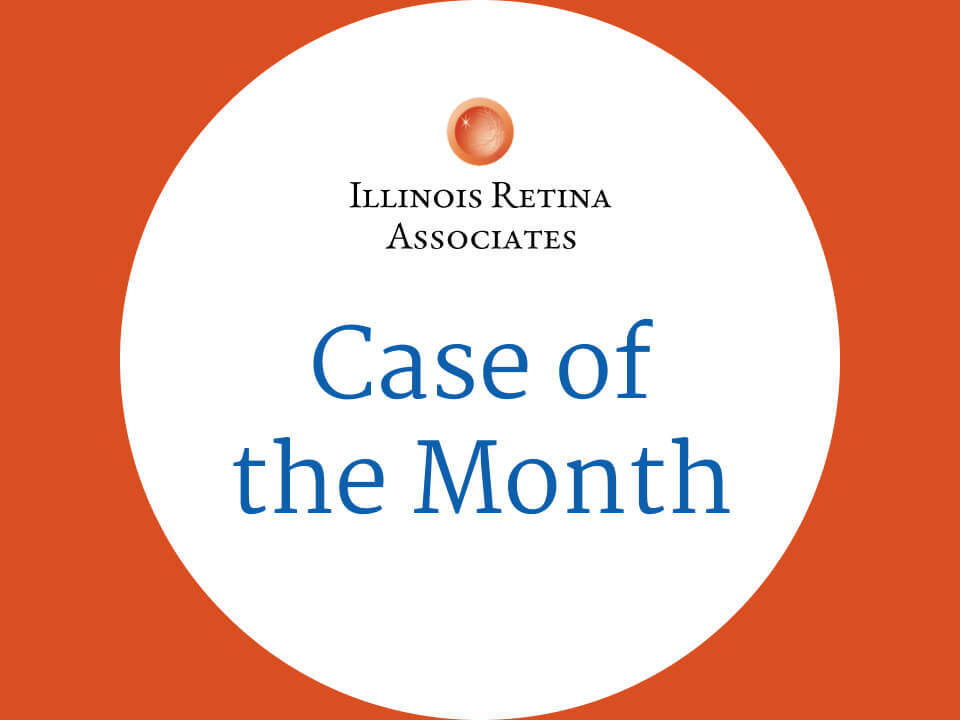 History
A 23-year-old man presented with blurred vision in his right eye for the last 2-3 months. At his last outside visit 7 months prior, he said his vision was normal and there were no findings on exam. He denied flashes, floaters, redness, eye pain, and diplopia and had no prior ocular history, no issues as a child, no family history of known ocular disease. He his healthy with no medical history, no prescribed medications, and review of systems was negative. The patient was a former smoker, drinks occasionally, and denies illicit drug use.
Exam:
Vision was 20/80 in his right eye and 20/15 in his left eye. IOP was 15 and 13 in the right and left eyes, respectively. Confrontation visual fields were full bilaterally. Anterior exam was unremarkable.
Evaluation of his posterior segment demonstrated clear vitreous bilaterally. Below is a fundus photo of the right eye: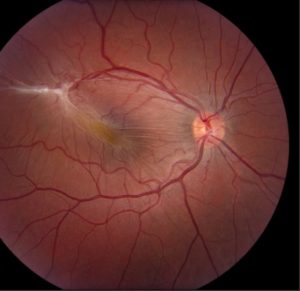 Fundus Photos: Right eye demonstrated a thick epiretinal membrane, macular RPE changes, and macular thickening. Left fundus was unremarkable.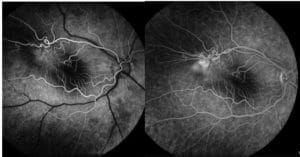 Fluorescein Angiogram of the right eye (above) demonstrated distortion of retinal vasculature consistent with an ERM, transmission defects in the area of RPE change, and late leakage.

OCT OD: Right eye showed preretinal findings consistent with an ERM. There is also severe macular thickening and severe disorganization of both the inner and outer retinal layers.
Differential Diagnosis:
Choroidal melanoma
Choroidal nevus
Combined Hamartoma of Retina and Retinal Pigment Epithelium
RPE Adenoma
RPE Adenocarcinoma
Melanocytoma
Discussion:
Combined Hamartoma of Retina and Retinal Pigment Epithelium
Combined hamartomas of the retina and RPE are benign lesions found in the macula, juxtapapillary region, or periphery. They are most often seen in children and are composed of pigment epithelial cells, vascular tissue, and glial cells. Etiology is unknown, but there is a belief that they are congenital lesions that may arise from cells intended to be RPE that fail to completely differentiate during development. Most cases are reported in males and they may have an association with neurofibromatosis type II. Bilateral combined hamartomas should especially prompt consideration of neurofibromatosis.
Patients with combined hamartomas present with variable vision depending on lesion location, but some studies have shown VA ≤ 20/200 in around half of cases. Tumors are usually elevated and pigmented with straight feeder vessels and tortuous intrinsic vessels. ERM formation is very common, but rarely there can also be mild retinal exudation, detachment, macular edema, CNV, or vitreous hemorrhage. Diagnostically, FA shows early hypofluorescence due to blockage in the hyperpigmented areas and late leakage from dilated vessels. OCT often reveals an ERM and retinal disorganization at the lesion with normal adjacent retina.
Management of these lesions depends on the age of presentation. When presenting at a young age, amblyopia prevention is paramount and should be initiated. Surgical intervention is currently debated. While vitrectomy with membrane peel can be performed, studies have been mixed with some patients seeing improvement in acuity, but not all. ERM can also recur, thus all these factors must be discussed with patients and family. Patients should be followed regularly for monitoring of ERM worsening and development of CNV, retinal neovascularization, retinal heme, retinal detachment, and other complications.
Our patient was offered surgery to peel the ERM. They are to follow-up in 1 month and will discuss surgery again at that time.
If you are looking to schedule your first consultation, please contact us today by clicking HERE and find the location that is nearest you!
References:
Dedania VS1, Ozgonul C, Zacks DN, Besirli. NOVEL CLASSIFICATION SYSTEM FOR COMBINED HAMARTOMA OF THE RETINA AND RETINAL PIGMENT EPITHELIUM. Retina. 2018 Jan;38(1):12-19.
Grant EA, Trzupek KM, Reiss J, Crow K, Messiaen L, Weleber RG. Combined retinal hamartomas leading to the diagnosis of neurofibromatosis type 2. Ophthalmic Genet. 2008;29(3):133–8.
Shields CL, Mashayekhi A, Dai VV, Materin MA, Shields JA. Optical coherence tomographic findings of combined hamartoma of the retina and retinal pigment epithelium in 11 patients. Arch Ophthalmol. 2005 Dec;123(12):1746-50.